The Kansas City Chiefs were off on Sunday, but head coach Andy Reid was not, addressing the media via conference call, covering topics surrounding Saturday's night preseason win against the Pittsburgh Steelers and more. The Chiefs return to the practice field Monday afternoon.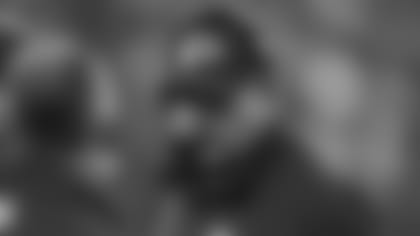 OPENING STATEMENT: "Let me give you a little injury update on what we have. Jon Asamoah has a calf strain. That's a day-to-day situation. Just keep in mind we're on a short week, so he won't practice tomorrow. Jalil Brown has a knee contusion, so he might be able to go tomorrow, we'll see how it goes. Nico Johnson has an ankle sprain. We'll see how he does over the next couple of days. He won't be able to practice tomorrow. Dexter McCluster is still being evaluated and is still sick; he has an illness, so we're seeing how that works out. Tony Moeaki has a shoulder injury and is being evaluated as we speak. Sanders Commings is still recovering from his collarbone injury. (Travis) Kelce, we're going to see how he does tomorrow. He has been in for treatment a couple of times and is feeling better, so we'll see how he does. (Quintin) Demps is feeling a little better, so we'll see how he does. Those are kind of day-to-day. The ones that are definitely out tomorrow I gave you."
Q: Can you comment on the patience of those two drives in the first half and the one in overtime?
"I thought the guys just kept competing and thought the quarterbacks held that together. I thought Alex (Smith), in the first half, had that drive that you're talking about and did a nice job of keeping everything composed and accurate. I felt that in overtime, Chase (Daniel) did the same time. They both made plays when they needed to make plays. I thought overall the offensive line did a nice job in the first and second group of protecting, and I thought they played good, physical football."
Q: As an offensive line coach, how has Eric Fisher been for you?
"I've been happy with his progress. He's been banged a little in his hand and shoulder, and he's worked through that, which a lot of guys wouldn't do. A lot of guys wouldn't be able to push themselves mentally, and he's done that. He has continued to get better at the same time. He came out against, what I thought was a good defensive front and I thought played very well."
Q: Did the performance last night alleviate any concerns about the offensive line?
"Yeah, well Geoff (Schwartz) really played two different positions, and I thought he played well in those positions. It was good to get (Donald) Stephenson back in there. I thought he did a nice job, too. So that helps, and I appreciated their effort and I thought they improved."
Q: With pass protection being an issue last game and the running game being an issue this week, how do you get both of them going?
"Well you keep working at them. Certain teams you'll be able to do both things against. Certain teams you're going to be able to do the pass game, certain teams you'll be able to do the running game. As long as you can keep working, then you get better at all of them. That's how you go about it."
Q: How about Knile Davis fumbling and then coming back and scoring a touchdown?
"That was definitely a positive. He did have the fumble and you can't do that. Ball security is very important in this league and turnovers kill you. You've got to make sure you eliminate the turnovers. On the other hand you have to be mentally tough enough to get that out of your mind and come back and right your wrong. He did that with the return, and he had a couple of nice carries after that on the offensive side."
Q: What is your mindset when it comes to working with guys for the last month and then knowing that you have to cut some of them?
"We told the guys at the beginning of the year to make it as hard as you can on John (Dorsey) and me when it comes down to making these decisions. That is a tough thing to do, toughest part of this business. But, that is a tough deal; these guys have busted their tails, and it's their profession. We wish them all the best of luck when they leave here that they have an opportunity to go play somewhere else. You never know in this business, you could be coming right back, you never know how it works. It's a crazy thing. It's a tough day; it's a little bit bittersweet."
Q: What impressions did you have from Alex Smith on those two scoring drives?
"First of all, he's a tough guy. And his efficiency, he does the right thing with the ball and gives his receivers an opportunity to run after the catch. He orchestrates, if a play comes in or we give him an option, according to a coverage or a front, he's very accurate with those things. He manages a game well. You're not calling a lot of timeouts because he's not able to distribute the plays to the team. He just handles all of those things very well."
Q: You didn't have much time to work with A.J. Jenkins, but we saw him out there on the field a little bit, did he give you what you needed?
"He actually picked up more than I thought he knew. You don't want to put the kid in a bad position, putting them out there when they don't know the plays, that's a tough thing to do. But we were able to get him in on a few things that he felt comfortable with. The pass plays actually kind of rolled in his direction. He had one nice block when he had to come and hit a safety, which is a nice adjustment. I'm excited to get him in there when he has it all down. He's only been with us for a short period of time, but he's picking it up quicker than I thought he would."
Q: Are you where you want to be or how close are you to what you thought you would be right now?
"Well we have a ton of room to improve. We just have to keep working at getting better. These guys have the right attitude to do that and from a coach's standpoint (that is something that) you appreciate. We'll keep working harder and keep getting to know each other. As players and coaches, you have to keep growing and that's what we're working at."
Q: With two weeks out what is your biggest concern? What's your biggest concern if you had to play tomorrow?
"Well, I'm not too worried about playing tomorrow. We have a couple of weeks here. It's just a matter of keep playing together, that's the main thing. You just keep growing as a team. You put the word 'concern' out there, I'm in a day-to-day process. We're trying to get better as a coach and as players, so that's what we're all about."