The Kansas City Chiefs don't currently have a first-round pick in this year's NFL Draft because they sent it over to the Buffalo Bills last year to trade up for quarterback Patrick Mahomes, who became the first quarterback selected by the Chiefs in the first round since 1983 (Todd Blackledge).
But don't worry Chiefs fans, there's still value in the ever-popular mock draft season, and that's because we get to look around at the players who might be soon joining the division.
Two of the other three teams in the AFC West are choosing among the Top 10—an indictment to an otherwise disappointing season, but it also means the chance of snagging a perceived top talent.
The Denver Broncos currently hold the 5th overall pick, while the Oakland Raiders have the 10th, and the Los Angeles Chargers have the 17th overall selection.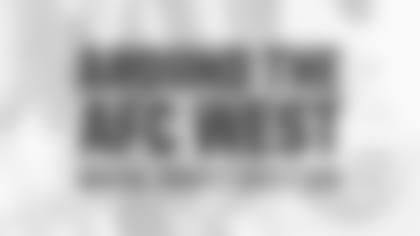 It goes without saying, but the exercise of matching prospects to teams before free agency has even taken place is a futile one, but there's value in getting to learn about some of the players whose names will be called at some point in the draft later this spring, whether they join the AFC West or not.
So, here's a look at some recent mock drafts and who these experts have joining the Broncos, Raiders, and Chargers:
The Denver Broncos – 5th Overall Pick
"Denver sits in a pivotal spot in the draft. Will it take the third quarterback? Could it move down? There will be a ripple effect in the top 10. Either way, it looks like the Broncos are ready to move on from 2016 first-round pick Paxton Lynch. Darnold had an up-and-down season and struggled with turnovers -- his 22 were tied for most in the FBS. Can he figure out the ball security? If he can get rid of the bad habits, he could be a special player. Darnold is an accurate, natural passer with high upside who still needs to tweak his mechanics. I believe in his talent long term, and I think John Elway would love to have him in Denver."
"The Broncos have to accept that they missed on Paxton Lynch (No. 26 overall in 2016) and are still looking for a franchise QB. This is another potential landing spot for Cousins or another free-agent QB, but if Denver doesn't get one in free agency, it will likely use an early pick on a signal-caller. John Elway was at the Senior Bowl and scouted both Mayfield and Josh Allen. This will be a really interesting pick if both are on the board. Mayfield had an impressive week in Mobile and checked the biggest remaining box with his measurements (6-foot, 216 pounds, 9½-inch hand span). He's rising."
"The Broncos need a guard, and they might have stumbled into an All-Pro with the powerful Nelson."
"I think the Broncos will address their quarterback need in free agency, which would free them up to take the best available player in this spot. Nelson is the best interior O-line prospect to enter the draft in a long time."
"For now, I'll say Kirk Cousins ends up with Denver, opening a spot for the Broncos to add Fitzpatrick to their defense."
"The Broncos could elect to snag a veteran signal-caller, but the UCLA star could tickle John Elway's fancy as a polished pocket passer."
"Another team likely to be heavily involved in the Cousins sweepstakes. But the fiery Heisman Trophy winner and leader the Super Bowl 50 champs have lacked is quickly forming Denver connections, signing with a Colorado-based sports agency before playing for the Broncos' coaching staff in the Senior Bowl. Mayfield is also a precision thrower who doesn't take long to synthesize a playbook. Perhaps the missing ingredient for a team that still has a championship-level defense."
The Oakland Raiders – 10th Overall Pick
"Smith is the type of player new coach Jon Gruden loves. He's physical. He can get sideline to sideline in a hurry. He's a force in the middle. Smith was one of the best players on the field in the College Football Playoff National Championship, and he could slot into the middle of the Raiders' defense in place of NaVorro Bowman, who's a free agent. Oakland also could target a pass-rusher to help Khalil Mack & Co."
"The Oakland defense gave up 5.6 yards per play last season (27th), so help is needed. CB Gareon Conley, last year's first-round pick, is still an unknown after playing only two games in 2017, which means the secondary is still a question mark. But the Raiders also have a need at linebacker, and with the top two CBs off the board, they can choose between Edwards and Roquan Smith. Edmunds is a better fit for Oakland, as he can play off the line and rush off the edge. He's an athletic freak who will turn some heads at the combine."
The Raiders have been in need of help at inside linebacker for a while, and they get an ascending playmaker in this spot.
"Smith is a bit undersized, but he makes plays sideline to sideline and provides a physical presence in the middle of the field."
"Smith has "bench to bench" range, tracking down ball carriers all over the field."
"Explosive athlete with the speed and movement skills to blossom into a CB1."
"NaVorro Bowman was a hugely stabilizing force to the Oakland run defense after switching Bay Area addresses midway through the 2017 season. But he's about to turn 30 and re-signing him is an obvious risk given his injury history. Edmunds might just project as a younger — and possibly better — version of Bowman as an every-down backer who can swallow running backs in the run and pass games, has the range to cover downfield and can also boost the pass rush if asked."
The Los Angeles Chargers – 17th Overall Pick
"The best nose tackle in this class is Payne, who was a monster in the College Football Playoff, even if he didn't always show up on the stat sheet. Georgia couldn't block him in the national title game. The Chargers are set with good, young pass-rushers, but they could upgrade on Brandon Mebane, who's signed for only another year. Payne would strengthen the belly of a defense that ranked last in the league in rushing yards per attempt allowed (4.9)."
"James had a disappointing season at Florida State, but he would fit perfectly in defensive coordinator Gus Bradley's scheme. James flies around the field versus the run and is a good matchup piece in the passing game. I think he'll have a better pro career than he did at FSU."
"Payne can overwhelm rushing attacks. He has the talent to become a much better pass rusher, as well. Can you imagine that defensive front, with Joey Bosa and Melvin Ingram already in the fold?!"
"James was made to play in Gus Bradley's defenses. He's a more explosive version of Kam Chancellor."
"Whether Brown plays at left or right tackle doesn't matter. He'll eclipse his opponent with pure size and play with a nasty streak."
"Big, athletic run stopper to plug as a nose or 3-technique in Gus Bradley's defense."
"No team in the AFC struggled more to stop the run than the Bolts. Payne could truly be a force inside given all the attention DEs Joey Bosa and Melvin Ingram command on the edges."