The Kansas City Chiefs don't currently have a first-round pick in this year's NFL Draft because they sent it over to the Buffalo Bills last year to trade up for quarterback Patrick Mahomes , who became the first quarterback selected by the Chiefs in the first round since 1983 (Todd Blackledge).
But don't worry Chiefs fans, there's still value in the ever-popular mock draft season, and that's because we get to look around at the players who might be soon joining the division.
Two of the other three teams in the AFC West are choosing in the Top 10—an indictment to an otherwise disappointing season, but it also means the chance of snagging a perceived top talent.
The Denver Broncos currently hold the 5th overall pick and they've been linked to numerous quarterbacks, while the Oakland Raiders have the 10th pick, and the Los Angeles Chargers have the 17th overall selection.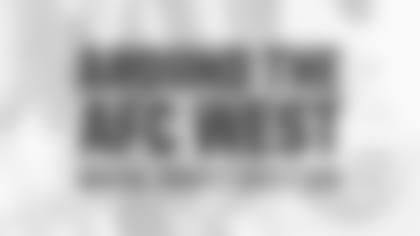 It goes without saying, but the exercise of matching prospects to teams before free agency has even taken place is a futile one, but there's value in getting to learn about some of the players whose names will be called at some point in the draft later this spring, whether they join the AFC West or not.
So, here's a look at some recent mock drafts and who these experts have joining the Broncos, Raiders, and Chargers:
The Denver Broncos – 5th Overall Pick
*Excerpt from NFL.com Scouting Report: Elite guard prospect with outstanding size, rare power and a block finisher who can make tape room sessions uncomfortable for most opponents. Nelson is technically sound and is unlikely to face a long adjustment period once he gets into the league. Nelson may need to make sure and keep his play speed high and prevent against taking his eyes off of his target when coming off the ball. Nelson has the traits and talent to become an All-Pro guard for years to come.*
*Excerpt from NFL.com Scouting Report: Josh Rosen's footwork and mechanics make him as pretty a quarterback as you will find in this year's draft. The biggest concern with Rosen is that his on-field success requires many elements to stay on schedule. He lacks plus arm strength, so identifying coverage (pre- and post-snap) and throwing with anticipation takes on added importance. Rosen has the pocket poise, accuracy and intelligence to become a good NFL starter, but he needs to be willing to take what defenses give him more frequently. Rosen will need to quell concerns surrounding leadership and coachability early on in order to establish a strong first impression and get his career off on the right foot.*
*Excerpt from NFL.com Scouting Report: At the end of the day, Darnold has NFL size, arm strength, accuracy, pocket mobility, poise and field reading capability. His windup is an eyesore for sure, but he has the velocity to mitigate the additional release time. While Darnold has the mental toughness and talent to start tomorrow, early sideline seasoning could help him better process coverages in an attempt to eliminate future interceptions. Darnold has the tools to thrive in any system and doesn't have to have perfect protection to succeed. His floor is solid starter, but he has the ceiling to be one of the top tier quarterbacks in the game as he gains more experience.*
*Excerpt from NFL.com Scouting Report: Spread quarterbacks have had limited success as have small quarterbacks. Mayfield falls into both categories and has to prove he can transcend those perceived deficiencies on the next level. Having complete command of the Oklahoma offense isn't an automatic precursor for NFL success, but Mayfield's ability to process, extend plays and throw with accuracy give him a good shot. He'll be somewhat scheme-dependent so whoever takes him will need to be willing to build their offense around his strengths.*
The Oakland Raiders – 10th Overall Pick
*Excerpt from NFL.com Scouting Report: Smith is an ascending linebacker prospect with elite athletic ability, plus intelligence and an ability to be an effective cover linebacker on passing downs. While he's a little undersized, he does have the quickness and speed to keep himself from being mauled. He was good in 2016, but great in 2017 and projects as a player who hasn't tapped his full potential. Smith has Pro Bowl traits and talent and will come off the board in the first round.*
*Excerpt from NFL.com Scouting Report: Hughes simply hasn't had the game experience he needs to put together the consistency in coverage that teams might like to see. He's a projection-based prospect who has shown twitch, ball production and toughness in a small sample size. Despite being a little short, he is likely to stay outside in coverage. While teams wait for him to gain coverage experience, they can certainly lean on his tremendous talents as a return man. Hughes has potential, but there is still work to be done in coverage.*
*Excerpt from NFL.com Scouting Report: Edmunds combines elite size, speed and explosiveness into a productive, versatile linebacker package that will have evaluators salivating. Edmunds has posted high-impact production over the last two seasons and he still has room to get bigger and better. He will make mental mistakes and his instincts are subpar, but he has an ability to mitigate those issues with his athletic ability. Edmunds can play in any alignment at any linebacker spot and has All-Pro potential no matter where he lands.*
The Los Angeles Chargers – 17th Overall Pick
*Excerpt from NFL.com Scouting Report: Possesses the desired physical traits and mental makeup of an All-Pro safety who has the ability to not only set a tone but change the course of games. Although James is extremely athletic and talented, he still has room for improvement as a run defender and in coverage. James' talent is best utilized in an active, attacking capacity in a robber role or near the line of scrimmage where he can support the run, blitz and handle physical coverage*
*Excerpt from NFL.com Scouting Report: Vea's tape can frustrating because he flashes star potential one series and then looks average the next. With that said, he's still very raw and should be judged by his ability rather than just his results as he should unlock his potential with more coaching. Vea has the size and power to play nose in an odd or even front and he could be targeted by 3-4 teams looking for dominant run defender on the end. He should work into a defensive line rotation immediately and has the ability to become a good NFL starter for years.*
*Excerpt from NFL.com Scouting Report: Payne possesses one of the most impressive combinations of strength and athleticism that we've seen from an interior lineman. He will be the premier run-stuffer in this draft, but he may have enough in the pass rushing toolbox to project as a better pro than college pass rusher. Payne is a game-ready starter who immediately upgrades a defense's ability to slow the run. If teams view him as just a run-down player, then his draft value could fall a little, but he could become a Pro Bowl defender early in his career.*
*Excerpt from NFL.com Scouting Report: Edmunds combines elite size, speed and explosiveness into a productive, versatile linebacker package that will have evaluators salivating. Edmunds has posted high-impact production over the last two seasons and he still has room to get bigger and better. He will make mental mistakes and his instincts are subpar, but he has an ability to mitigate those issues with his athletic ability. Edmunds can play in any alignment at any linebacker spot and has All-Pro potential no matter where he lands.*