The Kansas City Chiefs don't currently have a first-round pick in this year's NFL Draft because they sent it over to the Buffalo Bills last year to trade up for quarterback Patrick Mahomes .
Among other things—more important things—that go along with the current lack of a Chiefs' draft pick in the top 32 selections, *it *means the ever-popular mock drafts that dominate the interwebz in the months, weeks, and days leading up the draft, won't have much of a Chiefs' feel this year.
But don't worry Chiefs fans, there's still value in mock draft season, and that's because we get to look around at the players who might be soon joining the division. Two of the other three teams in the AFC West are choosing among the Top 10—an indictment to an otherwise disappointing season, but it also means the chance of snagging a top talent.
The Denver Broncos currently hold the 5th overall pick, while the Oakland Raiders have the 10th, and the Los Angeles Chargers have the 17th.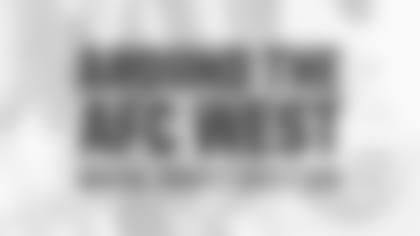 It goes without saying, but the exercise of matching prospects to teams before free agency has even begun, much less six weeks before the draft, is a futile one. But there is value in getting to learn about some of the players whose names will be called at some point in the draft later this spring, whether they join the AFC West or not.
So, here's a look at some recent mock drafts and who these experts have joining the Broncos, Raiders, and Chargers:
The Denver Broncos – 5th Overall Pick
Lance Zierlein – Josh Rosen, quarterback, UCLA
"We will see how the free-agency period plays out for the Broncos, but Rosen fits a big need as of this writing, and he might be game-ready enough to get the ball to talented targets right off the bat."
Daniel Jeremiah – Josh Allen, quarterback, Wyoming
"If the Broncos fail to land Kirk Cousins, they could opt for a full rebuild."
Bucky Brooks – Josh Rosen, quarterback, UCLA
"The Broncos could elect to snag a veteran signal-caller, but the UCLA star could tickle John Elway's fancy as a polished pocket passer."
Charles Davis – Josh Rosen, quarterback, UCLA
"The Broncos are used to having very strong personalities at QB when they are at their best (John Elway, Peyton Manning), and Rosen is a bright, opinionated young man with the best arm talent in the draft. He also could easily be the most scrutinized prospect this year."
"It just feels like John Elway is destined to draft Josh Allen, doesn't it? I'm assuming Elway sees a lot of himself in Allen."
"The Broncos could surprise us all and roll with Keenum and the current backups (Paxton Lynch, Chad Kelly, Trevor Siemian), but a complete overhaul of the current depth chart is the best way to fix the quarterback position in Denver."
"I keep hearing that the Broncos are looking to upgrade the QB position in free agency, but the name I keep hearing isn't Kirk Cousins -- it's Case Keenum. If Denver gets either guy, it needs significant help on the O-line, even after drafting offensive tackle Garett Bolles in the first round last year. Nelson had a terrific combine and is a plug-and-play, high-level starter. He's a guard, not a tackle, but he's also currently my second-ranked prospect in this class. If Denver doesn't address QB in free agency, Allen is the likely pick here."
"Darnold has a high ceiling, but ball security issues in 2017 -- his 22 turnovers were tied for most in the FBS -- raised questions. When he's on his game, he looks like the No. 1 overall pick. Can he show consistency? I expect Denver to be part of the Kirk Cousins sweepstakes, and it could look to defense here if it lands the top free-agent quarterback. The Broncos might look very different in 2018, especially if Aqib Talib and Demaryius Thomas are released. They would have needs at several positions, including corner, safety, receiver and running back."
The Oakland Raiders – 10th Overall Pick
Lance Zierlein – Denzel Ward, cornerback, Ohio State
"Ward is a talented mirror-and-match cornerback who has enough talent to play inside or outside. The pass defense takes a step in the right direction."
Daniel Jeremiah – Jaire Alexander, cornerback, Louisville
"Alexander is coming off a phenomenal combine performance and Oakland needs an upgrade in the secondary."
Bucky Brooks – Mike Hughes, cornerback, Central Florida
"Explosive athlete with the speed and movement skills to blossom into a CB1."
Charles Davis – Roquan Smith, linebacker, Georgia
"Diagnose, run, hit. Diagnose, run, cover, hit. Rinse. Repeat. I love this playmaking thumper so much that I voted him third for last year's Heisman Trophy."
"This pick has just made too much sense to me since the beginning of the offseason. The Raiders need to upgrade at LB, and Smith is the best one in this draft."
"Even after selecting cornerback Gareon Conley in the first round last season, the Oakland Raiders are in need of help at the position. The prospect of pairing Conley, who missed most of the 2017 season with a shin injury, and Josh Jackson looks like an instant fix for a secondary that was torched often last year."
"Oakland has needs all over on defense (CB, LB, edge rusher) and not enough available cap room to make huge upgrades in free agency. Smith would be a good building block for the Raiders' defense, as a rangy weakside linebacker with fast eyes and terrific closing speed. He's also a great leader and possesses tremendous football character."
"This match makes too much sense, so I'm sticking with it. Smith could be the centerpiece of Jon Gruden's defense, playing inside linebacker. He had 137 tackles, 14 tackles for loss and 6.5 sacks last season, and he was a force in the College Football Playoff, making plays from sideline to sideline."
The Los Angeles Chargers – 17th Overall Pick
Lance Zierlein – Leighton Vander Esch, linebacker, Boise State
"Big, athletic inside linebacker with only one year as a starter, but loads of production in that season."
Daniel Jeremiah – Vita Vea, defensive tackle, Washington
"Vea is a top-10 talent and he would be too good for the Chargers to pass up."
Bucky Brooks – Vita Vea, defensive tackle, Washington
"Big, athletic run stopper to plug as a nose or 3-technique in Gus Bradley's defense."
Charles Davis – Derwin James, defensive back, Florida State
"James is a big hitter, but he has plenty of range in coverage, as well. He might not be exactly like former Charger Eric Weddle, but he could provide a similar impact."
"Hernandez gives the Chargers a boost on the offensive line and helps create holes for Melvin Gordon to run through."
"Addressing the outside of the offensive line should be the focus of the Los Angeles Chargers front office this season after using two picks on guards Dan Feeney and Forrest Lamp last year. If UCLA's left tackle Kolton Miller is on the board, the front office can grab a local prospect to not only fill a major need, but to turn the line into a strength moving forward."
"Los Angeles' defense is strong but needs an upgrade at linebacker, and Evans is a thumper in the running game. He plays with tremendous effort and has sneaky pass-rush ability as well."
"As I wrote in my Mock Draft 1.0, stopping the run has to be a priority for the Chargers in 2018. Their 4.9 yards per rushing attempt allowed ranked last in the league. Los Angeles has two young star edge rushers in Joey Bosa and Melvin Ingram, but it has to improve on the interior. Payne popped in the College Football Playoff and even had an interception and touchdown catch in the semifinal win over Clemson. The 6-2, 319-pound Payne had only three career sacks, but he consistently beat his man, even if it didn't show up on the stat sheet."