The Broncos defeated the San Diego Chargers, 17-3
Head coach Gary Kubiak updated the media on the status of Peyton Manning on Monday
Quarterback Peyton Manning hasn't played since Denver's game against the Chiefs.
"Peyton worked hard through the weekend and worked hard today," head coach Gary Kubiak said. "I just got done talking to [Head Athletic Trainer Steve] Greek [Antonopulos]. I think tomorrow is kind of a rest day for him."
Manning should continue to progress as this week goes on.
"The thought is that maybe starting Wednesday, depending on how things go, [Manning will] start to throw, we start to do a little bit on the field type of stuff. We're working toward some football things this week, but it has been a good weekend for him and I know he's feeling better."
With that said, QB Brock Osweiler remains Denver's starter for this weekend's game against the Oakland Raiders
Cornerback Jason Verrett said San Diego is playing for "pride" after loss to Broncos
Head coach Mike McCoy addressed the loss in a Monday morning press conference
Wide receiver Dontrelle Inman is being listed as day-to-day as Chargers gear up for the Chiefs
Raiders lose to Chiefs, 34-20, drop to 5-7
Head coach Jack Del Rio met with the media Monday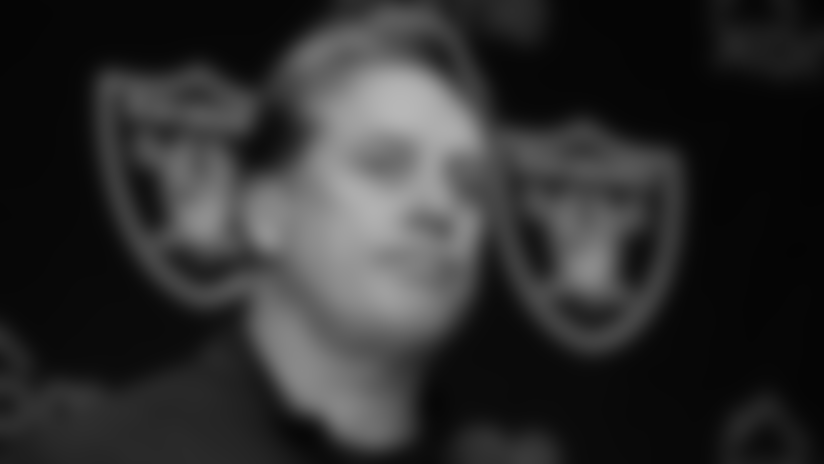 Despite Oakland's loss to Kansas City, head coach Jack Del Rio continues to believe his team has something to play for.
"I still look at it in terms of us wanting to do everything we can to go into Denver and find a way to win," he said. It's about one game at a time. You get what you earn in this league. I believe that. We didn't do enough to earn our way to be in second place today. We had that opportunity, so that's disappointing.
"As far as getting excited about playing football and getting an opportunity as a team to go out there and put together a real good football game, that's what we're looking to do."
Del Rio commented on facing Brock Osweiler, who he worked with during his time as Denver's defensive coordinator.
"I haven't studied him totally," he said. "Having practiced against him for a few years, he's a big, athletic guy. I think the biggest thing [is] that he allows them to be under center more with the threat of the run game and the bootlegs and the things on the edges of the defense that will play more into what [Broncos Head Coach] Gary [Kubiak] probably wants to do."
Peter King's Monday Morning Quarterback covers Charles Woodson