When you examine the current state of the Kansas City Chiefs wide receiver corps, there are two players that remain consistent with last year's unit—veteran Jason Avant and second-year starter Albert Wilson.
Both were critical pieces as the Chiefs made a late-season playoff push last year, and those roles have carried over to the here and now as Kansas City tries to build on its three-game winning streak entering Week 11 against the San Diego Chargers.
When asked about what has been the leading difference between last year's receivers and this year's unit, Wilson explained the key has been a shift in approach.
"I think we just have an attitude out there now that we're just coming in and not taking anything from anybody," he said. "At practice, no matter what type of practice it is, we come in with that mindset that we're going to work today and get the best of it."
2014 Wide Receiver Stats (through 9 games)
2015 Wide Receiver Stats (through 9 games)
Since coming to the Chiefs this offseason, veteran wideout Jeremy Maclin has provided quarterback Alex Smith with a legitimate number one weapon through the air.
But a major reason of why the unit has seen an uptick from this point last year—5 more touchdowns and 231 more yards—is due to the play of Wilson and rookie Chris Conley at very early stages of their careers.
Still young and raw, the two young receivers often turn to veterans like Avant for guidance.
"It's hard to ask guys, especially a guy like Chris Conley to come in as a rookie," Avant said. "There is a learning curve for some players in the speed of the game, learning how to get open in this league. There are superior athletes. It's not just one or two guys a year that you face that are NFL talent like it is in college. Everybody's here in the league has that elite-level ability, so you have to learn how to get open in this game, along with Albert.
"They're doing a good job, and the thing that they're doing a good job of is listening. If you can listen, you'll be able to execute your assignments. They take great advice from Al [Harris], and listen to his instructions, Maclin and I, they try their best to do everything that we say and it's working out for them, so they're going to be good."
Wilson appreciates the lessons that come from Avant, whom he refers to as "the technician." 
"He really knows the detail of the game and that's what he brings to the table. Not just only being able to be the guy, but [also] the little things you can do to be the person."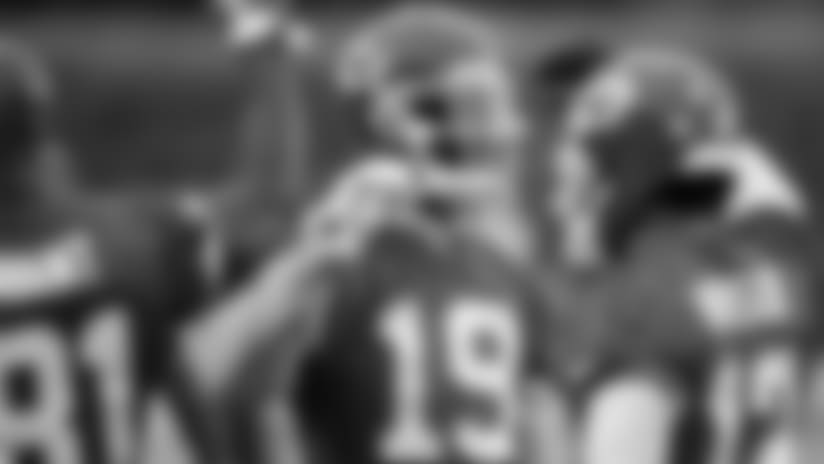 And as Wilson learns the technical parts of being a receiver from Avant, Maclin is there to provide tips on how to use the dangerous speed trait they share. Maclin is someone Wilson calls a "veteran speed guy," a type of mentor he just didn't have last year and one that has taught him his biggest lesson so far as a pro.
"He just tells me that it's not all about a foot race," Wilson said. "For me being able to set up a guy and not be able to use my speed the whole time and make it a foot race, he brought that to my senses to learn the game more. In college, everybody's [slower] and you can use your speed to get you out of trouble and whatnot. But since everybody in the NFL pretty much has speed, you have to learn how to play the game."
Wilson showcased that poise and getaway speed on his lone touchdown of the season, a 42-yard screen pass that he took to the house during the Week 6 matchup against the Minnesota Vikings. Conley's score came in Kansas City's next game against the Steelers in the fourth quarter—one that made it 23-13 late and sealed the Chiefs victory.
Both touchdowns serve as rewards for the work they put in during practice, and as Avant explains, they're willingness to absorb all that's thrown at them.
"They take instructions really well and they want to learn and they're hungry," he said. "They watch film. They do everything that they ask you to do and it's going to work out for them if they continue this path."
It's easy to understand in speaking to Avant that he not only wants to see that; he also prides himself on it.
"They're just great young guys. I wish that every young rookie or second-year guy was the same where they listen, but the more humble you are, the more you can grow."