If you were uncertain as to just how important defensive end Allen Bailey is to the Kansas City Chiefs defensive line, his teammate and close friend, Jaye Howard, put it into perspective for the media in the locker room Wednesday afternoon.
"We're definitely going to miss him," Howard explained. "He's like the quarterback of the D-line—he puts us in the right places, gets us lined up."
The Chiefs announced Bailey was headed to the Injured Reserve list on Tuesday, and head coach Andy Reid confirmed the news at his weekly press conference Wednesday morning.
Reid explained Bailey tore his right pectoral muscle during last Sunday's game against the Raiders, and he is now scheduled to have his arm repaired via surgery this coming Monday, ending his 2016 season.
According to a tweet from his official account late Tuesday, Bailey already has his eyes set on next season:
In conjunction with the move to place Bailey on the Injured Reserved list, the Chiefs created depth by elevating 2015 sixth-round defensive end Rakeem Nunez-Roches from the practice squad, and they signed five-year veteran and former second-round pick Kendall Reyes as a free agent.
Reyes, a former San Diego Charger, has played in a 3-4 defense for the duration of his five-year career.
"I bring some depth to these guys," Reyes said. "They got a great defensive line, so I would just like to be able to help out any way I can."
As for who could fill in for Bailey right away, that will likely be this year's second-round pick, rookie DE Chris Jones. Speaking with the media Wednesday, Jones explained his eagerness for this Sunday's game against the New Orleans Saints.
"This is an opportunity that I'm going to take advantage of," Jones said. "I wish injury on no one. This don't come by often. I'm going to utilize the ability to execute this defense, play hard and make plays."
Jones has already been in the defensive line mix a bit this season, taking at least one-fourth of all defensive snaps for the Chiefs in each game since Week 2.
Jones actually recorded the first solo tackle of his career on rookie running back Jalen Richard last Sunday against the Oakland Raiders, but amusingly enough, according to Jones, what appeared like a great play wasn't even supposed to happen.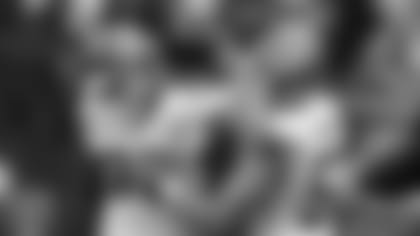 "I actually ran the wrong play," Jones said with a smile. "If I didn't make that play, I probably would have gotten chewed out, whatever you want to call it. I ran the wrong play. I spiked the gap when I was supposed to contain, and luckily, thank God, I was blessed enough to make the play."
The second-down "accident" resulted in a loss of 3 yards, and two plays later, the Raiders turned the ball over on downs.
The Chiefs will need Jones to have results like that, be it by accident or on purpose, now in the absence of Bailey.
Addressing how it will be different, Howard said he expects a little less chatting in the defensive line room, as he described Bailey as quite the character.
But as for the leadership aspect now missing, that will fall to him and Dontari Poe, both five-year veterans in this league.
"Me and Poe are going to have to step up and take that leadership role more in the line room," Howard said. "We're locked in though. We're going to bounce back. Chris Jones is stepping into a good role, a good situation for him and I think he's ready for it."
After hearing the news, Jones said he approached Bailey.
"I told him, 'I got you. It's OK. Get yourself healthy, and don't stress out about it. I got you.'"
One thing is already clear. Jones thinks he's ready for it too.