A photograph can be powerful.
It has the ability to capture the raw emotion of a singular moment – whether that be the thrill of a Super Bowl victory or a fan simply experiencing their first game at Arrowhead Stadium.
We're exploring some of those moments from the 2019 season over the next several weeks along with commentary from Chiefs' photographer Steve Sanders.
Sanders hand selected each of the photos we'll feature in this series as his personal favorites, covering everything from the dramatic to the hilarious.
We'll continue with No. 8.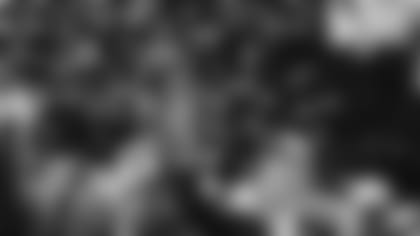 Game: Super Bowl LIV, Chiefs vs. 49ers
The Subject: Chiefs Chairman & CEO Clark Hunt hoists the Vince Lombardi Trophy following Kansas City's triumph in Super Bowl LIV.
Camera Model: Canon EOS-1D X Mark II
Q: What do you like about this photo?
Sanders: "I thought it was important to include this photo because it's been a quest for 50 years to get that trophy back to Kansas City. You can see how proud he is to be holding that trophy. He's been talking about this for several seasons and this was the main goal for this team this year, it was to win that trophy. There are certain things I like about it, too. I like the shape of the confetti – some of it was in the shape of the Lombardi Trophy. Then the trophy itself is pretty clean, it hasn't been passed around by everybody yet, so it looks nice. The excitement on Norma [Hunt's] face is great, too."
Q: Have you investigated who can be seen in the trophy's reflection?
Sanders: "I believe that's Coach Reid being interviewed by Terry Bradshaw. [Tight end] Travis Kelce is in there too, and then you have the reflection of the stadium as well with the confetti falling. It's a fun image."
Q: How many Super Bowls have you worked professionally?
Sanders: "This was my ninth Super Bowl, and by far my favorite one because it had our guys in it. Having the team access made it a more gratifying experience, too, because I didn't have any restrictions.
Q: What does it mean to you to have captured a shot like this following a Super Bowl that the Chiefs won?
Sanders: "The emotions of the game were incredible, and this was an achievement of a goal. It was a personal goal to be there and to make the other years that I had been there practicing all pay off. I knew what to expect and what to capture to tell the story."