A photograph can be powerful.
It has the ability to capture the raw emotion of a singular moment – whether that be the thrill of a Super Bowl victory or a fan simply experiencing their first game at Arrowhead Stadium.
We're exploring some of those moments from the 2019 season over the next several weeks along with commentary from Chiefs' photographer Steve Sanders.
Sanders hand selected each of the photos we'll feature in this series as his personal favorites, covering everything from the dramatic to the hilarious.
We'll continue with No. 9.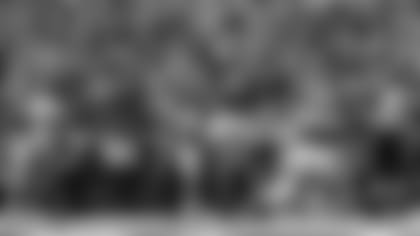 The Subject: Chiefs' tailback Damien Williams celebrates a 14-yard touchdown reception in the first quarter of Kansas City's Week 6 clash with Houston.
Camera Model: Canon EOS-1D X Mark II
Q: What do you like about this photo?
Sanders: "I really like that everybody is cheering. From [offensive guard] Laurent Duvernay-Tardif with his arms up and [tight end] Travis Kelce on the left to all of the fans in the stands. Everybody is just excited about this play. Williams is high-pointing his finger roll and it's just a great thing. You also have one sad Texans fan right in the middle of the frame which I think contrasts with the excitement around him."
Q: How does this photo capture the excitement of this moment?
Sanders: "The finger roll has been Williams' thing when he scores. It's just fun. This photo shows the emotion and the fan involvement that made this moment great. It brings the excitement to life and makes you want to cheer."