"Behind the Lens" is an article series onChiefs.com* that will highlight the top 10 photos from the 2015 archives every Wednesday over 10 weeks. *
Chiefs photographer Steve Sanders, who has been with the team for more than 20 seasons, provides the commentary.*
The Top 10 Chiefs Photos of 2015
No. 8 – Houston's All Smiles in Houston **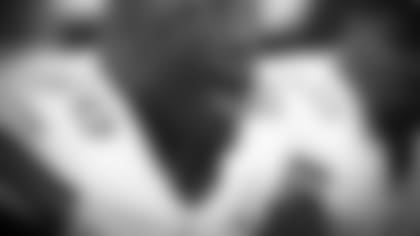 Photographer comments: "Justin was on the bench while the offense was on the field and I don't know exactly what had happened behind me, but I was keying in on portraits on the bench, and I just like this picture because it's so animated and relaxed. It's obviously later in the game when the game was more in hand. His emotion is what I really like about this.
"[Houston] has a ball when he's playing. He's always laughing. He's always got a smile on his face while he's playing, especially sometimes even at the point of contact, he's got that smile. He's like a big kid."
"Behind the Lens" is an article series on Chiefs.com that highlighted the top 10 photos of 2015 over the last 10 weeks.