"Behind the Lens" is an article series onChiefs.com* that will highlight the top 10 photos from the 2016 archives every Tuesday over 10 weeks.*
*Chiefs photographer Steve Sanders, who has been with the team for more than 20 seasons, provides the commentary.*
The Top 10 Chiefs Photos of 2016
No. 1 –  Sunday Night Rain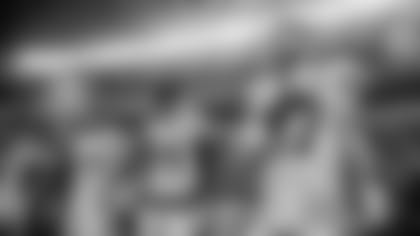 Date:October 2, 2016
Model:Canon EOS-1D X
Focal Length:24
Exposure Program:1
Taken By: Steve Sanders
Sanders' comments: "We were in rainy weather, as we were many times in 2016, and you know, a Sunday Night Football game, the stadium was doing some fireworks, which kind of mixed with the rain, and you have the rain falling and the fireworks shooting up in the air. The expression, I think, on Travis Kelce's face, is like a kid. He just looks like he's ready to have some fun. I know the game didn't turn out like anybody wanted it to, but at this point, everything was still undetermined, it being pregame.
"I probably cleaned the lens before I went up to take that shot, but it was raining so hard that there's just no way to avoid the rain spots on the glass. And it just adds a little bit of fun to it, you know, with the circles. It just makes it different.
"I kept coming back to this photo. It's one of those pictures that I can't get away from, and every time I see it, I don't have to do too much to it, and it just keeps drawing me in. I find it interesting. Every time I look at it, I see something else."