"Behind the Lens" is an article series onChiefs.com* that will highlight the top 10 photos from the 2016 archives every Tuesday over 10 weeks.*
*Chiefs photographer Steve Sanders, who has been with the team for more than 20 seasons, provides the commentary.*
The Top 10 Chiefs Photos of 2016
No. 3 – *The Kansas City Thief Strikes in Carolina*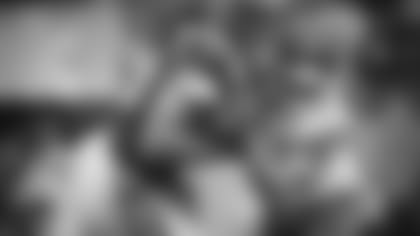 Date:November 13, 2016
Model:Canon EOS-1D X
Focal Length:400
Exposure Program:3
Taken By: Steve Sanders
Sanders' comments: "This is Marcus Peters ripping the ball from Kelvin Benjamin, kind of an 'I'll-take-that' moment, and Benjamin is so much bigger than Marcus Peters and Marcus' determination just to get that ball out and make a play, he just took it right from him. I had never seen anything quite like that.
"It's rare to get something like this, where you can capture the whole game with one photo. We stole that game, just like Marcus Peters stole that ball."