"Behind the Lens" is an article series onChiefs.com* that will highlight the top 10 photos from the 2016 archives every Tuesday over 10 weeks.*
*Chiefs photographer Steve Sanders, who has been with the team for more than 20 seasons, provides the commentary.*
The Top 10 Chiefs Photos of 2016
No. 5 – *Out in the Cold*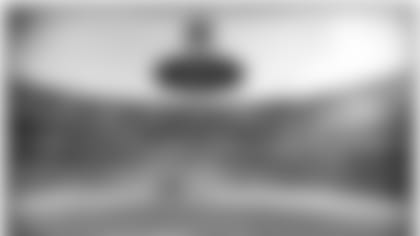 Date:December 18, 2016
Model:Canon EOS 5D Mark III
Focal Length:35
Exposure Program:3
Taken By: Steve Sanders
Sanders' comments: "To me, in this picture, if you take out the ArrowVision board, it looks like it could be old-time football. There's not real focus on any one player in particular. You've got the steam and the fog coming off the field from the heat coming off our coils that we put in meeting the cold air, and it just looks so cold. I just thought it was interesting how that looked. Again, it's in black and white, which makes it probably feel even colder, and it was cold. It was the coldest game I've ever shot a picture in."