"Behind the Lens" is an article series that aims to highlight the top photographs from the 2017 season as captured by Chiefs' photographer Steve Sanders and his staff.
We began to explore those photos earlier this month and will continue to do so throughout the offseason along with Sanders' commentary. 
Here's a look at what we've covered so far:
We'll continue with No. 10.
"How 'Bout Those Chieeeeefs!"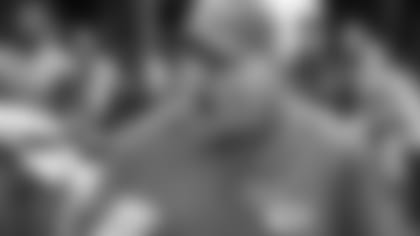 Date:Monday, October 2, 2017
Model:Canon EOS-1D X Mark II
On why he likes it: "It's all about the expression here," Sanders said. "You can just hear him yelling, 'Chieeeeefs!' and feel the emotion that be brings to the team after a win like that. I think it's pretty special."
On capturing Andy Reid in the moment:"It was fun to see a piece of his emotion tear through a little bit," Sanders said. "It was great to capture him like this and I just like the feeling of the celebration in this photograph. He really embraces that postgame celebration and makes it a little different every game. Sometimes it's quiet and sometimes it's loud, but he was really animated that night."