"Behind the Lens" is an article series that aims to highlight the top photographs from the 2017 season as captured by Chiefs' photographer Steve Sanders and his staff.
We began to explore those photos last month and will continue to do so throughout the offseason along with Sanders' commentary.
Here's a look at what we've covered so far.
We'll continue with No. 8 –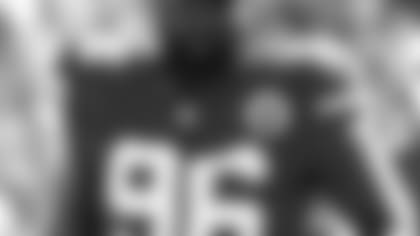 Date: Sunday, September 24, 2017
On the photo: "This is a portrait of (defensive tackle) Bennie Logan that was shot around the bench area during the game at the Los Angeles Chargers," Sanders said. "There's something about the light in California, no matter where we're playing - if it's LA, San Francisco or back in San Diego - the light in California is just different. It makes the pictures just look a little more crisp. I took this in the middle of the game when they had just come off the field after a defensive series and he just made eye contact with the camera at the right time. The distance that I was shooting from allowed the background to be really clean and it really set him apart."
On the difficulty of catching candid eye contact: "It doesn't happen often, and it's best when it happens naturally," Sanders said. "Sometimes you'll get the guys' attention and they'll look over at you, but when it happens naturally and you catch them looking right through you, it really captures the moment."