The Kansas City Chiefs (11-2) are playoff-bound for the fifth time in six years under head coach Andy Reid after their thrilling 27-24 win over the Baltimore Ravens (7-6) Sunday afternoon at Arrowhead Stadium.
Here are 12 observations from the game:
1. The Chiefs were challenged, and they responded
This wasn't a perfect game from the Chiefs, but it didn't matter.
They fought through several situations in which a lesser team wouldn't have been able to recover, and much of that ability to overcome simply comes from the amalgamation of talent on this roster, and much of it also has to do with the character of the players in that locker room.
They overcame key penalties, a second-half turnover that led to a go-ahead touchdown with less than 19 minutes to go in the game, a missed game-winning field goal attempt as time expired, and also some dropped passes that could have made the whole thing a bit easier on themselves.
Both sides of the ball made plays we'll all remember for a very long time.
Through it all, the Chiefs' offense—led by the league's obvious leading candidate right now for the MVP award, Patrick Mahomes, stepped up when they needed to, and the Chiefs' defense, which had allowed the Ravens' to rush for nearly 200 yards at a five-yards-per-rush clip, closed it down when it mattered the most.
It was a complete team win, and one we should remember moving forward.
2. Patrick Mahomes is ridiculous
Go ahead and add this game to the ever-growing resume for Mahomes' MVP candidacy.
Several of the throws we witnessed on Sunday will be put on repeat for years to come. They will never be forgotten, and neither should the context of when they took place.
"I think this was [Mahomes] best game for a lot of reasons," Chiefs' coach Andy Reid said after the game. "He really did a nice job. This defense was a huge challenge. These son-of-a-guns were really good and had a really good package that they unloaded at him, and he kept bringing it.
"I'm proud of him for doing that."
Mahomes finished the game 35 of 53 for 377 yards with two touchdowns and an interception against the league's best pass defense through 13 weeks.
This was a defense that had held the Saints' Drew Brees, the Falcons' Matt Ryan, and the Steelers' Ben Roethlisberger (two games), to average just 212 yards passing in those respective games. Mahomes nearly doubled that while making plays in the biggest of moments.
He was making only his 14th career start, but he gave us a no-look pass to Demarcus Robinson that could be as close as any football highlight can come to "breaking the internet," and his 48-yard hookup to Tyreek Hill may be the most ridiculous throw he's made in a season in which there are multiple every week, and then his sidearm sling to Spencer Ware along the sideline will probably be overlooked because of the late-game ridiculousness we witnessed.
Most importantly, Mahomes went 13 of 16 for 163 yards and a touchdown on the Chiefs' final two scoring drives, which came with the Chiefs trialing by a touchdown late in regulation, and then in overtime when they had the ball and marched down to put points on the board.
Big-time players, big-time plays, big-time situations.
That's the easiest way to explain 23-year-old Patrick Mahomes.
3. Justin Houston took control on the Ravens' final drives
During a postgame interview for Chiefs Rewind, which can be seen on KCTV5 Sunday night, or at Chiefs.com on Monday morning, veteran outside linebacker Justin Houston shared a story about how he found motivation during the game.
Houston told us that he was actually called out by teammate Justin Hamilton, who praised Houston as a leader but said he wasn't playing up to the right standards, and Houston explained that he needed to hear that—to be held accountable by his teammates.
Houston responded by taking control late in the game. His strip-sack of quarterback Lamar Jackson gave the Chiefs a chance to win at the end of regulation, and then on the Ravens' final drive in overtime, Houston forced a holding call that pushed the Ravens even further back, and then on one of the last plays of the game, Houston dominated the Ravens' offensive line and it resulted in a shared sack with Dee Ford.
It wasn't a perfect game, but it was an important game.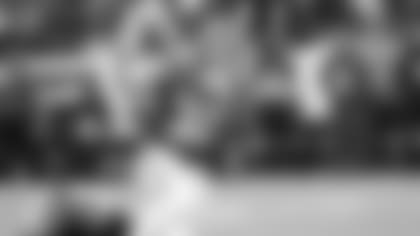 4. Spencer Ware provided a spark to the offense
As good as Mahomes was on Sunday, the lift that running back Spencer Ware provided the offense shouldn't be overlooked.
Ware finished the game with 129 total yards from scrimmage, which included several key plays in which he fought through multiple tacklers to provide a little energy to the team.
He left the game late in the first half after taking a big hit along the sideline, but he returned in the second half and continued to provide a spark.
5. Travis Kelce helped carry the Chiefs' offense early
Coming off back-to-back 100-yard games over the past couple of weeks, Travis Kelce kept that hot streak going early on Sunday—hauling in six catches for 71 yards and a touchdown in the first half.
Kelce made multiple catches on balls that were thrown up to an area that only Kelce would have a reasonable chance to make the reception, and he made some very difficult catches look very routine.
But that's generally what the best players in the league at their respective positions do.
6. Tyreek Hill helped carry the Chiefs' offense late
Tyreek Hill showed his teammates, his coaches, and all his fans something on Sunday afternoon—playing through multiple bumps and bruises and making huge plays in the process.
Hill finished the game with eight receptions for 139 yards, including a memorable 48-yard reception on fourth-and-9 when the game was on the line.
With 1:29 left in the game and trailing by a touchdown, the Chiefs' offense faced a fourth-and-9 from their own 40-yard line. Mahomes escaped out of the pocket to his right—scrambling around to the tune of 31 yards before heaving it deep down the field in the general direction of Hill, who made a great adjustment to the ball and caught it on the run for a huge 48-yard gain to give the Chiefs life when it seemed they had run out of lives.
There hasn't been a more momentum-changing play all season than that connection between Mahomes and Hill.
7. The Chiefs' defense had another huge fourth-down stop
For as much flack as the Chiefs' defense has routinely got from outside media recently, there was another moment that helped define and shape this victory by the defense that wasn't either of those late plays mentioned earlier about Houston.
On the Ravens' first drive of the second half, they faced a fourth-and-1 from the Chiefs' 39-yard line, and they decided to run it up the middle with Gus Edwards—the young rookie running back who has impressed in limited action this season.
But Edwards was stopped short of the first down by Chiefs' defense lineman Allen Bailey and company—allowing the Chiefs to hold on to their 17-10 lead at the time.
It's another one of those plays that could soon be forgotten with everything else that took place afterwards, but the truth is without this play, the whole complexion of the rest of the second half could have looked vastly different.
8. Chris Jones sets NFL record for consecutive games with a sack
Chris Jones didn't waste any time on Sunday afternoon—bringing down quarterback Lamar Jackson for a sack on the Ravens' fifth offensive play of the game.
It gave Jones a sack in nine-straight games, which is not only a franchise record, but it's also an NFL record for the same season.
Jones has improved in each of the first three years of his career, and he's exploded this season to the tune of 11.5 sacks through 13 games, which puts him in the Top 10 in the league right now.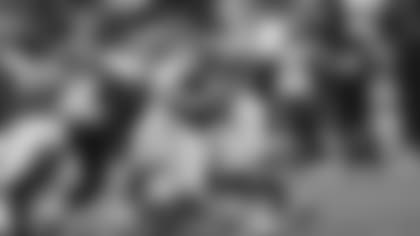 9. The Chiefs were 3-for-3 on fourth down
Mahomes completed both of his fourth-down passes on the day—the aforementioned 48-yard hookup with Tyreek Hill, which also led to the fourth-and-5 touchdown toss to Damien Williams in the right flat.
The other conversion was a fourth-and-1 handoff to fullback Anthony Sherman, who bulldozed his way to the first down on the first play of the fourth quarter.
10. Damien Williams finds the end zone twice
Chiefs' running back Damien Williams hadn't scored all season despite appearing in every game up until Sunday, but he found pay dirt twice against the Ravens to help lead the Chiefs to the big win.
Williams ran it in for a 1-yard score midway through the first quarter, which gave the Chiefs an early 7-0 lead, and then he caught the fourth-down pass from Mahomes that tied the game with less than a minute to go in regulation.
Overall, Williams finished with 12 touches for 30 yards with those two key scores.
11. Kendall Fuller finished with three passes defensed
Fuller led the Chiefs with three passes defensed on Sunday, including one on the final play of the game, which sealed the win for the Chiefs and put them into the playoffs.
It's worth noting that fellow cornerback Steve Nelson also had a fantastic pass breakup along the far sideline that was a big moment in the second half as well.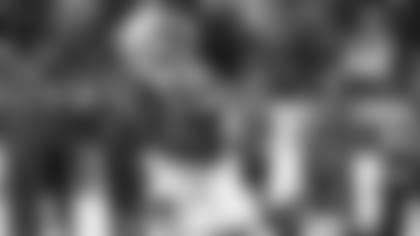 12. The postgame injury update
Here's what coach Reid had to say after the game about injuries:
"Cam Erving hurt his right knee and had to come out of the game, and then Spencer Ware tweaked his hamstring a little bit. We will just have to see how both of those go."
Veteran Jeff Allen, who signed back with the Chiefs in October, stepped in for Erving at left guard.
Reid was then asked about Tyreek Hill, who came out for a little bit.
"He hurt his hand," Reid noted. "Then he hurt his foot. You know, it was a couple of things. He got stepped on and then he got his hand in between two helmets. He was okay when it was all said and done."
The Chiefs will have to get healed-up quick as they play host to the Los Angeles Chargers on Thursday night at Arrowhead Stadium.
With a win, the Chiefs would claim the AFC West title for a third-straight year.
Photos from the Chiefs Week 14 matchup against the Ravens at Arrowhead Stadium