The Kansas City Chiefs wrapped up their 2018 preseason in exciting fashion as they took down the Green Bay Packers by a score of 33-21 on Thursday night at Arrowhead Stadium in their fourth and final preseason game.
Looking ahead, the Chiefs now have until Saturday afternoon at 3:00 p.m. CT to whittle their roster down to 53 players, which means 47 players have to be let go between now and that time. 
Across the league, there will be more than 1,100 players released all within the same 24-hour period, and Thursday's game was the final opportunity for those players to show what they could do.
Here are five observations from the game:
1. It was a good day for Armani Watts
When the Chiefs selected former Texas A&M safety Armani Watts in the fourth round of the 2018 NFL Draft last spring, they knew of his instincts, which had carried him throughout his four years in College Station and were the catalyst for the 16 turnovers he caused over that time.
During a post-draft film breakdown, Chiefs' general manager Brett Veach spent about 25 minutes breaking down one interception Watts had to win a game over Arkansas, so the fact that Watts went out there on Thursday night and snagged a couple of interceptions shouldn't really be all that surprising. He's always had the instincts to make plays, he just needed time to adapt to the defensive scheme and put his natural ability within those rules. 
It only took Watts three plays from scrimmage before he made his presence felt against the Packers.
Watts was able to get his hands underneath the errant throw from Packers' quarterback DeShone Kizer and secure the ball for the defense, and then he came back again in the second half and made a phenomenal diving interception that will be on a lot of highlight reels moving forward. 
"He had a big night tonight," Chiefs' coach Andy Reid said after the game. "That's what you saw at Texas A&M. He's an instinctive player. It's just a matter of him playing more and you will see a different player each week in a positive way I think. The more he has played the defense the better he has gotten. He's got pretty good hands, and those were pretty good catches."
Watts finished the game with two tackles and those two interceptions.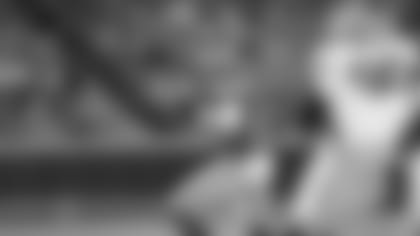 2. Chad Henne was efficient again
Chad Henne just needed one series to find the end zone as the 11-year NFL veteran marched the Chiefs' offense down the field by completing 4 of 5 passes for 33 yards before finding tight end Demetrius Harris for the 3-yard touchdown on the drive following Watts' first interception. 
That was the only drive Henne would have in the game and it capped off what was a very good preseason for him as he completed 22 of 34 for 225 yards with three touchdowns and an interception over the four preseason games.
During an interview at halftime, Chiefs' coach Andy Reid credited the offensive line for "picking up" a lot of what was thrown at Henne and them on that drive—with Henne explaining after the game that the Packers were bringing a lot of 5-man looks, which meant "our guys were winning their 1-on-1 battles."
3. Makinton Dorleant sealed the win
It had to feel good for Chiefs' second-year cornerback Makinton Dorleant to grab what turned out to be a game-sealing pick-6 against his former team. 
Dorleant, who spent almost a year with the Packers after going undrafted out of Northern Iowa in 2016 and signing there as a free agent, had the most exciting play of Thursday night's win.
Early in the fourth quarter with the Chiefs holding a 26-21 lead, Dorleant was in the right place at the right time as he snagged the pass from Packers' quarterback Tim Boyle and returned it 30 yards for the Chiefs' touchdown.
Dorleant showed some ability with the ball in his hands after he made the interception as well—dodging a few would-be tacklers and diving for the end zone pylon in what turned out to be a key play in the Chiefs' 12-point win.
4. Former K-State standout Byron Pringle had a solid day before he left with an injury
Before he left the game with a hamstring injury midway through the third quarter, former K-State standout receiver Byron Pringle made several flash plays in the game. 
Pringle finished with four receptions for 122 yards, which included a beautiful 62-yard catch in which he tracked the ball over his shoulder deep down the middle of the field. 
It's worth nothing that big plays are nothing new to Pringle, who led the nation last year at K-State by averaging 25.2 yards per catch.
But early in the third quarter, Pringle hauled in a 40-yard strike from undrafted rookie quarterback Chase Litton, who had several beautiful throws on the night, but after making the catch, Pringle came up limp and went down grabbing the back of his leg as he tried to pull away from the defender. 
He was quickly ruled out with a hamstring injury.
5. Darrel Williams found the end zone to cap off an impressive preseason
In addition to Pringle, another undrafted free agent who had a good night was former LSU running back Darrel Williams, who was able to haul in a nice touchdown grab on a 7-yard pass from quarterback Matt McGloin late in the first half. 
The play was the first response to the Packers taking an 11-point lead in the first half, and it was a nice response by a group of young players. 
Williams' ability to catch the ball out of the backfield was also on display a couple of weeks ago against the Atlanta Falcons, where he led the Chiefs' offense on a third quarter drive that gave everyone an idea of what he was about, but the catch on Thursday night put him in the end zone for the first time this preseason. 
Williams finished with 11 carries for 41 yards, adding three catches for 19 yards and the touchdown through the air as well.
Photos from Chiefs vs. Packers Game preseason Week 4 game