KANSAS CITY, Mo. — The Kansas City Chiefs rolled to the playoffs last season thanks largely to an opportunistic defense and an explosive special teams unit that accounted for nearly a touchdown a game.
Evidently, nothing has changed this preseason.
Sean Smith and Malcolm Bronson returned interceptions for scores, De'Anthony Thomas brought back a punt 80 yards for another touchdown and Kansas City held on to beat the Cincinnati Bengals 41-39 in their preseason opener Thursday night.
"We want to score touchdowns in all three phases of the game, and we were able to do a pretty nice job of that tonight," said Chiefs coach Andy Reid, whose team had 11 such touchdowns last season. "In return, you have to cut back on some of these turnovers on the other side."
Yes, the Chiefs also had three turnovers that led to 21 points, including an interception return by Dre Kirkpatrick during a first half that ended with the Chiefs leading 27-24.
"It's tough to win football games like that," Chiefs quarterback Alex Smith said.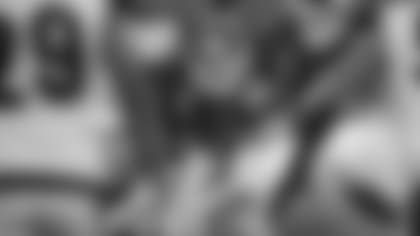 Andy Dalton was sharp in his only series for the Bengals after signing a new six-year deal this week. He hit wide receiver A.J. Green for a 53-yard pass to set up the opening field goal.
"We wanted to score a touchdown but we moved the ball well," Dalton said. "We did some good things, some quick passes. Took a shot and hit A.J. on a deep one."
Dalton quickly gave way to backup Jason Campbell, who was just 6 of 15 for 72 yards. And while he threw a pair of touchdown passes, Campbell also was responsible for the TDs by Smith and Bronson before getting banged up midway through the third quarter and exiting the game.
"We played good, but you still want to win," Bengals defensive end Robert Geathers said.
Both teams played their starters sparingly, which is common in preseason openers. But the Bengals were also forced to use their backups to plug holes caused by injury.
Starting offensive linemen Andrew Whitworth, Clint Boling and Andre Smith, tight end Jermaine Gresham, wide receiver Marvin Jones and defensive tackle Geno Atkins all sat out the game.
Chiefs safety Eric Berry and defensive tackle Mike DeVito also did not suit up.
Alex Smith, in negotiations on his own long-term deal, struggled along with the rest of the Chiefs' first-team offense. They went three-and-out on their opening series, and Smith was strip-sacked on their next possession to set up Campbell's short TD toss to Brandon Tate.
That was just the start of an entertaining, back-and-forth half.
Albert Wilson returned the ensuing kickoff 65 yards to set up Ryan Succop's short field for Kansas City. After the Bengals stalled on their next possession, Thomas fielded the punt and spun away from Kirkpatrick before racing 80 yards for a tying touchdown.
"I was just focusing on looking the ball in," he said. "I saw the lane and took it."
On the next offensive play, Campbell was intercepted by Sean Smith -- a former starter trying to win his job back -- and he returned it 36 yards to give Kansas City a 17-10 lead.
Kirkpatrick atoned for his special teams flub when he intercepted a badly thrown ball by Chiefs backup Chase Daniel and returned it 40 yards for a TD. And after the Chiefs added another field goal, Campbell connected with Dane Sanzenbacher for another score and a 24-20 lead.
In the waning seconds of the half, Daniel found tight end Travis Kelce running open down the seam. The big tight end, who missed his rookie season to injury, hauled in the 69-yard TD pass.
Bronson returned his pick-6 early in the second half to give the Chiefs a 34-24 lead, and the teams traded fourth-quarter TDs before Cincinnati scored again in the final seconds.
"I'm not satisfied with the outcome but I saw a lot of positives, things we've got to work on and build from," Bengals coach Marvin Lewis said. "We've got some work to do. Open-field football for the first time gets everybody's attention."
Notes:Bengals first-round pick Darqueze Dennard made a sack on a cornerback blitz early in the game. He was shaken up later in the game. ... Dalton finished 3 of 5 for 71 yards. Alex Smith was 3 of 5 for 19 yards. ... Succop and Cairo Santos, in a battle for the Chiefs kicking job, each hit their only field-goal attempt.