There was something different about this specific Sunday morning in St. Joseph, Missouri and it had nothing to do with the unusually low temperatures, given this time of year.
The Kansas City Chiefs awoke, made their way to the dining hall for breakfast, before later heading to the practice field for an 8:15 AM CDT start time. As the players like Chiefs safeties Eric Berry and Kendrick Lewis made their way to the field dressed in full pads, the energy was different, not only leading up to practice, but carrying all the way through.
Chiefs head coach Andy Reid put his finger on the pulse of practice, addressing the media after Sunday's workout.
"It's good to get the guys out here, working in pads," coach Reid said.
"They banged it around a little bit. I thought they traded back and forth, offense and defense. There were some good things on both sides. It was good to get the blitz package working and get the timing of that. It's good for the offensive line; it's great for the defense to coordinate everything up there. All in all, I thought it was a good day. A lot of room for improvement, so, we'll go back and we'll look at the tape and the guys will continue to work to get better but, there sure were a lot of good things too.
Headlining practice was the return of Chiefs WR Dwayne Bowe, who made the most of his reps, including an early deep-throw reception from Chiefs QB Alex Smith.
"Better, much better," Bowe said of his health. "A couple of days ago I couldn't even talk, so it's a good thing I'm out here. I'm feeling good; I took my conditioning test yesterday, the chest was loosening up, so I'm happy to be back."
As for an evaluation of Bowe's day, coach Reid was pleased, to say the least.
"I thought he did good," coach Reid said. "We started him off a little bit slow, rotated him in, but we got him plenty of reps for his first day back."
"It's awesome," Smith said of having Bowe back. "He's the leader of that group. He sets the tone. Obviously, he's a special player, so, great to have him out there and really, it's on all of us to be a balanced passing attack and really not let them just focus on just him. We have to step up everywhere so that he gets his one-on-ones too and then we can all take advantage."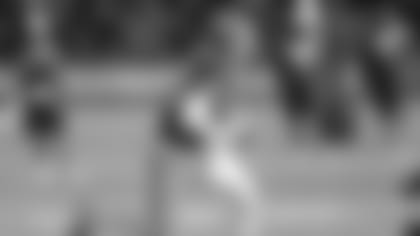 In addition to Bowe's return, several other players, from all three phases, played exceptionally well on Sunday, including Chiefs S Quintin Demps and CB Vince Agnew, who each had an interception on the day. Chiefs DB Tysyn Hartman was also all over the field and made great contact when/where appropriate.
On the offensive side of the ball, Chiefs WR Jon Baldwin was targeted several times and showcased the extra work he put in during the offseason, with his hands, footwork and route-running.
Bowe commented on Baldwin's potential.
"I know he has it in him and this is going to be the year he's going to bring it out," Bowe said. "We have all the right tools to help him, to help me and to help the offense, only time will tell. He's looking good, one-on-ones, seven-on-seven, he has a big body and he's using it. Only time will tell."
New to the Chiefs offense is rookie TE Travis Kelce, who had one of the best plays of the day, making a catch across the middle, after being hit by Chiefs S Bradley McDougald and Chiefs LB Edgar Jones.
"It was just in coverage," Jones said of Kelce's grab. "I was covering him and when I turned around, the ball was there and I tipped it and we really didn't try to hit him but, it just happened like that. All three of us hit the ground and we looked up and he had the ball in his hands and I was like' Man, you have to be kidding me.'" It was an awesome catch by him. We're just out there working, trying to take care of each other and not getting anyone hurt. That's what coach Andy Reid was saying today, 'Have thud, but take care of each other.'"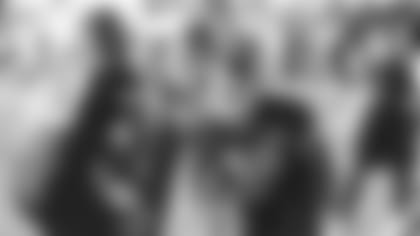 Also on offense, Chiefs FB Anthony Sherman, who has looked great since the team traded for him in May, had a very productive day, making play after play, when called upon.
"The coaches put me in situations that are going to benefit the team," Sherman said. "I think a lot of the stuff that I do, I expect to get the ball because I'm in a certain situation where there's someone like Bowe, who is outside of me, they're going to double cover him and leave me with the linebacker. It all depends on the situation the coaches put us in."
As for who won the practice, offense or defense, Sherman stated it best.
"I think we just got better as a unit," Sherman said.
The Chiefs will have meetings today, followed by dinner tonight, before a more-physical practice on Monday at 8:15 AM CDT.
"Yeah," coach Reid said. "We'll have a live period tomorrow, mixed in with the thud. The thud period is live for everybody; you just don't take people to the ground."
Not able to make it to Chiefs Training Camp? I'll be tweeting updates throughout the team's practices, providing updates, photos and more (@KCChiefs_Reid).