Up to this point, it was the biggest night of his life.
Surrounded by family and friends at the lakeside Lago Del Pino restaurant that he rented out near his hometown in Tyler, Texas, former Texas Tech quarterback Patrick Mahomes II answered the call Thursday night that the Kansas City Chiefs franchise hadn't placed in 34 years.
Not since Todd Blackledge was taken with the No. 7 overall pick in 1983 had the Chiefs made the call to select a quarterback in the first round of the NFL Draft.
To put that in perspective, the only current Chiefs players who were alive when that happened were linebacker Derrick Johnson and punter Dustin Colquitt, and they weren't even walking yet.
Mahomes—the 21-year-old former standout prep baseball player who hadn't stepped onto a football field until his junior year of high school—was overcome with emotion when describing what this moment meant to him.
"Just thinking back now of my journey and how I decided to play football and follow my heart—it all worked out," Mahomes, who opted against travelling to Philadelphia for the draft so that he could share this experience with family, friends, and teammates who have been with him from the start, explained.
"It's God's plan, and I thank him for that, but this is just the beginning."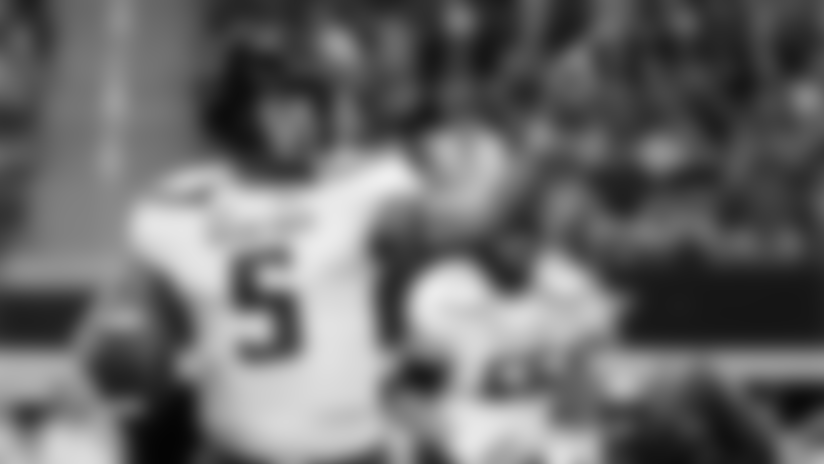 The Chiefs were able to select Mahomes with the No. 10 overall pick after trading up with the Buffalo Bills from No. 27.
To make that move, the Chiefs traded the Bills the No. 27 pick, the No. 91 pick and their 2018 first-round pick.
"It was pretty tense in there for a little bit because we knew there were a few other teams trying to get him," coach Andy Reid explained. "There was a bit of tension but everyone was excited when it happened. It wasn't one of those deals where half the room was in on him and half wasn't.
"Everybody was in on this kid and liked him, so everyone was pretty fired up."
After the first round of the draft had been completed, Chiefs general manager John Dorsey spoke of the process that went into the trade.
"I'd been working about five or six different deals," Dorsey explained. "I started this one probably about five days ago and then (Bills general manager) Doug Whaley and I just talked through the whole thing, and we talked every day. We talked before the draft and said, "Do you still agree?' and he says, 'Yes, I still agree.'
"So, we had come to a gentleman's agreement. But you can never underestimate when you go through that draft; somebody can pull the rug out from under you and all of a sudden you're left holding nothing."
The Chiefs didn't end up with nothing. They ended up with a player that many draft analysts said has the highest ceiling of any quarterback in this draft.
Mahomes, who led the nation in passing last year at Texas Tech—averaging 421 yards passing per game with 41 touchdowns and 10 interceptions—has been described as a "gunslinger" by many.
"I'm willing to invest in that type of player because I believe in his skillset and what he's going to develop into," Dorsey added. "He's got the skillset to be one of those truly great players, and I think sometimes when you make an aggressive move like that – that's why you do it.
"These players, they don't come by too often. So, you have to take a shot at it, and that's what we did."
Mahomes was one of the Chiefs' 30 pre-draft visitors allowed by NFL rules in the weeks leading up to the draft, and Reid said throughout the process and for the six hours he spent with the staff in Kansas City—they immediately and collectively bought into what he could become.
"Everybody just fell in love with the kid, and what he was all about and how he went about his business," Reid added. "That doesn't happen every year."
One of the big questions Mahomes was asked throughout the pre-draft evaluation process by teams and media analysts alike was in regards to the "Air Raid" system he played in at Texas Tech, and the lack of verbose play calls he had to spit out like he'll see with Reid and company in Kansas City.
It was a question Reid and company had for him during the process as well, and they took advantage of the time they had with him to try and figure that out.
"When we got him in here, we tried to bury him the best we could to find out," Reid explained of testing Mahomes' ability to learn and relay an NFL offense during his visit. "That's the only way you can find out. That's what's real. We got him in here and we threw the kitchen sink at him and expected him to spit it out."
"They really tried my knowledge," Mahomes recalled. "They tested me. They grinded me out. They wanted to see how I adapted and how I processed information. I feel like I did well. They talked a lot about my film at Texas Tech and they wanted to know what I did. They really went into detail and they were trying to figure out how fast I could transition."
Mahomes, who was one of at least six quarterbacks to take a pre-draft visit to Kansas City, passed the test.
"I had the coaches rank (the quarterbacks) on their ability to learn the game and retain it and do the whole thing, and [Mahomes] was number one, out of all the guys (we brought in)," Dorsey added.
It doesn't take long in watching his tape to see the athletic gifts Mahomes possesses. He can sling it around the field, tossing 50-yard touchdowns with ease, but it takes more than that to impress Reid.
"His intelligence is a plus," Reid added. "His ability to move in the pocket—very seldom do you have a perfect pocket in the National Football League. So, that all looks good when you're at the combine and (nobody is chasing you or anything), but what's real is that you have to be able to move and still throw with velocity.
"We thought [Mahomes] did that well. He has tremendous vision and tremendous upside."
While veteran Alex Smith is firmly entrenched as the starter heading into next season, the opportunity for a player with Mahomes' natural skillset and ability to learn from a cerebral and professional quarterback like Smith is ideal for everyone involved.
"He's got some work to do, but he's coming into a great room," Reid added of Mahomes. "He gets an opportunity to learn from [Smith], which will be a phenomenal experience for him."
Smith has led the Chiefs to a 41-20 record over the past four years, which ranks among the most wins for a player under center in the league.
"That's going to be awesome," Mahomes said of learning from Smith. "He has had a successful career in the NFL, so you know he is doing things the right way. So, he's a guy I would come behind and try to really just learn from and do what I can just to help the team in any way possible."
Despite all the negative connotations out there regarding the "Air Raid" system and quarterbacks who have attempted to make that transition to the NFL in the past, Mahomes explained that he still had plenty of responsibility within their offense at Texas Tech.
"I could change any play anytime in the game," Mahomes explained. "That's just (Texas Tech) Coach [Kliff] Kingsbury believing in me, and that's the type of control I had of the offense. I told the line what the protection was, told the receivers what routes they had; I told the running backs what he had.
"It was more like coach Kingsbury and I having a conversation on the field instead of him calling all the plays."
At the end of the day, the Chiefs were able to bring in a quarterback who has all the ability in the world and will soon be tasked with learning the 400-plus passing plays in Reid's playbook, along with everything else.
While it may be a year or more before Mahomes finds the field, the future looks bright for him.
When asked what it takes to be special at the quarterback position in the NFL—something he knows pretty well considering he's worked with Brett Favre, Donovan McNabb and Michael Vick throughout his career, among others, Reid said it's more than footwork, arm talent or athletic ability.
"They make everyone around them better," Reid explained. "The great ones just have a tendency to do that."
For his part, Mahomes is already showing a tendency to say all the right things, and he's not putting any more on himself because of the franchise's 30-plus-year drought of taking a quarterback in the first round.  
"I'm going to come in and try to become the best teammate I can be, work hard and just learn as much as possible from everybody," Mahomes added. "That's the spirit, competitiveness and attitude I'm going to bring every day."