The Kansas City Chiefs made one of their first moves of the offseason late last month with the signing of free agent cornerback .
Amerson, a second-round pick of the Washington Redskins in 2013, spent the last three seasons with the Oakland Raiders. The North Carolina State product has tallied 249 tackles (215 solo), eight interceptions and 63 passes defensed in his career.
Chiefs' General Manager Brett Veach spoke about Amerson on Thursday at the NFL Scouting Combine.
"I think Dave was a tremendous talent coming out (of school) - he was super productive at NC State," Veach said. "From a skills standpoint, he's a six-foot corner, he's long, he's athletic, he has really good hips and (can stay) on top of routes. He's been a little inconsistent and has been banged up, but it's one of those things where the Raiders decided to move on and we evaluated his tape and liked his skill set. I think there's still some development and growth that he can reach."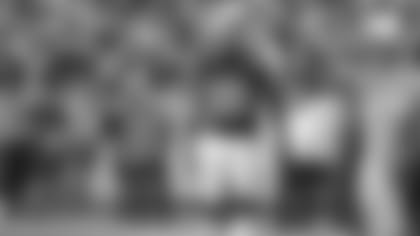 Amerson put together his best season as a professional in 2015, where he picked off four passes and led the NFL with 26 passes defensed. He started 15 games the following season, recording two interceptions – including a pick-six at Arrowhead Stadium – and 16 pass breakups before injuries limited his chances on the field in 2017.
Now in Kansas City, Amerson has an opportunity to show what he can do.
"I think he's going to add competition," Veach said. "We're going to bring in guys that are going to compete, that will show up every day and just get after it. Certainly, he's shown the ability. I think a couple years ago he was one of the leaders in PBUs (pass breakups). He can play. He can play in this league. If he stays healthy and comes in with the right attitude, he'll have a great shot."