It's impossible to talk about the Denver Broncos and not start with quarterback Peyton Manning.
As one of the best to ever take snaps under center, Manning shattered records last year with more than 5,400 passing yards and 55 touchdowns. 
But the Broncos offense saw some changes this offseason with receiver Eric Decker leaving in free agency for the New York Jets. He was replaced by former Pittsburgh Steeler Emmanuel Sanders, who signed with the Broncos as a free agent.
In his four years with the Steelers, Sanders had 161 receptions for 2,030 yards and 11 touchdowns.
It didn't take long for Sanders to get acclimated to the Broncos offense, catching six passes for 77 yards in his debut against the Indianapolis Colts.
Chiefs safety Eric Berry knows the kind of player Manning has proved to be throughout his career, but says the Chiefs defense is ready to get back out on the field and step up to the challenge.
"Everything they do is based off timing, based off rhythm," Berry said. "Peyton is going to put the ball where it needs to go, so anytime you can knock them off their course or knock the timing out, I think that will make it very difficult for them to move the ball." 
Last year, the Broncos spent more than 70 percent of their time in "11 personnel," meaning they had three receivers out on the field with one running back and one tight end. The majority of the time it was Demaryius Thomas, Wes Welker and Eric Decker on the outside at receiver.
With Decker gone and Welker serving a four-game suspension, the Broncos offense had a different look against the Colts in Week 1.
They spent 56 percent of their time in "12 personnel," meaning they had two tight ends and just two receivers.
One of those tight ends, Julius Thomas, had a breakout game against the Colts, hauling in seven passes for 104 yards and three touchdowns.
That performance earned Thomas AFC Player of the Week honors.
Berry, who may find himself up against Thomas at times in this game, says you just have to trust in your preparation and then just react out on the field.
"You just have to use good technique, trust yourself, trust your training and trust your coaches," Berry explained. "We have great coaches—Al Harris has been helping us with our technique."
Late in the first quarter against the Colts, Manning and Thomas teamed up for the play below, which resulted in a 34-yard gain and set up the Broncos first touchdown.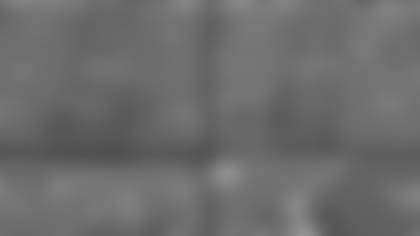 Later in the second quarter, Manning and Thomas once again hooked up for a long reception, but this one resulted in a touchdown for the Broncos.
In the first play, Thomas lined up out wide but on this one, he's in line like you would see from a traditional tight end set.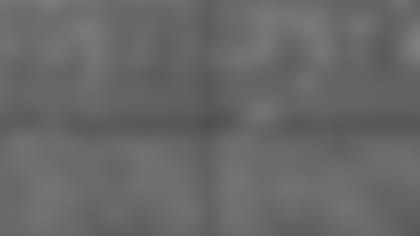 One thing Peyton Manning has been known for throughout his career is his ability to make checks at the line of scrimmage. He's constantly putting his offenses in good situations as the very definition of a cerebral quarterback.
That ability is demonstrated with his ability to get the ball out quickly.
In Week 1 against the Colts, Manning had the ball out of his hands in 1.95 seconds on average. That makes it very difficult for anyone, even when bringing pressure on a blitz, to get to Manning.
"We know he's going to get the ball out quick," cornerback Chris Owens said. "I just think this week we have to pay attention to all the details in our game and technique."
Linebacker James-Michael Johnson, who has the task of stepping in for injured linebacker Derrick Johnson, who was lost for the season with an Achilles injury, believes you can't deviate from your game plan when you go up against Manning.
"Make sure you stick the course on what you planned on and been practicing all week," Johnson said. "Don't let [Manning] dictate too much. We want to be the dictators and go out there and set the tone. You can't let him sit back and do what he does."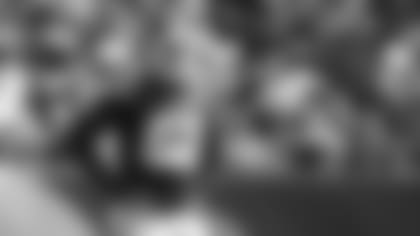 One common misconception about Manning is the manner in which he picks up his gaudy passing numbers.
The majority of his passes don't travel that far down the field in the air. Obviously, this doesn't make it any easier to defend him, but it's something to note.
According to Pro Football Focus, last year, Manning attempted just 259 passes that traveled at least 10 yards down the field, which accounted for just 32 percent of his overall attempts.
Conversely, Manning attempted 250 passes that traveled between the line of scrimmage and just nine yards down the field—between the numbers, last year.
It's not a secret to anyone who has watched Manning play that short passes across the middle of the field are his forte, and he did the same thing recently against the Colts.
Manning was 9 of 12 for 81 yards and two touchdowns on "short-middle" passes in that game last week, while only attempting 11 passes that traveled in the air beyond nine yards.  He was 4 of 11 on those passes.
Also, Manning has always been known for his ability to make defenses pay when they decide to blitz him. He completed over 62 percent of his passes last season when teams sent five or more guys after him.
The Colts blitzed Manning on 41 percent of their defensive plays, and Manning completed just 50 percent of those passes.
While Manning's ability in the Broncos offense hasn't changed since arriving in Denver two years ago, the defensive personnel looks quite different this year for the Broncos.
The Broncos made a splash in free agency on the defensive side of the ball by picking up three Pro Bowl players—outside linebacker DeMarcus Ware, safety T.J. Ward and cornerback Aqib Talib.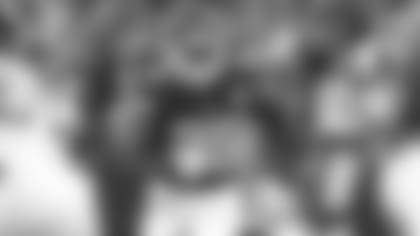 Against the Colts, Ware picked up 1.5 sacks and Talib led the team with three passes defensed.
Those three players, along with the rest of the Broncos defense, will prepare for a Chiefs offense that didn't play up to their potential against the Tennessee Titans, but the return of standout receiver Dwayne Bowe should help the Chiefs on the outside. The Broncos will also have to contend with running back Jamaal Charles, who has carried the ball 153 times for 823 yards in his career against the Broncos, including the best single-game rushing performance in Chiefs history— running for 259 yards and two touchdowns in Denver back in 2009.