The 2013 season began with new optimism for the Kansas City Chiefs, when head coach Andy Reid took over the reins last January. Known for his brilliance on offense and equipped with new Chiefs QB Alex Smith, the team's passing game was set up for a very productive year. Coach Reid hired Chiefs WRs coach David Culley to get the most out of the team's wideouts and 2013 was a great start.
Of the Chiefs wide receivers in 2013, Dwayne Bowe led the position group with 57 receptions, covering 673 yards and five TDs. He also joined Chiefs three-time Pro Bowl RB Jamaal Charles in eclipsing the 6,000 yards from scrimmage mark for their careers. Bowe's 6,401 receiving yards rank him fourth in team history for most yards catching the ball. His 57 grabs marked the sixth time in his career he has had 50 receptions in a single season. He became only the second person to record at least six 50-reception seasons in franchise history, trailing former Chiefs TE Tony Gonzalez, who had 11 such seasons.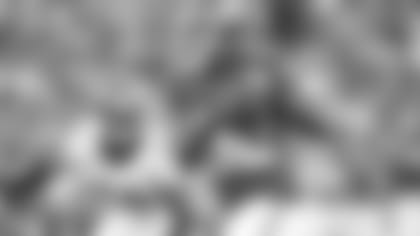 Dwayne also became the sixth player in franchise history to record 6,000 or more receiving yards in his Chiefs career. He became the fastest player to reach the 6,000-yard plateau, recording 6,023 receiving yards in 95 games. Bowe's 472-career receptions trail only Tony Gonzalez (916) for the franchise record.
Chiefs WR Dexter McCluster appeared in 15 games at wide receiver (six starts), missing one game with an ankle injury, and totaled 53 catches for 511 yards and two-receiving TDs in 2013. He also recorded eight rushes for five yards. Dex posted seven receptions for 52 yards (7.4 avg.), one rush for three yards and one punt return for six yards in the team's playoff matchup against the Indianapolis Colts.
Known as the speedy wideout, Chiefs WR Donnie Avery signed with the team in the offseason. He played in 16 games (14 starts), posting 40 receptions for 596 yards (14.9 avg.) with two touchdowns and recording two carries for six yards. Starting in the team's playoff game against the Colts, Avery made the most of his one reception, scoring from 79 yards out (before later leaving the game with a concussion). The catch is the Chiefs longest reception in a playoff game.
Chiefs WR Junior Hemingway made an immediate impact on the Chiefs 2013 season, scoring his first-NFL TD in Week 1 against the Jacksonville Jaguars. Appearing in 16 games (two starts), Hemingway caught 13 passes for 125 yards (9.6 avg.) with two touchdowns. Junior also exceled on special teams, adding eight tackles. In the Chiefs Wild Card matchup against the Colts, Hemingway caught two passes for 30 yards.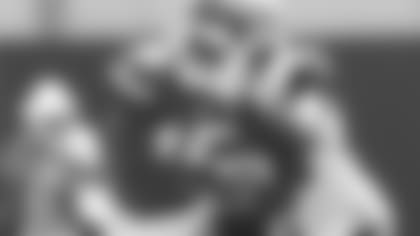 Chiefs WR A.J. Jenkins joined the Chiefs in 2013 as part of a trade that sent WR Jon Baldwin to the San Francisco 49ers. Jenkins played in 16 games (one start) and caught eight passes for 130 yards (16.3 avg.) and rushed two times for six yards. He also added one reception for 27 yards in the team's playoff matchup with the Colts.
Kansas City's wide receivers responded to the team's new look in 2013 and with more hard work, coming in the offseason, Chiefs fans can be extra hopeful for point-scoring aerial attacks in the City of Fountains, and on the road, in 2014.