The Kansas City Chiefs have been one of the best in the business on special teams since Dave Toub took over the unit in 2013, and this year has been no different.
Let's take a look at five interesting statistics on special teams through the first nine weeks of the season.
1. The Chiefs haven't allowed a kick or punt return touchdown in 80 straight games
The Chiefs' coverage unit has been airtight since Toub arrived in Kansas City, holding the opposition out of the endzone throughout his tenure as Special Teams Coordinator.
Since allowing a 93-yard punt return for a touchdown on Dec. 12, 2012 against the Cleveland Browns, Kansas City has covered 345 kicks and punts without allowing a single score.
The Chiefs are one of just two teams to do so in that span, joining the Atlanta Falcons.
2. Tyreek Hill brought back a punt for a score in Week 5
Hill returned a punt 82 yards for a touchdown against the Houston Texans in Week 5, Kansas City's first kick or punt return for a score of the season and the fourth of Hill's career.
It was also Kansas City's league-leading 10th return touchdown since 2013.
Even when they're not getting in the endzone, the Chiefs have the second-most kick and punt return yards in the league (722).
3. Rookie kicker Harrison Butker has been almost perfect
Butker was signed off the Carolina Panthers' practice squad prior to Week 4, and has been nearly automatic since dawning a Chiefs' uniform.
The 22-year-old Butker missed his first-career kick, but has made each of his 19 field goals and 13 extra points since.
Butker is just six kicks shy of matching Cairo Santos (2014) and Ryan Succop (2009) for the most successful attempts by a rookie in team history (25), and his 19-kick streak is just three shy of tying the franchise record (22) held by Succop (2011) and Pete Stoyanovich (1997).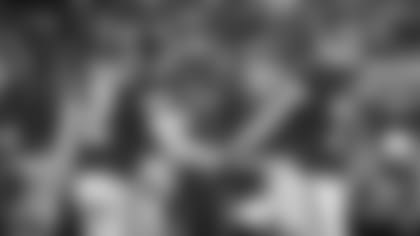 4. Punter Dustin Colquitt is timeless
Colquitt is in his 13th season with Kansas City, and yet he's been effective as ever.
He's pinned the opposition inside the 20-yard line 18 times this season, tied for the fifth-most in the league, and moved into fourth-place all-time with his 400th such punt earlier this year.
Colquitt recorded his 1,000th career punt last Sunday against the Cowboys, becoming the 23rd player ever to do so.
5. James Winchester is no ordinary long snapper
Chiefs' long snapper James Winchester is one of the best in the league at his craft, but his impact goes beyond just firing the ball on punts and field goals.
Winchester forced his first-career fumble in Week 2 against the Philadelphia Eagles, becoming just the second long snapper to force a fumble in the past four seasons.