As the Kansas City Chiefs enter the bye week, let's take a look at how the Chiefs' rookie class has performed so far on the field this season.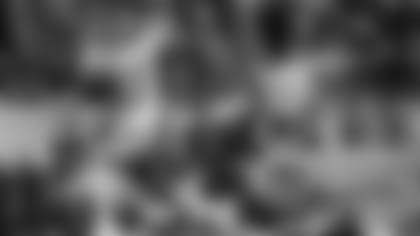 Acquired: Drafted in the third round (No. 86 overall)
Hunt took the league by storm right out of the gate, racking up 246 yards from scrimmage in his NFL debut at New England – the most ever in a player's first-career game. He went on to run for a touchdown of at least 50 yards in each of his first three games – an NFL record – and amassed at least 100 yards from scrimmage in each of his first seven games, also an NFL record.
The third-round pick has performed like a seasoned veteran, and it's impressed his coaches.
"I've seen a very mature kid that's done a great job handling pressure, and obviously we put a lot on his plate," said Running Backs Coach Eric Bieniemy. "He's done a great job of being a professional, taking work home and investing while he's here at work."
Hunt caught the rest of the league's attention as well, earning AFC Offensive Player and Rookie of the Month honors for September. He also landed on the cover of Sports Illustrated.
He currently leads the NFL in rushing yards (800), and is just 321 yards shy of breaking Joe Delaney's 36-year-old franchise record for rushing yards by a rookie (1,121).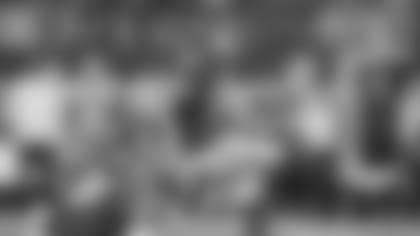 Acquired:Signed off Carolina's practice squad on Sept. 26.
Butker joined the Chiefs prior to Week 4 after Cairo Santos was placed on Injured Reserve with a groin injury, and missed his first-career kick.
Nineteen field goals and 13 extra points later, he hasn't missed since.
The 22-year-old kicker is just six kicks shy of matching Santos (2014) and Ryan Succop (2009) for the most successful attempts by a rookie in team history, and his 19-kick streak is just three shy of tying the franchise record held by Succop (2011) and Pete Stoyanovich (1997).
His kicks haven't come without pressure, either. Four of his six career games have been in primetime, and his field goals have made the difference in each of Kansas City's three wins since he joined the team.
"He's exceeded my expectations by far," said Special Teams Coordinator Dave Toub. "He's done a great job, just fantastic. He's got a real level head to him and doesn't get too high, doesn't get too low. I'm really proud of him, the way he's handled the whole thing and the recognition."
Wide Receiver Jehu Chesson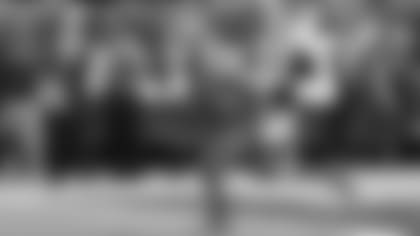 Acquired:Drafted in the fourth round (No. 139 overall)
Chesson has just one catch this season, hauling in a 10-yard grab last week against the Dallas Cowboys, but he's seen plenty of the field as a contributor on special teams.
The rookie wide receiver has two tackles on the year, and showed flashes in the preseason of what he can do with the ball in his hands, such as his 76-yard punt return for a touchdown against the Tennessee Titans.
He has one return in the regular season, bringing a kickoff back 20 yards in Week 7 against Oakland.
Chesson's willingness to do a little bit of everything has impressed his coaches.
"Jehu has a done tremendous job of just immersing himself into this culture that we have here," said Wide Receivers Coach Greg Lewis. "It's a big role playing special teams, and it's where you really learn how to play football. You have to play fast because there's a lot of stuff happening, and it sort of gets you ready to go in on offense, because you've felt the speed of the game. I'm excited about where he's at and he's going to continue to grow."
Linebacker Tanoh Kpassagnon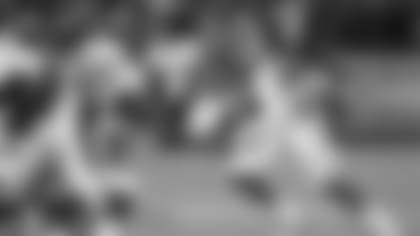 Acquired: Drafted in the second round (No. 59 overall)
Kpassagnon has two tackles this season, recording both in Week 8 against Denver.
The 6-foot-7, 289 pound Kpassagnon played a season-high 10 snaps in Week 8, and has a chance to see more action moving forward.
"I thought he got in there and did okay," said Head Coach Andy Reid following Week 8. "He showed for himself well. It was a great experience for him. (Playing him more) all depends on the game plan and how that goes, but I would tell you that he didn't hurt his chances. He did a nice job."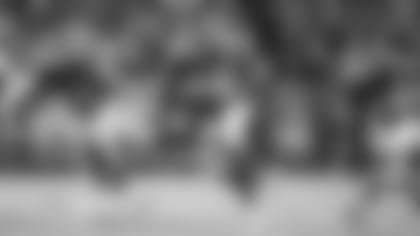 Acquired: Drafted in the fourth round (No. 183 overall)
Eligwe has served primarily as a special teams player this season, recording two tackles.
The rookie linebacker showed plenty of what he can do in the preseason, tallying a team-leading 16 tackles (11 solo), a sack, two tackles for loss and an interception.