One thing we've noticed from the Chiefs defense this season is that they are rotating the defensive linemen more so than they have in the past.
Last year, Dontari Poe was known for being one of the most disruptive interior defensive linemen in the NFL. But he was also the only one who played over 1,000 snaps last season, garnering 94 percent of them for the Chiefs.
This year, Poe has taken a slight breather and is only playing 86 percent of the Chiefs snaps. Defensive coordinator Bob Sutton has made a concerted effort to rotate the guys along the defensive line more this season.
"I think in the end, it has to be about the big picture," Sutton said of the rotating. "We have two guys in there, Dontari (Poe) and Allen (Bailey), who are amazing guys for their size because they really don't get tired. They could play every single snap but we're just trying to big-picture think this out and maybe get those guys a little rest.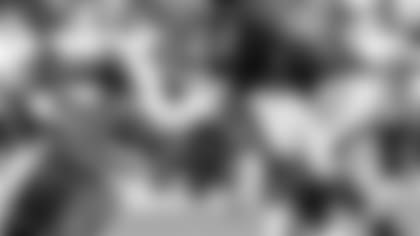 "Plus, it gives these guys a new sense of thinking. Obviously, it ties everybody in. You know you're going to play in the game. You're going to get a few reps in here and I think that helps everybody."
A few of those guys to get reps are veterans Vance Walker and Kevin Vickerson. The ability to rotate these guys and keep them fresh through a game and even later into the season should help with more explosive plays from the group as a whole.
Both Walker and Vickerson join Poe, Bailey and third-year player Jaye Howard along the defensive line. Howard became the starter when Mike DeVito was lost for the season with an Achilles injury suffered in Week 1 against the Tennessee Titans.
"Jaye [Howard] has come along and done a good job," Sutton said. "Obviously, he got bumped up there when Mike DeVito went down and I think has come in and done a really good job. Jaye was going to be one of the original rotation guys and now he's the guy in there and so he's got some flexibility. He can play the big end, he can play the three-technique and I think his development has been good."
Last year, the Chiefs defensive line combined for 11.5 sacks.
Through five games this season, the defensive line is on pace for 18 sacks. They're currently led by Bailey with 2.5, Poe with two and Walker with one.
Bailey made a concerted effort this offseason to change his body in the hopes of becoming stouter against the run this season, which he has been.
After talking with Sutton a few times during training camp, Bailey's emergence as a legitimate starter at defensive end shouldn't be a surprise to anyone.
Nobody is caught off guard by the Chiefs' ability to pressure quarterbacks with the talent they have at outside linebacker, but during the final 11 regular season games, if they can get consistent production in getting the quarterback "off his spot," the better chance they have at making game-changing plays on defense.
They've picked up 10 sacks during their last three games, and hopefully they can continue that trend as they get set to take on the San Diego Chargers and quarterback Philip Rivers next Sunday.