It was just a routine mole removal for Kansas City native Tim Grimes.
The 28-year-old had known about the spot on his back for some time, but hadn't thought much of it until before visiting the dermatologist that day.
It was August of 2014, and the checkup was about to change Grimes' life.
"They ran a biopsy on it and told me it looked like a higher stage of melanoma," Grimes explained. "I met with an oncologist, did the scans and everything and he came in and told me it was in my liver, lungs, spine and lymph nodes and gave me about 12-18 months to live."
"It obviously was quite a shock."
Seeking answers, he met with a practitioner at the KU Cancer Center who specialized in melanoma and yet, somehow, the news worsened.
"I was told 12-18 months, what do you think?" Grimes recalled asking. "He tells me that it's probably seven to nine months instead. Here I am thinking that I just got my life expectancy cut in half and it was already pretty short already."
Grimes had no reason to believe he had cancer. He by all accounts felt healthy and, as of that morning, was living a seemingly normal life.
"It was honestly so hard to believe that I didn't really know how to process it," Grimes said. "It was kind of like if someone told you that you had a billion dollars in your bank account all of a sudden. Am I supposed to feel different? I know that's a big deal, but what does that actually mean?"
It was an absolute shock and a life-altering diagnosis, but for Grimes and his friends, it wasn't going to be the end.
"I told everyone on a Monday night and when I woke up Tuesday morning, my friends had already organized a fundraiser and reached out to the media. The support just came rolling in," Grimes said. "I didn't really have a chance to be scared. At a time when I should have been scared and I should have been worried, I really wasn't because the people around me wouldn't let me."
Grimes' friends arranged interviews with newspapers, radio stations and the nightly news in order to create awareness for his cause.
Giving up just wasn't an option.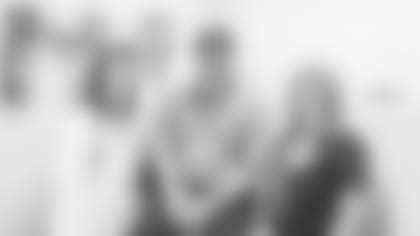 That support just kept growing, as Grimes' story appeared on Twitter in the form of his rallying cry: #NotGoingAnywhere.
"I just kept saying I'm not going anywhere," Grimes said. "I was like, 'Hey, it sucks, but I'm going to beat this and I'm not going anywhere.'"
The social effort took off, reaching all corners of Kansas City, all the while helping Grimes battle the odds.
In addition to facing a five percent chance of survival, Grimes was uninsured, as his diagnosis came just weeks before his insurance plan was set to begin.
"A friend started up a GoFundMe and my friends were sharing that like crazy," Grimes explained. "That raised a bunch of money, and that helped me get insurance and to pay my bills. A lot of times when you're diagnosed, instead of worrying about if the treatment is going to work or not, people worry about whether or not they're going to be able to pay for it."
In addition to his friends, Grimes' enthusiasm for life was in part fueled by his love for sports, and it just so happened that his favorite baseball team was making an improbable run of their own.
"I remember the day of my surgery, I turned on the Royals game and was just hanging out with my buddies," Grimes recalled. "Alex Gordon ended up hitting a home run to win the game, and (Radio Announcer) Denny Matthews said, 'If this is your year, these are the games you have to win.' After that, no matter what was going on, that was my three hours of normalcy."
It went both ways, as Grimes' story had reached the Royals' clubhouse. He attended batting practice and even met a handful of the players.
The Royals went on to tear through the postseason all the way to the World Series that year, and Grimes was right there along for the ride.
"There were definitely a lot of parallels between our two stories with them beating the odds," Grimes said. "I followed them on the road when they went to Los Angeles, Baltimore and San Francisco. We were all just making the best out of this unexpected ride and that definitely helped me because I remember thinking I might not be here next season, so if they're going to win a World Series, I really hope it's right now so I can see it."
The Royals fell just short that postseason, but Grimes wasn't done – first baseman Eric Hosmer wouldn't allow it.
"Of course, in the back of my mind, I'm like, 'Man, if they lose the World Series, maybe this means I'm going to lose," Grimes remembered. "Then I saw Hosmer after Game 7 and he gave me a big hug and was like, 'Are you ready for next year?' I realized it wasn't over yet and we're going to finish business. That kept me going."
Hosmer was one of several local athletes from which Grimes drew inspiration, including Kansas City Chiefs' tight end Travis Kelce and safety Eric Berry.
In fact, Berry sent Grimes an autographed hat adorned with #NotGoingAnywhere just weeks before being diagnosed with cancer himself.
"He went from supporting me in my fight to having to go through it, so I think that kind of connected us," Grimes said. "He's definitely had my back. When I had brain surgery in April, he called me and I felt like I could take on the world. I don't even look at him like the football star anymore, he's my buddy who also battled cancer and who has my back."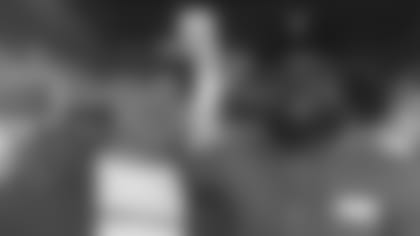 Grimes needed every bit of that support as he went through a rigorous treatment that involved a number of different drugs and time in the ICU.
He was willing to do whatever it took.
"Tim has had just about everything," said Dr. Gary Doolittle, Grimes' treating oncologist. "He's had surgery to control his disease, he's had immunotherapy drugs that are designed to stimulate the body's immune system and he's had targeted drugs. He's had multiple different treatments to keep his disease under control."
Undergoing that many treatments is unique, as many patients simply can't handle it.
Grimes, with his unshakable attitude, wasn't ordinary.
"He just came into it with such amazing enthusiasm and with an attitude that he's going after this," Doolittle said. "He just has a really positive approach to everything and nothing, I mean nothing, intimidates him. I never thought of any way to treat his melanoma that he couldn't handle or wouldn't embrace."
Grimes danced in the hallways, shared fun videos and did whatever he could to remain upbeat throughout his treatment – even when the cancer spread to his brain.
"I made a couple dance videos to make it less scary for people by showing them you could still have fun while battling," Grimes said. The one that went all over was with a bunch of nurses and was shortly after radiation, when I found out everything had shrunk in my brain and in my body by 50 percent. That was right at the 18-month mark, so it was kind of my celebratory dance because not only was I still here at 18 months, but it looked like I was actually going to beat it."
Grimes did just that, relentlessly battling the disease until he defeated it altogether.
"All of a sudden it was all actually working, and all doubt at that point had been removed," Grimes said. About five months later, there was no evidence of the disease except for two spots in my brain, and even then, they told me it could just be dead tissue from the radiation. At that point I said, 'Alright, I'm calling it.' I Facebook Lived it and had already planned a party. It was like this is it."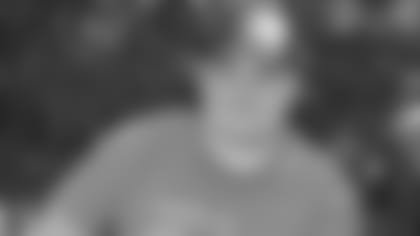 Grimes had surgery to confirm the spots in his brain were just dead tissue, which they were.
"There are still times that I can't believe I went through all of that and I'm still here," Grimes said. "It was kind of like I had never been a guy to follow through on a lot of stuff, and I kind of just felt like if I'm going to stick with something and follow through with it, this is what it is. My odds were so bad and I'm so stubborn - I wanted to prove people wrong."
Thirty-eight months after he had just nine months to live, Grimes will be at Arrowhead Stadium this Sunday to watch the Chiefs take on the Pittsburgh Steelers as part of the "Crucial Catch" initiative.
"I'd like to think I went through this so somebody else doesn't have to," Grimes said. "I was one of those guys, I was 28 years old when I was diagnosed, and I thought it would never happen to me. Whether you're a normal guy like me or a finely tuned athlete like Eric Berry, cancer doesn't discriminate."
It's a message that Grimes hopes to share with the countless people that supported him throughout his struggle, because one thing is certain.