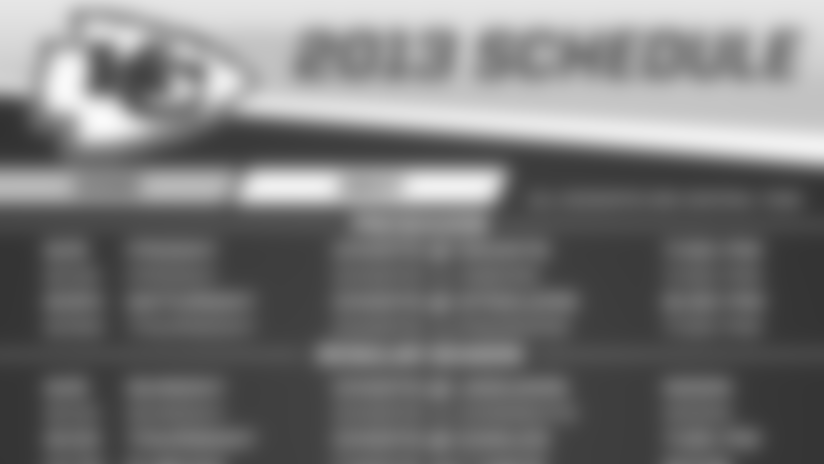 ](http://www.kcchiefs.com/media-center/photo-gallery/2013-Schedule-in-Photos/543bb531-47d0-4926-857c-6365da4c5cdc)
The National Football League announced today the regular season schedule for the 2013 season.
The Kansas City Chiefs will begin their 2013 slate on the road, facing the Jacksonville Jaguars (9/8). The club's first home game will be in Week 2, when the Dallas Cowboys visit Arrowhead Stadium on Sunday, Sept. 15. Chiefs Head Coach Andy Reid will travel back to Philadelphia in a Week 3, primetime matchup against his former team on NFL Network Sept. 19.
"The schedule release is always an exciting time of year," Reid said. "In the National Football League, every game is a challenge, but we are going to continue to work hard in the offseason to make sure we are ready to play. I'm really looking forward to getting out there in front of our crowd. Arrowhead Stadium is a tough place to play, and we realize our fans provide us a great home-field advantage."
Kansas City's schedule features five games against four playoff teams from the 2012 season. This season will mark the fourth-consecutive year the Chiefs have held at least one primetime contest. After the team's Thursday night contest in Philadelphia, the Chiefs will return home to face the New York Giants in Week 4, then take to the road to face the Tennessee Titans on Oct. 6.
In Week 6, the club returns to Arrowhead for a three-game home stretch in October facing the Oakland Raiders (10/13), Houston Texans (10/20) and then the Cleveland Browns (10/27). The Chiefs square off against the Buffalo Bills for the sixth-consecutive season in a Week 9 matchup at Ralph Wilson Stadium. The Chiefs will then enjoy their bye week (11/10).
On Sunday, Nov. 17, the Chiefs travel to Denver to take on last year's AFC West division champion Broncos. The club then heads back home, taking on the San Diego Chargers (11/24), followed by its second matchup vs. the Broncos (12/1). The Chiefs/Chargers all-time series is currently tied 52-52-1, while Kansas City leads the all-time series vs. Denver with a 56-49 record.
In Week 14, Kansas City visits the Washington Redskins and then flies to Oakland for the club's second contest against the Raiders. The Chiefs wrap up their regular season home slate against the Indianapolis Colts on Dec. 22. One week later, on Dec. 29, the club closes out the regular season in San Diego.
Season tickets are available now for as low as $25 per game. Partial-plan ticket packages and group tickets go on sale to Jackson County residents on Monday, April 22 at 9 a.m. and to the general public on Wednesday, April 24 at 9 a.m. Click here for more ticket details.