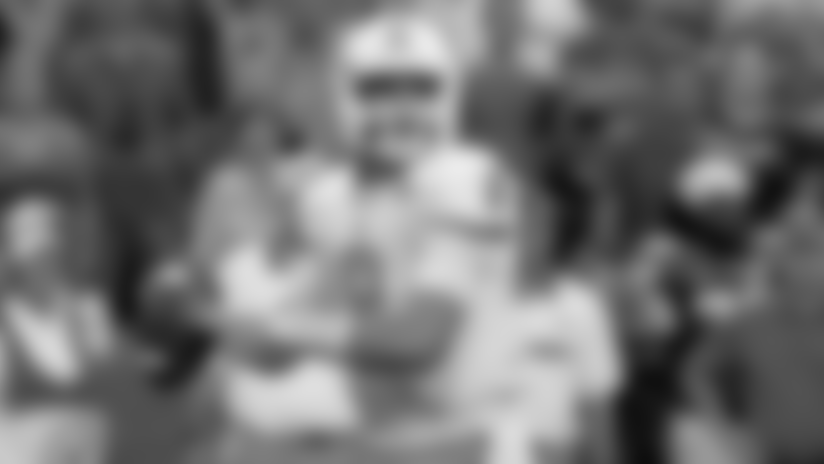 The Kansas City Chiefs have officially agreed to terms with the following 13 rookie free agents, the team announced today.
QB Tyler Bray (6-6, 215) played in 28 games (24 starts) with Tennessee completing 540 passes on 922 attempts (58.6 pct.) for 7,444 yards with 69 touchdowns and 28 interceptions. Bray prepped at Kingsburg High School in Kingsburg, California.
LB Darin Drakeford (6-1, 240) played in 32 games (eight starts) at Maryland, recording 122 tackles (72 solo), including 9.5 behind the line of scrimmage, two sacks, five forced fumbles, one fumble recovery, two passes defensed and an interception. He prepped at Theodore Roosevelt High School in Washington, D.C., where he was a four-time All-DCIAA choice.
DB Otha Foster (6-0, 204) played in 24 games at West Alabama, recording 96 tackles (62 solo), 10 interceptions and 19 passes defensed. He spent two years at Pear River Community College prior to joining the Tigers. He prepped at Varnado High School in Angie, Louisiana.
WR Frankie Hammond Jr. (6-1, 184) played in 48 games (19 starts) at Florida, recording 63 catches for 809 yards and six touchdowns. He returned seven punts for 21 yards and a kickoff for 23 yards. He was a third-team Class 4A all-state selection at Hallandale High School in Hallandale Beach, Florida.
TE Demetrius Harris (6-7, 230) played basketball for UW-Milwaukee, serving as the team's power forward. Harris originally signed on to play football at Arkansas State after high school but then decided to pursue his basketball career. The Jacksonville, Arkansas native was an all-state football player at Jacksonville High School.
OL A.J. Hawkins (6-1, 310) played in 39 games (29 starts), seeing action at right guard and center at Ole Miss. He earned first-team Class 5A all-state honors from the Georgia Sports Writers Association while at Martin Luther King High school in Lithonia, Georgia. 
OL Colin Kelly (6-5, 298) played in 48 games (25 starts) at Oregon State. He was a two-time first-team Greater St. Helens League selection at tight end at Kelso High School in Kelso, Washington.
DE Rob Lohr (6-4, 290) played in 49 games (38 starts) at Vanderbilt. His career numbers include 120 tackles (71 solo), 31.5 tackles for loss, 11.0 sacks (-55.0 yards), five QB pressures, two forced fumbles and one fumble recovery. He played tight end and defensive end as a prep at Phoenixville High School in Phoenixville, Pennsylvania.
DL Brad Madison(6-4, 265) played in 50 games for the University of Missouri, recording 76 tackles (48 solo), 26.5 tackles for loss, 16.0 sacks (-124.0 yards), four forced fumbles and one fumble recovery. He added one interception and four passes defensed with the Tigers. He was a multi-sport athlete at South Harrison High School in Bethany, Missouri.
LB/DE Josh Martin (6-3, 245) played in 30 games for Columbia University in the City of New York, tallying 140 tackles (85 solo), 29.5 tackles for loss, 17.5 sacks (-118.0 yards), two forced fumbles, five fumble recoveries and two passes defensed. Martin played both offense and defense at Cherokee Trail High School in Aurora, Colorado.
S Brad McDougald (6-1, 209) played in 47 games (33 starts), seeing action on both sides of the ball at Kansas. He recorded 194 tackles (148 solo), 16 tackles for a loss, two sacks, six interceptions and three forced fumbles. He also had 52 catches for 558 yards (10.7 avg.) with one touchdown and six rushes for 31 yards. He prepped at Scioto High School in Columbus, Ohio, earning second-team all-district honors.
WR Rico Richardson (6-1, 185) played in 40 games (20 starts) at Jackson State, recording 130 catches for 2,491 yards (19.2 avg.) and 23 touchdowns. He earned first-team all-region honors at Natchez High School in Natchez, Mississippi.
LB/DE Ridge Wilson (6-4, 256) played in 32 games at West Alabama, recording 78 tackles (35 solo), 3.5 sacks (-17.0 yards), two fumble recoveries, one interception and two passes defensed. The Louisville, Kentucky native prepped at Central High School in Louisville, KY.