The Kansas City Chiefs dedicated last week's game against the Denver Broncos to those who make our freedom a reality, but the Chiefs' commitment to honoring our men and women in uniform extends far beyond the annual "Salute to Service" game.
That effort was on display once again on Wednesday, as the Chiefs Ambassadors led a visit to the local VA Medical Center to meet with veterans and their family members as part of the club's "Salute our Troops" Military Outreach Caravan.
"This is one of those opportunities to talk football, but more importantly, to get to share some encouraging words and lift some spirits," said former Chiefs safety Jon McGraw. "Quite a few of them actually said that this was the best form of medication that they had received all day, so that's a great feeling both ways. They enjoy it and we enjoy it."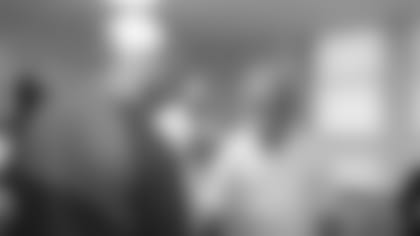 McGraw was joined by former Chiefs Trent Bryant, Ed Budde, Carlos Carson, Jerry Cornelison, Kelly Goodburn, Dave Lindstrom, John Lohmeyer, Curtis McClinton and Chris Penn at the hospital as the contingent passed out "Chiefs Kingdom" flags and "Salute to Service" shirts to patients.
"We're here expressing our appreciation to them for being Chiefs fans, but more importantly, for their service to our country," Lindstrom said. ""We got to play a game because of the sacrifices these individuals made over their careers in the military."
The visit helped celebrate November as the first ever "Veterans Month," which was made official by the VA on Wednesday.
"We're lucky that every day is Veterans Day for us, but we get to celebrate them specifically all month long this month," said Angela Nix, the local VA Medical Center's Acting Associate Director. "I know the Chiefs will lift our patients' spirits here today and it helps us with our mission as we move forward."
The Chiefs Ambassadors are a collection of former players that work together with the Chiefs Community Caring Team to create positive change in the Kansas City area.
Wednesday's visit was just another example of that.
"I think it helps the veterans know that they're not forgotten," Nix said. "A lot of times, they come in the hospital and maybe don't have a lot of family, so having guys from the Chiefs come over and actually visit with them and spend time with them is big. They couldn't play football if it wasn't for those veterans who went out and fought for our freedom all those years ago."
To learn more about the Chiefs Ambassadors Program, click here.
The Chiefs Community Caring Team led by the Kansas City Ambassadors, visited the local VA Medical Center as part of the club's 2017 Salute our Troops Military Outreach Caravan.