A brief rain shower didn't stop the Kansas City Chiefs from wrapping up the first week of Organized Team Activities (OTAs) on Thursday, which represent the first opportunity for the team to hit the field in preparation for the 2021 campaign.
These practices are lighter than what will take place later in the offseason, but they provide the entire roster – from the veterans to undrafted free agents looking to make the team – with a foundation to build on moving forward.
"It was great to have everybody back out there this past week. We're lucky that we've had most of our team here," said Head Coach Andy Reid on Thursday. "The guys have been working hard, and I appreciate their effort. They want to get better and get familiar with some of the new stuff we're putting out there."
This week's round of OTAs were the first of three similar practice periods that will take place in the weeks to come before mandatory minicamp kicks off on June 15. That all culminates in training camp, which will take place later this summer. The preparation schedule is designed to slowly get every member of the squad up to speed so that when training camp rolls around, it's less about learning the basics and focused more on mastering what they already know.
With all of that in mind, it makes OTAs – while not high-intensity practices – significant building blocks that require a big-picture mentality.
"We're just digging away, taking it one day at a time and trying to get better," said linebacker Anthony Hitchens. "We're just trying to improve – that's all you can do right now. You can't hit or [anything like that], but we've done some great work every day."
That includes plenty of work put in by the Chiefs' rookies, who are taking advantage of their first chance to show the veteran players what they can do. Twenty-nine rookies took the field two weeks ago as part of rookie minicamp, but now with the rest of the roster in the fold, it's up to them to take what they learned from rookie camp and to apply it alongside their veteran teammates.
According to Coach Reid, they're off to a good start.
"I've been impressed with them. They're smart – they're picking things up – and they're physical players. We're in shorts out there, but they look explosive. That will become important once the season comes along," Reid explained. "They're pounding through a lot of new stuff. We're loading it up and throwing it at them, but they've seemed to handle it well."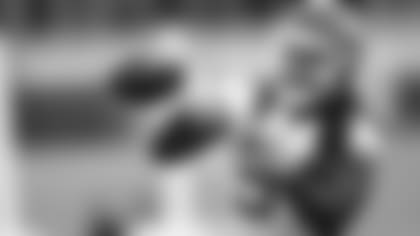 These practices also provide a look at how certain players are recovering from offseason surgeries and rehabilitations. That was certainly the case for quarterback Patrick Mahomes, who is progressing well from the surgery performed on his toe several months ago.
"He's been doing everything. He's been a full-go," Reid said. "He's been working with [Vice President of Sports Medicine and Performance] Rick [Burkholder in regard to] his toe, but we utilize this as more of a passing camp – we don't run the ball much – and his toe has really done well."
The group blocking for Mahomes up front, Kansas City's re-made offensive line, also took the field for the first time as a unit this week. The Chiefs invested heavily in the position this offseason by – among other moves - signing offensive guard Joe Thuney, trading for offensive tackle Orlando Brown Jr. and drafting center Creed Humphrey in the second round.
Brown Jr. and Thuney own the left tackle and left guard spots moving forward, but the remaining positions along the line are up for grabs among numerous capable players.
"You want good football players, and we have a whole group of them. It's great competition," Reid said. "There's going to be a battle on the right side. There's a bunch of guys who can play, and as we've always done, we'll take the five best and throw them in there. We'll see how it all sorts out."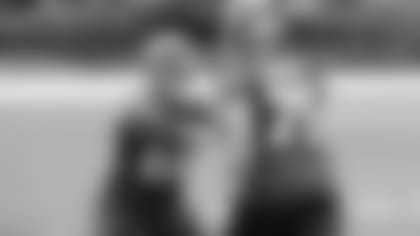 Those battles will include Humphrey and veteran Austin Blythe competing for the center position, numerous players (Laurent Duvernay-Tardif, former Pro Bowler Kyle Long, veteran Andrew Wylie and rookie Trey Smith, to name a few) eyeing the right guard spot and former third-round pick Lucas Niang competing against veteran Mike Remmers at right tackle.
It's an ideal blend of experience and youthful talent, and while Brown Jr. has only been here a handful of weeks, he's already taken it upon himself to lead the Chiefs' younger linemen in the right direction.
"The big thing that I emphasize with them is that while this is what we do for a living, you also have to have fun with it. You have to enjoy it and understand that once the pads are on, we're going to be the most physical group in the NFL," Brown Jr. said. "They're taking it in, and everyone is all ears. I think we have an incredible offensive line room."
As far as storylines to watch over the course of the offseason go, the growth of the Chiefs' new-look offensive line is certainly near the top of the list, and while it's still very early in the process, Reid mentioned that he's already impressed with the group's collective work ethic.
Elsewhere, on the other side of the ball, the Chiefs' defense used this first week of OTAs to focus on a particular area where they want to improve heading into the 2021 season.
"I think we can be better in the red zone," said safety Tyrann Mathieu. "It's up to us to keep guys out of the end zone, and it's going to give our team a better chance to win if we can force teams to throw the ball in the red zone, as opposed to running the ball. We've been focusing on it and that's an area I'd love to see us be better at moving forward."
The season may still be several months away, but up and down the roster, the Chiefs are using this time to their advantage.