The parking lot was full at One Arrowhead Drive on Monday as Kansas City Chiefs players returned to the practice facility for the start of the team's offseason conditioning program. The day began with morning workouts, followed by Chiefs head coach Andy Reid addressing the media, describing the excitement of having the players back in the building and more.
"Alright, it's great to see everybody back in here," coach Reid said. "This obviously is a fun day; one of the better days of the year, when we can get everybody back together and move on to the 2014 season. This is day one of doing that as a team. In phase one, you're allowed to have the players in the building for X number of hours, for X number of days. The quarterbacks and the receivers are allowed to throw without coaches. So, the only coaching that takes place is in the classroom. Those are the rules that you're given for phase one. Let me touch just briefly on injuries. I don't mention injuries until this point here, because things happen in the offseason at various times. I'm not going to go over times or when to expect these guys back or any of that, we're too close into this. Eric Fisher had his shoulder surgery and also had a sports hernia that he had repaired. He's doing very well. He's been here the whole offseason rehabbing and has made quite a bit of progress. He's doing all of his lower body work and has been rehabbing the shoulder and doing what he can with that part of it. (Chiefs head athletic trainer) Rick (Burkholder) and (Chiefs strength and conditioning coach) Barry (Rubin) are working close with him on that. Again, progress is being made. Knile Davis did not need surgery. I know that there were some things out there about him having surgery, but he did not have surgery and he's healed and doing everything. Sanders Commings is coming off of a January surgery and he's been cleared for all of the offseason program and he's doing well. Travis Kelce is progressing well and doing everything. Dezman Moses, he had some toe issues and he's progressing well. James-Michael Johnson, he had the high ankle and he's doing well. Demetrius Harris had the high ankle and he's doing well there; those are the primary ones that have returned to us that have had some issues. We'll leave it at that and then as time goes on here, I'll give you more specifics, once we get closer to the mandatory camp and we can go through that."
Chiefs QB Alex Smith, who in 2013 threw for 3,313 yards and 23 TDs in his first year in Kansas City, said he and the team will benefit from having completed one full season under coach Reid's system.
"We've had a whole season of film to watch," Smith said. "Last year at this time, you are watching a lot of Eagles stuff. Like I said, we are all learning it together and getting to know each other at the same time, personalities and things like that. To have the entire database of film, the coaches have already hashed through all of that and had it organized. To be able to come in and march through concepts, really kind of get into the finer details of some of those things like, 'Where do we need to improve as a team, groups and as individuals?' things to focus on, all of that stuff is invaluable."
Helping provide time for Alex Smith this season on the offensive line, protecting his blind side as the team's left tackle, will be Eric Fisher, who described his emotion of moving back to the position he played at Central Michigan.
"I'm really excited," Fisher said. "Down in my heart, I think I'm a left tackle. Playing right tackle last year, I think it was a great learning opportunity for me. I learned a lot from Branden Albert; what a great guy to learn from. The things he's accomplished, that's just awesome. I'm ready to take over now. I'm ready to run that left side with Jeff Allen, and I think we're going to have a great crew up front."
On the defensive side of the ball, Chiefs DT Dontari Poe is coming off of his first Pro Bowl season, which included tireless efforts all year long.
"A football season is tough for everybody that plays, no matter how many reps that you've taken," Poe said. "I wouldn't say it's any different for me than for any other guy. It's hard no matter if I'm taking all the snaps or the amount of snaps that I am. It's a long season. You just have to fight it; mentally and physically, you just have to fight it."
Joining Poe in the Chiefs defense will be three-time Pro Bowl S Eric Berry, who was asked who he'd prefer to play next to in the secondary this season.
"Anybody that wants to play ball," Berry said. "I'm the type of guy that wants to win, I'm a competitor. I think we've got those guys here. I trust the guys up top, Andy and those guys are going to bring in guys that want to play ball. We've got a good core group of guys here now. Anybody that's hungry and wants to play ball and go out there and have fun and just make plays, I'm willing to play with anybody."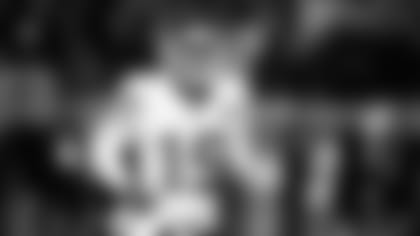 Near the end of the busy day, the Chiefs officially confirmed the signing of WR Kyle Williams, whose talents were best described by coach Reid.
"He's an exciting player," coach Reid said. "He's quick and fast. When he was with us here for that short period of time (last season), we were looking at him (playing) inside and doing some things there."