The Kansas City Chiefs finished up their last padded practice of training camp Tuesday morning on the campus of Missouri Western State University.
Here are five observations from practice:
After being given the day off Monday, veteran inside linebacker Derrick Johnson was back on the field Tuesday.
The guys who weren't practicing again were safety Eric Berry, along with cornerbacks Steven Nelson, Terrance Mitchell, Jacoby Glenn and Ashton Lampkin.
Cornerback J.R. Nelson also didn't practice (heel).
Alex Smith looks good again
It's been one of the stories at camp, but quarterback Alex Smith had another good day Tuesday.
Whether it was a team period, or 9-on-7, Smith was firing strikes at every level of the field.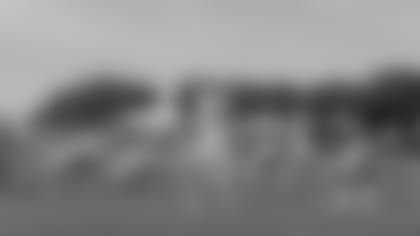 During the situational period of practice, which on Tuesday was 2:43 left in the game and trailing by six points, Smith led the first-team offense down the field for a touchdown—hitting Chris Conley in the corner of the end zone on a play outside the pocket.
Conley has continued his strong showing since the game last Friday and was one of Smith's favorite targets on the day.
D.J. White had one of the top defensive plays
In a competitive group without a ton of roster spots available, second-year cornerback D.J. White made a fantastic play down the field on a pass intended for Albert Wilson. 
White, who has spent plenty of time with the first-team defense at nickel as Nelson and Mitchell have been out with injuries, was able to knock the ball out of Wilson's hands as he tried to secure it deep down the field.
Patrick Mahomes still has a cannon
Breaking news: Patrick Mahomes is pretty good at throwing the football around.
It's the first thing mentioned of him for anyone that has watched him play, and he was showing it off Tuesday at practice.
On one particular throw, Mahomes launched it an easy-50 yards down the field on a line to the waiting arms of receiver Tyreek Hill, who unsurprisingly had gotten over the top of the defense.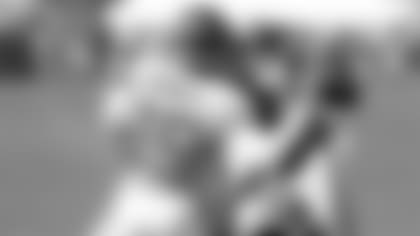 "I think he has a downfield mentality as he approaches the line of scrimmage," assistant head coach Brad Childress explained Monday of Mahomes. "He can hurt you with his feet, but as you've seen him throw from different platforms, he moves out of the pocket and he's able to find guys."
While Mahomes also had a few questionable passes across the middle—one of which that was intercepted by safety Daniel Sorensen—the ability to fire it into small windows has been on display for much of camp.
Mahomes went 7 of 9 for 46 yards and a touchdown in his NFL preseason debut last Friday against the San Francisco 49ers. Earlier this week, he was moved up on the depth chart to No. 2 behind starter Alex Smith.
The plan for the quarterbacks for this weekend's game against the Cincinnati Bengals hasn't been announced yet.
Zach Fulton is still showing off some versatility
After mixing in at right and left tackle Monday afternoon, fourth-year player Zach Fulton was back at right guard with the second-team offense Tuesday afternoon.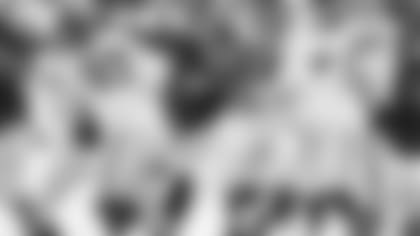 Throughout his career, Fulton has made a habit of being versatile, starting games at all three interior offensive line spots.
"Position flexibility is huge in this deal," Childress said of Fulton. "Typically, we go to game day with seven guys, so do the math. Two guys go down, a guy is going to have to come in and play tackle, he's going to need to play center, he's got to be able to play guard. You're trying to find 10, but if you can find seven and a couple guys that can swing for you, you're going to be in good shape.
"[Fulton] has always embraced wherever we put him. It's not, 'Hey, I'm a center,' or, 'I'm a guard.' He looks to be valuable to us and he stepped in over the last three years and done a nice job for himself and us."
"It is invaluable," offensive coordinator Matt Nagy added of the versatility with Fulton. "To be able to have a guy that can move around and be versatile—injuries are a part of this game, so if you can have some guys that can play dual positions, it's a benefit."
While much has been made about the continuity of the five starters (with Parker Ehinger set to return at some point), Fulton has plenty of experience up front and is one of just 15 players selected in the 2014 NFL Draft who has played in all 48 games of their careers thus far.