When the Kansas City Chiefs began fielding calls for a trade involving veteran quarterback Alex Smith, the Washington Redskins' call meant the conversation would center around cornerback Kendall Fuller—the key piece of the trade, which became official Wednesday afternoon and also netted the Chiefs a third-round pick in the upcoming draft.
"We knew exactly what we wanted, and we wanted Kendall Fuller," Chiefs' general manager Brett Veach explained of his mindset going through that process.
Fuller, who stands at 6-feet tall and 193 pounds, is just 24 years old and graded out as one of the best cornerbacks in the NFL last season, according to Pro Football Focus.
"I'm excited to get to town and I'm excited to be a Chief," Fuller told local media Thursday afternoon on a conference call.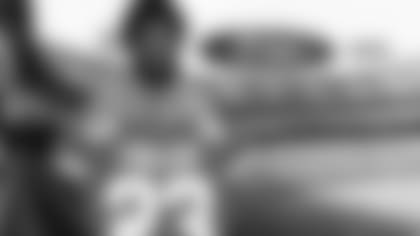 Football is something that comes naturally to the Fuller family.
Kendall is the youngest of four brothers—all of whom have spent time or are currently playing in the NFL.
One brother—Vincent, played seven years in the NFL for the Titans and Lions, while Corey is currently with the Detroit Lions, and his other brother, Kyle, was drafted in the first round of the 2014 NFL Draft by the Chicago Bears.
On Friday, the Bears, who had placed the transition tag on Kyle this offseason, matched an offer sheet from the Green Bay Packers that now makes Kyle now one of the highest-paid cornerbacks in all of football.
The football genes are good in that household.
"That family is all about football," Chiefs' coach Andy Reid explained. "I feel comfortable saying that. From dad coaching the little league group all the way up through the high school level. I think when you have a chance to talk with Kendall you're going to go, 'Wow, smart, hard-worker, tough,' all those things that you want. Leadership ability.
"You heard what his teammates said when he left (Washington). I think that's real. He's a straight-shooter and a good football player."
Last year, Fuller allowed just 56.3 percent of the passes thrown in his area to be caught, and a 56.7 quarterback rating when targeted—both numbers that ranked among the best in the league.
But for Fuller—playing in the NFL, let alone starting and making an impact this early in his career, was always the end game—even if it wasn't easy.
"I think football is really just a way out for us," Fuller explained of the Baltimore community where he and his brothers grew up. "We've seen people getting into different stuff and doing different stuff, but for us, my father, my parents, they just kind of always stuck with a sport. Growing up that's all you know, just living and breathing football."
Being the youngest of four brothers, Kendall didn't really have a choice to be tough and to carry a chip on his shoulder.
"Just growing up in a house with three older brothers," Fuller explained of where his toughness was derived. "The only thing we pretty much did was compete. Even to this day, any little thing we'll find something and we'll compete.
"And once you get on the field, you've got to have that switch and have something else in you."
The field in which Fuller will now call home is one that he hasn't spent much time on outside of the Week 4 game for the Chiefs last year, which culminated in a game-winning field goal by Chiefs' rookie kicker Harrison Butker in the final minute of regulation.
"I only played there once, but it started to remind me a little bit of (Virginia) Tech game—like a small college town and everybody's just screaming," Fuller explained of Arrowhead Stadium. "Especially when the defense is on the field, I'm just really looking forward to it."
Fuller has spent time both on the outside at cornerback as well as the inside position at nickel, and he hasn't yet been told the plan on how things shake out, but he says it's important to be ready to play anywhere.
"In this league, you can't just line up and just do one thing every single time, so being able to do both and succeed at both is necessary," Fuller explained.
Outside of the opportunity to play with a guy like veteran All-Pro and team leader Eric Berry, who is one of the first players Fuller reached out to once the news became official, the opportunity to join the Chiefs also means that Fuller will be tested every week at practice going up against this offense.
"Definitely one of the first words you think of is speed," Fuller explained of what the Chiefs have built on offense. "All of the weapons they have—Sammy Watkins, Tyreek Hill, Travis Kelce—a lot of different playmakers. Get the ball in their hands and they can take it the rest of the way.
"It's definitely going to be an exciting offense. I'm excited to go against it in practice. That'll make the games a lot easier for me, so I'm looking forward to it."