Long before Marcus Peters became the Kansas City Chiefs' first-round pick out of Washington, he was a standout playmaker for the McClymonds High School Warriors in West Oakland, California.
While playing for the Warriors, there was one familiar face Marcus saw at practice every day. His father, Michael, was an assistant at the time and has since taken over as head coach of the program.
The dynamic between a father and son in this scenario could lead to some awkward situations, but the elder Peters set things straight from the beginning.
"When we'd go on the football field he'd always tell me 'I'm not your pops anymore. I'm coach Peters,'" Marcus explained. "I had to learn that real fast because he was my Pop Warner coach, and then my high school offensive coordinator."
Chiefs coach Andy Reid spoke about this after he was drafted.
"His dad was a tough coach," Reid explained. "Marcus appreciates the honesty of shooting him straight."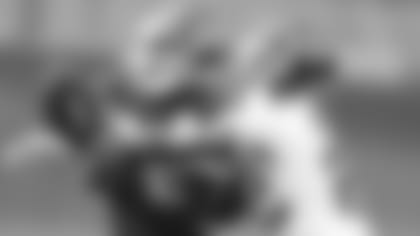 With football on the mind all the time, Peters said it was tough at first to not talk about football all day and every day with his dad when they were at home during the week.
"We wanted to talk so much ball at home," Marcus explained. "But we had to learn to balance it. I feel that helped me a lot because it gave me an opportunity to learn how to balance football and life outside of football."
The Peters family learned to balance all of the football talk, but that still doesn't mean there wasn't plenty of time dedicated to the game away from the practice field.
Peters has been described as a film junkie, constantly learning and studying his own game as well as his breaking down his opponents.
"It came from my pops," Peters said of this knack for breaking down film. "Our weekends (in high school), we sat and reviewed film from the game on Friday. On Saturday, we'd watch college ball and then we'd watch more film, break it down and get ready for the next week's game.
"All week we were in the front room watching film, getting prepared and talking through the Xs and Os."
During his three years at Washington, Peters intercepted 11 passes in 34 games. If you extrapolate that average over the course of a 16-game NFL season, Peters would have five interceptions.
The Chiefs defense finished with six interceptions last season.
The ability to track a ball in their air and make a play from the defensive back position is something Peters has shown a knack for doing well, and it's also something he says comes from having an offensive background.
"In high school, I played on the offensive side at receiver," he said. "So for me to bring an offensive mindset to the defensive side of the ball, it helps me a lot because now once I understand the route combinations, I become a receiver.
"I'm just tracking the ball. I'm just making plays."
Peters joins a Chiefs defense that's already loaded with talent.
Last year, the Chiefs finished No. 2 in the NFL in scoring defense, allowing just 17.6 points per game. While many team defensive statistics are built around total yards allowed, the Chiefs defense buckled up in the red zone, where it matters.
The Chiefs defense finished No. 1 in the NFL in red zone scoring by allowing touchdowns on just 38.9 percent of opponent drives that got inside their 20-yard line.
With Peters now in the mix, the Chiefs defense, at least on paper, has the opportunity to mix in a few more takeaways, which could only make this group even better.
"Coming in as the new guy, I'm just here to add a little bit extra to the organization," Peters noted. "I'm here to help win more games and just do my part."
With the help of his father years ago, Peters has been working his whole life to be in this position to add a little bit to a NFL defense and help an organization win more games.
Luckily for Kansas City, it will be in a Chiefs uniform.