Next to winning football games, it's of the utmost importance to the Kansas City Chiefs to provide a unique and memorable experience for the team's Season Ticket Members.
The event, which began towards the end of practice on Sunday and continued through the early afternoon, offered STMs complimentary meals from local food trucks in addition to a brand-new flag designed to show off their membership.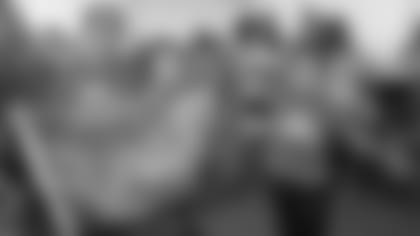 "For us, it's all about Season Ticket Member value - we want to create exclusive experiences for our Season Ticket Members," said Chiefs Executive Vice President of Business Operations Tyler Epp. "They're the absolute fabric of what we do, so we want to make sure that we take care of them and that they understand that their presence here and their support for the team means a lot, not only to us, but to Coach Reid, [General Manager] Brett [Veach] and the rest of the franchise."
In fact, Veach stopped by the event to express his appreciation for the fans' support in person.
"Our fans are passionate and we feed off of them. The energy that they bring – I know that our players, our coaches and our staff can feel it," Veach said. "It's just a lot of fun to come out here, see our fans, interact with them and talk a little football."
It was a gesture that went a long way for the over 1,000 STMs in attendance.
"It was really nice meeting him – I just think it's great that he's out here talking with us," said Roger McCush, who has been an STM for the past 11 years. "This entire thing has been really enjoyable. We even brought our grandson along and he's been having a great time, too."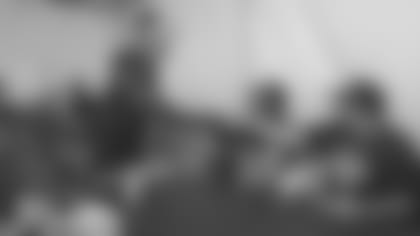 In general, Training Camp provides a certain access that's simply unattainable anywhere else – and Veach's presence amongst the fans on Sunday only brought that to a higher level.
"It really builds a continuity between the team and the fans, and that's a big deal," said Kevin Mitchell, who became an STM last year. "These kinds of things are just a great experience and I wouldn't trade them for anything."
Season Ticket Members are invited to attend another exclusive event at camp – the annual pancake breakfast – on Aug. 5. Additionally, as an added benefit, wristbands will be provided during the breakfast to the first 500 STMs and their guests, providing them with exclusive access to the "viewing hill" (located in the south end zone) during practice.
Both the tailgate and the pancake breakfast are just two more examples of why being a Chiefs STM is so much more than just a seat on game day.
"If you're a Chiefs fan, you've got to be a Season Ticket Member," Mitchell said grinningly. "It goes hand-in-hand, and it's just pretty cool being a part of something like this."
To learn more about the benefits of being a Chiefs STM, click here.
Kansas City Chiefs Season Ticket Members were treated to a special tailgate following Sunday's practice at the Chiefs Training Camp.