Ladies preparing for their chance to be a 2014 Chiefs Cheerleader are invited to attend two Dance Workshops, a Cheerleader Workshop and a mandatory Audition Clinic at The University of Kansas Hospital Training Complex.
The Dance Workshops provide a chance for women to work on thier dance technique in a laid back, educational environment. 
"I want these ladies to learn but also to enjoy themselves," Stephanie Judah, Chiefs Cheerleader Director explained. "The audition process does not have to be scary. These workshops can help candidates understand the role of a Chiefs Cheerleader as well as what areas to work on prior to auditions. The Dance Workshops are designed to help the women if they need additional dance training or want to brush up on their skills."
There is also the Cheerleader Workshops, which are intended to educate the candidates on all the aspects of being a Chiefs Cheerleader. Each workshop provides the women with a chance to choose two of three informative groups. The groups are different at every workshop and include communication skills, glamour tips, modeling/runway, NFL/football knowledge, fitness, dance technique and dance performance. The last workshop available will be Friday, March 7th from 6:30 - 10:00PM.
The Audition Clinic is the only mandatory clinic for all Chiefs Cheerleader candidates. The cost for this clinic is $30 and will be held on Saturday, March 8th from 9:00 - Noon or from 1:00 - 4:00PM. 
"The audition clinic held on March 8th is the mandatory part," Judah commented. "This is where we will teach all the material that our candidates will perform at the auditions. We will also walk them through the audition weekend, details, etc. Like the workshops, we try to keep in fun and light."
The 2014 Chiefs Cheerleader auditions are March 14-16th at Arrowhead Stadium. If interested in becoming a 2014 Chiefs Cheerleader there are two Dance Workshops left on March 4th and 11th, one Cheerleader Workshop on March 7th and one mandatory Audition Clinic on March 8th at The University of Kansas Hospital Training Complex.
"My advice for any candidate is to just simply try," Judah said. "I tell them constantly, what if this is your year. You will never know if you don't try. I think that it's a valuable life lesson, and there is nothing to lose but everything to gain. It's hard stepping through those doors, but if you do, you won't regret it."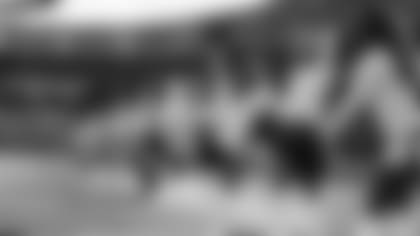 More information can be found here.
To see photos of the Chiefs Cheerleaders from the 2013 Calender Shoot, click here.