The Kansas City Chiefs are headed back to the playoffs.
With the Pittsburgh Steelers' win over the Baltimore Ravens earlier Sunday night, the Chiefs clinched a playoff berth for a second consecutive season and for the third time in four years under head coach Andy Reid.
Kansas City returns to the playoffs a season after advancing to the Divisional round. The Chiefs defeated the Houston Texans, 30-0, for their first postseason victory since 1994 before falling to the Patriots, 27-20.
Seeding is still to be determined, but the AFC playoff teams are now set: the New England Patriots, Oakland Raiders, Miami Dolphins, Steelers and Texans will all be playing in the postseason. The Chiefs eliminated the Broncos from playoff contention on Sunday night.
While the postseason is a certainty, Kansas City still has work to do. If the Chiefs win next week against the San Diego Chargers and the Raiders lose to Denver, the Chiefs will win the AFC West, secure a first-round bye and host a playoff game at Arrowhead Stadium.
Reid has now qualified for the playoffs in 12 of his 18 seasons as a head coach between Philadelphia and Kansas City. He's the second coach in franchise history to make the playoffs in three of his first four seasons with the Chiefs, joining Marty Schottenheimer, who made three playoff appearances from 1989-92.
The season began with a thrilling victory over the San Diego Chargers in which Kansas City erased a 17-point deficit – the largest comeback in franchise history – for a 33-27 win in overtime.
The Chiefs played to an even record through the first four weeks of the season before winning eight of their next nine games and solidifying their place as one of the best teams in the AFC. Kansas City tallied four wins against teams that still have winning records in that stretch, the most impressive of which – wins at Denver, at Atlanta and at home against the Raiders – came within a mere 11 days.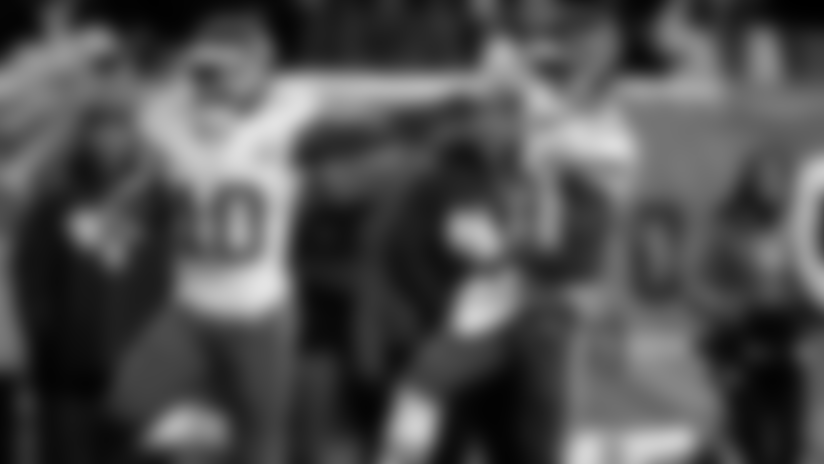 Kansas City also developed a knack for the dramatic throughout the season, winning three games – against San Diego, Carolina and Denver – in which they had less than a two percent chance at some point in the second half.
The Chiefs dominated the division throughout the season, too. With Sunday night's win over Denver, Kansas City is undefeated against the AFC West this season and has won 10 straight overall.
Now, for a third time in the last four seasons, Kansas City has a shot at the ultimate prize:
Photos from the Chiefs Week 16 matchup against the Broncos on Sunday Night Football