It really didn't feel like a summer morning in the middle of August as the Kansas City Chiefs made their way to the practice fields, shortly after 8:00 AM CDT. The temps were relatively cool for this time of year in St. Joe and as the sun later made its way through the clouds, temps picked up to match the intensity of another purpose-driven, Andy Reid-led practice.
"Today was a more-extended version of team (drills), just to see how well we'd respond," Chiefs DL Jerrell Powe said. "I think everybody came out with a great mindset, great attitudes and responded well, we definitely communicated better; I think it was a great day."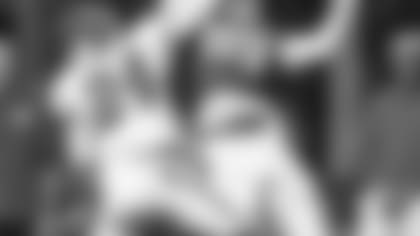 The defensive communication paid off early during some 11-on-11 action, when Chiefs CB Brandon Flowers picked off Chiefs QB Alex Smith, returning it for the score.
"We usually play a lot of bump-and-run coverage out here," Flowers said. "I went off man, just to change up the D, read the route perfectly and I got a great break and once I came out of my break, I knew I had a chance to make a play on the ball and that's what I did."
Following practice, Alex Smith shared his thoughts on Brandon Flowers.
"Yeah, he's a good player," Smith said.
"He and Sean (Smith) are both really good players. It's tough when you're quarterback. You're looking at matchups and then you look over and you have two really good guys on the upside of the ball. It makes it tough. They're a great test every day. It makes us better. He (Flowers) definitely got the best of me today on that one. He's played a long time and played a lot of football, so not only does he have the ability but he understands concepts and route recognizing and then he can take some chances. It's tough."
According to Flowers, Alex Smith's evaluation is right on.
"Definitely," Flowers said. "The game is slowing down more and more; I'm reading a lot of things that I haven't noticed in the past and that's just my sign of growth in the game and playing a lot of snaps. I try not to let any day go to waste and I try to gain something out of every practice and I think that's going to take me a long way in my career."
As practice continued and drills changed, it was again fun to watch OL vs LBs, including former CMU Chippewa teammates Eric Fisher and Frank Zombo competing in one-on-one drills.
"It's fun going against Fish," Zombo said. "He's like a little brother. I know him. He does well. He's a try-hard guy and doesn't like being beat and neither do I, so we always get some good battles."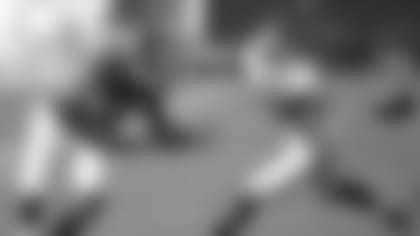 Later on in practice, when the offense and defense returned for more 11-on-11 action, the Chiefs offense sharpened its execution, including WR Dwayne Bowe, who ended with six catches on the day.
"It was a grind," Bowe said. "Today was one of those days that coach wanted to see if it would make you or break you. My number was called multiple times and being a leader on this offense, I had to come down with the ball, make the play and that's what I did."
With just one practice remaining of Chiefs Training Camp, the battle continues to be mind over matter.
"You can't let the mind take over," Bowe said. "90% of the game is mental, 10% is physical. We're out here at practice grinding; you have to push through and bring everybody along with you."
While Chiefs RB Jamaal Charles was held out of practice, rehabbing a right foot strain, Chiefs rookie Knile Davis continues to get reps with the first-team offense, while continually doing extra things to prepare him, whenever his number is called.
"It's just coming out here every day and getting better," Davis said. "I'm just getting in there and getting comfortable. I know the plays; it's just about going out there and executing."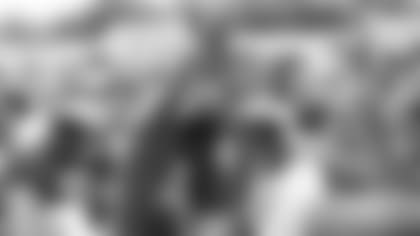 As practice came to a close, around 10:45 AM CDT, Pro Football Hall of Famer, Chiefs legend Bobby Bell and 12 other team ambassadors met with the Chiefs, helping to 'break the team down' in the final huddle.
Addressing the media after practice, Chiefs offensive coordinator Doug Pederson shared his gratitude for the ambassadors.
"It's great to have them here," Pederson said.
"That's just the history and the legacy of the Chiefs organization. Anytime these guys can come out and just be around practice and our young guys can see that and just talk to them and pick up something from them is valuable. Our guys, they need to be around these guys more. They laid the path to where we are today. So, I'm much appreciative of those guys."
The path for the current Chiefs continues tomorrow, when the team wraps up training camp in St. Joe with an 8:15 AM CDT practice.