The Kansas City Chiefs have outscored their opponents 42-10 in the fourth quarter through three games this season, and during Sunday's 24-10 victory over the Los Angeles Chargers, the defense had their first second-half shutout of the year, which, along with some early turnovers, helped the Chiefs stay unbeaten.
Defensively, the Chiefs came out flashy with two interceptions of Chargers' quarterback Philip Rivers within the first eight minutes of the game, both of which led to touchdowns and a quick 14-0 lead.
Tyreek Hill, who led all Chiefs' receivers with five catches for 77 yards, snagged a 30-yard touchdown pass from quarterback Alex Smith after the first interception, which came from Terrance Mitchell.
A bit later, Marcus Peters snatched his NFL-leading 15th interception since the beginning of 2015, which led to an Albert Wilson touchdown on the ever-growing in popularity—shovel pass in the red zone.
Heading into the game, the Chiefs had just one interception as a team, and it came from defensive lineman Chris Jones last week against the Eagles. It was something the defensive backs wanted to change.
"I ain't going to lie," cornerback Marcus Peters smiled after the game. "We were pissed off this morning watching all these (other) teams get all these interceptions today, and we can't let Chris [Jones] be the leader, so my goal today was two.
"Everyone's goal today was to get one and [Terrance Mitchell] came out on top."
It was a memorable day for Mitchell, who snagged his second interception of the day early in the second quarter, which led to a Cairo Santos' 34-yard field goal.
Before Sunday, Mitchell had just one career interception, which came with the Dallas Cowboys in 2015, but he became just the fourth Chiefs' player since 1994 to have two interceptions and at least four passes defensed in a single game.
"When you're playing opposite of All-Pro corner (in Peters), you're going to get tested," Chiefs coach Andy Reid said of Mitchell after the game. "He's been under the microscope a little bit, obviously. He's getting a lot of opportunities over there, so for him to step up to the challenge I thought was important, especially against a great player, Rivers is a great player, potential future hall of famer."
As was the case in the Week 1 win over the Patriots, Mitchell made some plays but also gave up some big plays, but Reid expressed confidence in his young cornerback that he's got the right mindset to be able to handle all the swings of playing that position.
"He's a unique kid," Reid added of Mitchell. "Not a lot gets to him. In his own little quirky way, he doesn't let things bother him. He just keeps battling back and that's a positive for us, especially at that position, you have to have a real short memory, and he's got one."
Despite the turnovers, which led to all 17 of the Chiefs' first-half points, the Chargers were still in the game after the first 30 minutes of play. The Chiefs led 17-10 at halftime.
In the second half, the Chiefs' defense went from flashy to stout, holding the Chargers to just 1 of 6 on third down and allowing just 126 total yards, including just 17 yards rushing. Chargers' standout running back Melvin Gordon, who had 78 yards rushing in the first half, carried it just twice for one yard in the second half after leaving for a bit with an injury before returning.
One of the guys who stepped up for the defense late in the game was Justin Houston, who picked up four of his six tackles on the day in the fourth quarter. He also had a key sack and a few batted passes that stalled any chance of the Chargers coming back.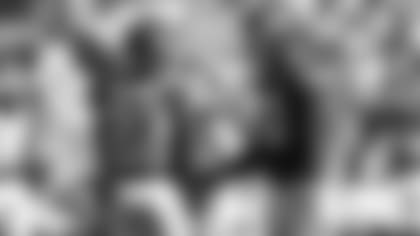 Houston spoke after the game of stepping up in the absence of one of his good friends and teammates in All-Pro safety, Eric Berry.
"You can never replace a guy like that," Houston explained. "I feel like my role is bigger now because I don't have a guy like that on the field with us to help lead, so I feel like I have no choice but to try to fill his shoes, which is a tough job to do."
It wasn't hard to see Houston showing that leadership and filling those shoes late against the Chargers by the emotion he was showing after making a play. He was letting people know how he felt what he just did, including the Chargers' bench.
That attitude spread across the defense and seemed to take everything to another level, and it was intentional. It was something they talked about at halftime.
"Just to have fun and be us," Houston said of the mindset going into the second half. "Let's talk. I felt like we weren't doing too much talking."
They were talking and the results followed. Led by Houston and company, the second-half shutout preserved the victory.
As it stands now, the Chiefs are the only undefeated team left in the AFC, and they're ready for their first of three home primetime games coming up next Monday night against the Washington Redskins, who beat the Oakland Raiders in a decisive 27-10 win Sunday afternoon.
It's another big opportunity.
"We can take a lot from this," Houston said. "We had a lot of mental errors out there and we've got to go in and fix them next week against the Redskins. I feel like we still haven't put a great game together yet. We left too many plays on the field.
"We are not where we need to be. I'm glad we're winning. I hope the guys appreciate the win because it's tough to do that, but to get where we're going, we have to get better."