The Kansas City Chiefs will be faced with another challenge on Sunday in the form of Indianapolis Colts' running back Jonathan Taylor – who is as explosive as he is bruising – but the Chiefs' young defense is ready for the task at hand as they look to push their record to 3-0.
"He's special – an elite running back in this league," said Chiefs' linebacker Nick Bolton. "When the ball is in his hands, he can get north and south quick in a hurry and break tackles at the second and third level. We have to make sure to attack the hip and make sure we make tackles in space. That is going to be the name of this game."
Taylor has already racked up a total of 215 yards on 40 attempts this season after leading the NFL in rushing yards and rushing touchdowns a year ago. There is no doubt that Taylor is one of the best running backs in the league, meaning that the Chiefs' defense will need to surround Taylor and wrap up on tackle attempts.
"If you let him get through the second level, he's a tough tackle for the guys on the back end," said Chiefs' Defensive Coordinator Steve Spagnuolo. "He's got power and he's got speed."
The Chiefs will rely on Bolton to lead the defense in containing Taylor and the Colts' offensive attack. Bolton has had a solid season already, tallying a total of 20 tackles through Week 2. He'll be joined by a new face at the second level this week, too, in the form of linebacker Darius Harris, who will be replacing the suspended Willie Gay.
Harris, who originally joined the Chiefs as an undrafted free agent in 2019, is set to make his third-career start.
"I'm fired up to see Darius out there. I'm really happy for him that he has this opportunity," said Coach Spagnuolo. "He's one of those cerebral guys, so I'm really anxious to see what he can do."
The key to stopping Taylor begins with a strong defensive front that prevents the 226-pound tailback from getting into the open field where he can punish the defense.
"You can't let him build speed," said Linebackers Coach Brendan Daly. "We have to build a wall up front with the defensive line and the linebackers. We have to eliminate the space in the front and not let him get started."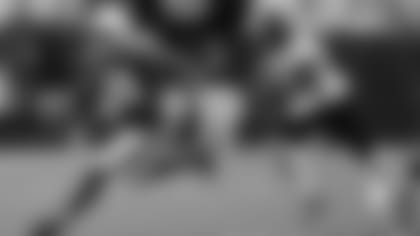 Taylor is not the Colts' only weapon on their offense. Veteran quarterback Matt Ryan has proven himself to be a solid quarterback in his 15-season career, and he'll likely have wide receiver Michael Pittman Jr. back this week after missing last Sunday's game with a quad injury. Pittman caught nine passes for 121 yards and a touchdown in Week 1.
This Chiefs' defense has yet another challenging task ahead of them this upcoming Sunday against the Colts, but through two weeks, they have already shown that they are a capable defense and ready for this new challenge.