From riding in an armored vehicle to watching a police dog in action, the Kansas City Chiefs' defensive line had a chance to experience the intricacies of law enforcement on Tuesday as the position group visited a KCPD Special Operations Division in honor of National Police Week.
Six of the team's defensive linemen – Xavier Williams, Allen Bailey, Jarvis Jenkins, Stefan Charles, Justin Hamilton and T.Y McGill – went along for the visit, which included demonstrations in bomb disposal, K-9 instruction and warrant training.
"It was fun. It's good to come out here and to see what these guys go through up close and personal," Williams said. "Seeing the attack dog was really interesting and operating the bomb robot was a fun experience. It was just a fun way to connect back to the community."
Established in 1962, National Police Week pays special attention to those that choose to dedicate their lives to the protection and safety of others. The players made a point of recognizing one of those individuals during the visit by presenting Officer Antoney Perez with a commemorative football as an act of gratitude for his efforts in the community.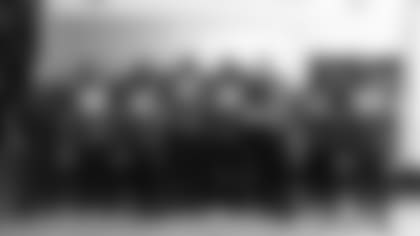 Perez is active with the Police Athletic League, which strives to engage inner-city children through organized sports as a way of teaching, coaching and mentoring at-risk youth. Perez coaches football, basketball, soccer and assists with boxing at the PAL, affecting countless kids throughout Kansas City.
"Receiving the football today was amazing," Officer Perez said. "I was born and raised in Kansas City and I've always been a Chiefs fan, so for the players to come out and give us a football was amazing and it's a great honor to receive this on behalf of the police department."
Perez wasn't the only local in attendance, as Williams – a Kansas City native who signed with the Chiefs in March – took advantage of the opportunity to visit his hometown police department. Fittingly enough, he even ran into an old friend and current officer in the parking lot before the event got underway.
"We actually grew up together, I've known him since we were kids," said Williams of the impromptu encounter. "It was pretty random seeing him here. I knew that he was a police officer, I just didn't put two and two together that he'd be here. It was a nice surprise."
Surprises like that have become commonplace ever since Williams signed with his childhood team just two months ago.
"It's just special being back here," Williams explained. "Just like earlier, I ran into somebody I grew up with. That's kind of been the case ever since I moved back, everywhere I turn I see somebody else that I grew up with or know somehow. It's been really cool."
And on Tuesday, Williams had a chance to thank those that protect the city he knows so well.
"It was a behind-the-scenes look at some people that you don't usually get to interact with that much," Williams said. "You see officers around and you say hello to them, but you never really get to see them in their true environment."
The defensive line went to hang out with the Bomb Squad, K-9 Team and SWAT on Tuesday to help celebrate National Police Week.