There's something different about this year's version of the Kansas City Chiefs.
Maybe it's the way they handle adversity and stick together, both on and off the field, which has been magnified here recently.
On the field, this group has won games by a lot, won by a little, but always found a way to pull out games that they might not have in the past. They are finding ways to win by making plays in the biggest of moments—the sign of a team that could do something special.
Off the field, they remain steadfastly dedicated to one another—the sign of a locker room that doesn't worry about anything that doesn't work towards their ultimate goal of winning a championship.
They know the results of what they ultimately accomplish will tell more of the story more than buying into anything else.
In a game defined by inches and the handful of plays in each game that make the difference between a win or a loss, the Chiefs have embraced those moments.
That was never more apparent than during Monday night's thrilling 29-20 victory over the Redskins—a game that wasn't perfect for the Chiefs by any stretch of the imagination, but perhaps was the most character-defining game of their young season.
"We got stronger as the game went on," veteran linebacker Derrick Johnson explained. "I am proud of the guys. We showed that we're a second-half team. You want them all to be blowouts, you want them all to be easy, but these games you learn what kind of character you have on the team.
"There are going be a few more times where games are going to be like this, and we're going to have that confidence we can pull it out."
Johnson is right. The Chiefs are a second-half team.
Through four games, the Chiefs have outscored their opponents 78 to 37 in the final 30 minutes of the game, and that plus-41 differential is the best in the NFL. It's even more staggering in the fourth quarter when the Chiefs have outscored opponents 57 to 13.
"Everybody's got to battle until the end and nobody's giving up," Chiefs coach Andy Reid said of his group. "You saw Justin Houston come out and he was gassed. They were doing a pretty good job of grabbing and holding on to him and he worked through it, took a blow and got himself back out there. He fought to get himself back out there and take it to that next level, reached down just a little bit deeper. That's why they are team leaders. That's contagious in games like this.
"With the parity in the league, you're going to have a few games like this—that's how it goes. You're going to have be able to go down where you don't necessarily want to go, but you find a way to do it."
The Chiefs found a way to go down there and pull it out of themselves.
And offensively, it started with the offensive line, which was a beat-up group heading into the game without starting center Mitch Morse, who is out with a foot injury, and starting left tackle Eric Fisher didn't practice all week because of a back issue. And he still found a way to get out there and play.
Then, less than five minutes into the game, the Chiefs lost starting right guard Laurent-Duvernay-Tardif to a knee injury.
Still, they were able to get it done.
"I thought our offensive line in the second half really settled down, especially with [Duvernay-Tardif] out," quarterback Alex Smith explained. "I thought the first half we did some self-inflicted stuff. Got ourselves in some holes, but I thought the second half really just settled in, and those guys played really well against a really good front.
"Those guys really set the tone for us."
The group opened holes for the NFL's breakout star through the first four games of the season—rookie third-round pick Kareem Hunt, who picked up 50 (40 rushing, 10 receiving) of his 121 total yards on the day in the fourth quarter alone. He became just the fourth player in NFL history to open their career with four-straight games with 100-plus yards from scrimmage.
"I feel like I get better as the game goes on," Hunt, who is on pace to break the NFL's all-time record for total yards from scrimmage in a season, said after the game. "Just getting a feel for the guys and really feeling myself, and really just trying to make every play."
It's not just that Hunt has put up big-time numbers and made guys miss at a ridiculous rate—forcing another nine missed tackles against the Redskins, which gives him 33 for the year—almost doubling that of the guy in second place—the Vikings' Dalvin Cook (18), but it's that Hunt has been doing it late in games when it matters.
Hunt has amassed 372 yards rushing in the second half of games alone this year, which by itself would still make him the NFL's leading rusher.
Naturally, Hunt is getting some attention recently as an early contender for the NFL's MVP award—an award that hasn't been given to a rookie since Hall of Fame running back Jim Brown won it in 1957.
But more importantly, Hunt is simply showing an ability to be a huge piece of a bigger puzzle that's been so close to coming together for this Chiefs team the past couple of seasons.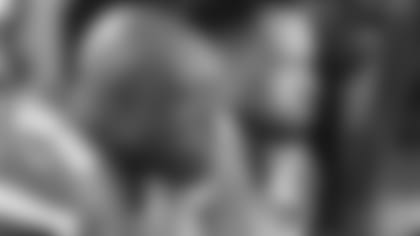 Four years ago, the Chiefs began the season with a 9-0 record—only to fall short in the later part of the year. Two years ago, they overcame a 1-5 start to make the playoffs and pick up the franchise's first playoff win in more than two decades, but it wouldn't go any further. And last year, this team won the AFC West division and hosted a divisional playoff game at Arrowhead Stadium, but still fell short.
It all seems to be building toward something, and wins like Monday night only further etch a picture slowly coming into focus that's beautiful for those along for this ride, and validates the feeling that maybe it's time for this team—maybe it's now.
"The core of this team has been through a lot, played on a lot of big stages and has much more experience," Smith explained. "This is a little different this year."