There are numerous stories on this Kansas City Chiefs roster of players believing in themselves and working towards achieving a goal that didn't come easy or without sacrifice.
This is one of those stories.
Before last season, Kansas City Chiefs fourth-year defensive lineman Jaye Howard had only played 70 snaps in his professional football career.
Howard was originally a fourth-round pick of the Seattle Seahawks out of the University of Florida back in 2012. After spending just one season with the Seahawks and playing in just two games as a rookie without recording a tackle, Howard was released a week before the start of the 2013 season.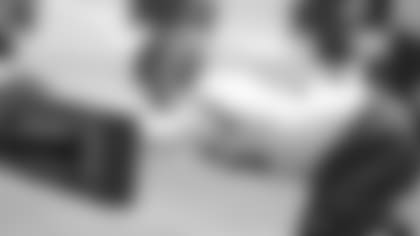 He had played just one season and 22 snaps before the team that brought him into the NFL decided to go in another direction.
A humbling moment for a talented player, but it didn't take him long to find another opportunity.
Howard was one of the "magnificent seven" that came to the Chiefs by general manager John Dorsey and the personnel staff before the 2013 season.
Of those seven players who were released by other teams and claimed off waivers by the Chiefs, Howard, cornerback Marcus Cooper, linebacker Dezman Moses and safety Ron Parker are still on the Chiefs 53-man roster.
It was a defining move in a short tenure thus far by Dorsey and his staff, as Howard has earned the trust of the coaching staff over the past two seasons after stepping in for the injured Mike DeVito at defensive end last season and even filling Dontari Poe's nose tackle spot throughout OTAs and the preseason this year.
"I'm just embracing it," Howard said. "I'm just glad the coaching staff trusted me to be able to play last year. I'm just trying to build off of that. I then showed them that I can play nose (with Poe missing time) and they can rely on me if needed."
Last season, Howard played 437 snaps for a Chiefs defense that allowed the second-fewest points in the NFL and also finished as the best group inside the red zone, allowing touchdowns just 38 percent of the time.
"I think Jaye demonstrated last year he has the ability to be a good football player in the National Football League," Chiefs defensive coordinator Bob Sutton explained. "He did a great job against Seattle and made some really big plays in that game. I think for Jaye, I'm sure he would tell you if you ask him, to me it's always been about consistency.
"He's always had the flashes, which tells you he has the ability."
For some players, it's simply a change of scenery and finding the right situation to thrive that makes all the difference for the trajectory of their career path.
It looks like Kansas City has been that place for Howard.
"He's done a really good job of taking advantage of his opportunity and showing himself and us that he can be a good football player for us, a starting football player," Sutton added.
Howard expects even more out of himself heading into his third season with the Chiefs.
"I feel like it's night and day," Howard said of how much more comfortable he feels in his third season. "I can just get out there and play, and not think so much. It's the third year in this scheme and I know what coach Sutton likes to call.
"I can just play and cut it loose."
Howard is looking forward to going up against the Texans zone-blocking scheme, which puts the defensive line in a position to try and be disruptive, on Sunday.
"That's the key," Howard explained. "We've got to create knockbacks. A lot of our linebackers will be able to run free."
Even without having to face the Texans normal starting running back, Arian Foster, who is out with a groin injury, Howard said they still have their hands full.
"They still have a great back in [Alfred] Blue," he noted. "So we're looking at it like we've got to stop him and get to [Brian] Hoyer. They've got a good group of guys."
It's unclear how much time Poe may get on the field on Sunday, which means Howard may be asked to step in and go up against a familiar face in Texans center Ben Jones, who played collegiately at Georgia.
"It started back when I was a freshman in college (at Florida) going against him," Howard said. "Now we're in the NFL and I've been playing him. He's a great player."
However much he plays and no matter who's lined up across from him, Howard is not only a reflection of the great decision by Dorsey and his staff to take a chance on him back in 2013, but also of Howard's perseverance to work and put himself in a position to be counted upon like he is with the Chiefs right now.
That continues on Sunday against the Texans.
"I'm looking forward to the opportunity to get on the field. We're blessed to get that.
"And get this victory, that's it."
Images of DL Jaye Howard from Training Camp.