The Kansas City Chiefs secondary will have some new faces in 2013, including CB Sean Smith, who signed with the team as a free agent in March. From his first time addressing the media, on a conference call, you could hear the excitement in Smith's voice, which was later evidenced in person and eventually on the field.
After experiencing the recently-completed OTA and minicamp practices, Smith walked away from One Arrowhead Drive with an even better idea of what to expect in 2013.
"I'm going to speak from the defensive side first," Smith said.
"We have a lot of new faces. We have a lot of key guys coming in, like myself and (Chiefs CB) Dunta Robinson in the secondary; this defense is very special. Even though we went 2-14, we have a lot of guys who made the (NFL Network's) Top 100 (Players in 2013) and we had six Pro Bowlers on this team, so we're loaded with talent. Right now, we're putting it all together and it's going to be very special in the future. As a team, we weren't sure what to expect coming in; we had a lot of new guys coming in – (Chiefs QB) Alex Smith on offense, (Chiefs WR) Dwayne Bowe coming back with a big signing, (Chiefs WR) Dexter McCluster coming back."
Part of the new-look Chiefs is head coach Andy Reid, who wasted no time at testing the team's defense.
"So we come in and there's this high-paced offense going on," Smith said.
"Everybody's kind of shocked and caught off guard, especially on our side, because we have to stop it in practice. But, it's been fun. It's definitely been a learning experience and the guys are definitely buying into what coach Reid has to say and it's looking good."
The biggest element of surprise for the Chiefs, as well as the media, may have been the overall pace of the team's practices.
"Yeah, I don't know if you've seen his practice, but no one expected it to be like that," Smith admitted.
"These guys are flying around making plays and we're up there and we have to play man coverage and we have to stop it, because it's such a high tempo and things are going fast-paced. You can definitely see how explosive this offense can be."
Hall of Famer and Chiefs secondary coach Emmitt Thomas is preaching the importance of on-field communication to his players, especially in the team's new 3-4 defense.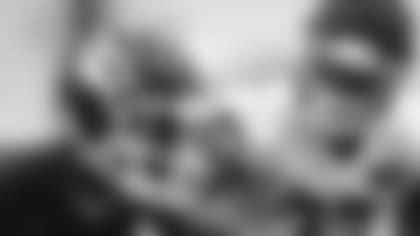 "We have some guys that are trying to do what coaches are asking, a lot of communication, a lot of calls," coach Thomas said.
"There are a lot of moving parts to this defense and you have to talk to one another. I think it's on their mind, knowing that's what they have to do to make the defense successful."
Taking the proactive approach, Smith and his secondary teammates are going to keep all lines of communication open, during their break.
"Yeah, definitely," Smith said.
"It kind of works out for me because in the secondary, we have Brandon Flowers and Eric Berry, they are like our captains, the guys who people look up to......We're all going to link up in South Florida and get some work in. And, we definitely welcome anybody to come down and get some work in with us. We have a mission in mind and one goal, to come back and keep this thing rolling and make sure no one falls off."
The Chiefs ship continues to head in the right direction, stopping next in St. Joseph, Missouri for training camp in late July.