Most of the football-watching world only sees what happens for a three-hour block of time on Sunday afternoons in the fall, but the truth is there's a slew of people behind the scenes that help bring a product to the field that's consumed like no other sport in the country.
For the Kansas City Chiefs, one of those people behind the scenes that makes it all possible is head equipment manager Allen Wright, who has been with the organization since 1983 and was named the fourth equipment manager in franchise history back in 2011.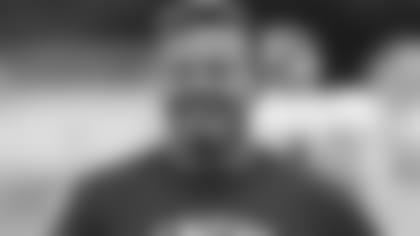 Wright, who has given the Chiefs more than three decades of his life, was recently given something in return, as he was recently named the 2017 winner of the "Innovation in Safety Award" by the Maxwell Football Club, and co-sponsor, VICIS, developer of high tech football helmets.
The Maxwell Football Club (MFC), founded in 1935, is the oldest football club in America. Each year, the club presents awards for outstanding accomplishments at all levels of football, from high school to the professional ranks.
Former NFL quarterback and current ESPN analyst (and former Chief) Ron Jaworski serves as the president of the MFC, which is headquartered in Philadelphia, Pennsylvania.
Per the press release announcing Wright as this year's winner, "The Innovation in Safety Award recognizes NFL and NCAA FBS equipment managers or athletic trainers who have demonstrated exceptional dedication to the advancement of player safety."
Per the release, one of Wright's contributions to improved athlete safety was the "creation of a rigorous helmet-fitting protocol, optimizing the fit of every player's helmet prior to every week's game. Wright's attention to proper fit predates recent studies demonstrating the importance of fit for helmet effectiveness and player safety."
Wright was chosen from hundreds of possible winners, and he said this award reflects the work of not only him, but also his entire team.
"I think anytime you get awards it speaks volumes about your staff and their commitment," Wright explained. "This award is for all of us because nothing around here happens without all of us being on the same page, and I learned that from one of the best in (former equipment manager) Mike Davidson.
"We take safety extremely seriously here and we have a good track record of that. We were paying attention to helmet maintenance back 25-30 years ago when people weren't, so for it to come all the way back around for a nice award like this is pretty cool."
(Wright and his staff at the Pro Bowl in January)
"I think any time you get older and you're recognized amongst your peers, it's humbling to be completely honest with you," Wright, who won NFL Equipment Manager of the Year from New Era last year, added. "You don't get into this to win awards, but it means a lot.
"It means we're being recognized for having done things the right way here in Kansas City for a long time."
When the Athletic Equipment Managers Association's test was first introduced in 1992, Wright declined to have his certification "grandfathered" in after seven years of already working in the profession, which was an option.
After taking and passing the test, Wright became the NFL's first ever certified equipment manager.
"Allen has spent his entire career innovating and protecting professional athletes," said Dave Marver, CEO of VICIS, also via the press release. "Over three decades, numerous front office changes, and countless roster additions, Allen's attention to detail and focus on player safety and performance has been unwavering."
The formal presentation of the award will be made at the Maxwell Football Club's 80th Anniversary Awards Gala on Friday, March 10, 2017, at the Tropicana Casino Resort in Atlantic City, New Jersey.
"It's a black-tie affair, and you know, equipment managers don't get to put tuxedos on very often," Wright, who will actually celebrate his 26th wedding anniversary that night as well, laughed. "I think it's televised on ESPN. It'll be fun. I'm looking forward to it. I really am."