The weather couldn't have been any better for Sunday's AFC West showdown between the Kansas City Chiefs and Denver Broncos, both sitting atop the division at 9-2.
As Chiefs fans packed Arrowhead Stadium, the Sea of Red was in full effect.
Kansas City received the opening kick and used a great mix of run and pass to move down the field into the red zone, before Chiefs QB Alex Smith was intercepted by Broncos LB Wesley Woodyard.
"I really think it was a good decision," Smith said of his pass, following the game. "I thought he (Fasano) was open. You know (it was) first down, it was just a bad throw. First-down passing, you look back and you miss that ball high. You really throw it to (Anthony) Fasano or nobody, because it wasn't fourth down or third down. Looking back on that, I thought it was a good decision. I thought he was open; I still think he was, it was just a bad throw, bad execution."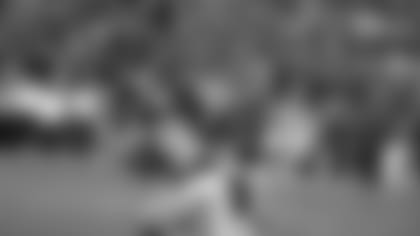 With the Arrowhead crowd listening to Chiefs head coach Andy Reid's suggestion to be 'loud, loud, loud', Kansas City's defense responded accordingly. The Broncos offense, led by QB Peyton Manning, took the field for its first drive, which ended in the hands of Chiefs S Quintin Demps, who tracked Manning's pass for the INT.
Demps described his pick, following the game.
"I was just playing my responsibility," Demps said. "I was lucky to concentrate; I tipped it and it came right to me."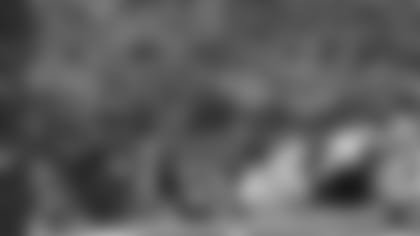 Alex Smith and the offense made the most of Demps' INT, going 83 yards in seven plays, using 4:10, finding Chiefs WR Junior Hemingway for a 17-yard TD and an early 7-0 lead. The drive was highlighted by a Knile Davis 20-yard run.
"We came out with a mindset that we wanted to attack, attack, attack and we did that," Hemingway said, after the game. "That was our mindset."
Denver's offense took the ensuing drive to the Chiefs 45-yard line, where it faced a third-and-four; Manning found Broncos RB Montee Ball for a first down, to end the quarter.KC 7 DEN 0.
As the second quarter opened, the Broncos turned their second drive into points. Manning found Broncos WR Eric Decker for a 41-yard TD to tie the game.
Scoring Drive: 6 plays, 79 yards, 2:48 - 41-yard TD pass from Manning to Decker. KC 7 DEN 7.
On the ensuing kickoff, Knile Davis made Chiefs history; the rookie RB returned the Denver kickoff 108 yards for the score, giving the Chiefs a 14-7 lead with the longest return in franchise history.KC 14 DEN 7.**
Following the game, Davis put his return in perspective.
"Anything to help the team," Davis said. "Coach (Reid) always talks about opportunities and right there, I had an opportunity to take advantage to help contribute and try to protect the win. It was a gas, a great call by Coach (Dave) Toub and I just hit the thing straight; the quickest way to a touchdown is north and that's the way I went."
Manning and the Broncos came out for their next drive, but the Chiefs defense again had other plans. Manning was intercepted by Chiefs CB Marcus Cooper, who returned it 20 yards, giving the Kansas City offense prime field position.
Again responding to the play of the defense, Alex Smith and the offense put more points on the board, after connecting with Chiefs TE Anthony Fasano for the 12-yard TD.
Scoring Drive: 5 plays, 22 yards, 2:12, ending with a 12-yard TD pass Smith to Fasano. KC 21 DEN 7.
The game's next two drives ended in punts.
On Denver's next drive, the Broncos offense began from its own 30-yard line and later crossed into Chiefs territory with 5:23 to play in the half. Manning then found Decker for a 42-yard pass play to the Chiefs three-yard line. Later, facing third-and-goal, Manning found Broncos RB Knowshon Moreno for a three-yard TD pass.KC 21 DEN 14.
Scoring Drive: 9 plays, 70 yards, 3:18, ending with a 3-yard TD pass to Moreno.
The Chiefs and Broncos punted on their next drives, before the Chiefs offense took over with 1:28 to play in the half.
Denver was flagged for holding on the drive's first play, giving the Chiefs a first-and-ten from their 27-yard line. On the next play, Alex rolled to his right, tucked the ball and ran for 26 yards. Following an intentional grounding penalty against KC, Smith went to Chiefs RB Anthony Sherman for eight yards, before the team called a timeout. Facing a third-and-thirteen, Kansas City was stopped and forced to punt.
Denver's offense had :25 seconds to work with, before the half, and decided to run out the clock.
Halftime score: KC 21 DEN 14.
The Broncos opened the second half in strong fashion. Manning led a scoring drive that lasted seven plays, covered 80 yards in 3:09, ending with a 47-yard TD pass to Eric Decker.KC 21 DEN 21.
The Chiefs opening drive of the second half also started in convincing fashion. Jamaal took a handoff for 15 yards and he was then hit late, out of bounds, adding 15 yards to the gain. However, later, after a Chiefs holding penalty, the team faced third-and-eighteen, when Alex Smith found Chiefs WR Donnie Avery for 16 yards, leading to a Kansas City punt.
On Denver's second play of its next drive, Manning found Broncos WR Demaryius Thomas for 77 yards, leading later to a 15-yard TD pass from Manning to Decker.
Scoring Drive: 5 plays, 92 yards, 2:08, ending with a 15-yard TD pass from Manning to Decker. DEN 28 KC 21.
Trailing by seven, the Chiefs began their next drive with a pass, completed by Smith to Chiefs TE Sean McGrath for a first down. Two plays later, Jamaal was tripped up after two yards, leading to a third-and-long on KC's 33-yard line. Smith's pass attempt, down the middle, to Fasano fell incomplete, leading to a Dustin Colquitt punt, which traveled 57 yards.
Following a block-in-the-back penalty against Denver, the Broncos offense began its next drive on its five-yard line. Manning handed off to RB Montee Ball, who took the carry 45 yards to midfield. Ball got the next carry, but it was stuffed by Chiefs LB Derrick Johnson for a three-yard loss. Broncos WR Wes Welker caught Manning's next pass, leading to no gain, before Denver converted on third-and-long with a 15-yard completion from Manning to Demaryius Thomas.
The third quarter ended as the score remained the same,DEN 28 KC 21.
Manning opened the fourth quarter by giving the ball to Moreno, who gained three yards, leading to third-and-goal from the one-yard-line; the next play, Manning found Decker for the one-yard TD pass. DEN 35 KC 21.
Scoring Drive: 10 plays, 95 yards, 5:45, ending with a one-yard TD pass to Decker.
Down by 14 points, Alex led the Chiefs offense on a 17-play drive that ended in points, highlighted by a 13-yard pass reception by Knile Davis, followed by an 11-yard reception by Charles. Three plays later, Smith found McCluster for a five-yard gain to the Broncos one-yard line.
From there, Jamaal Charles then put on his cape and dove over the pile into the end zone for the score.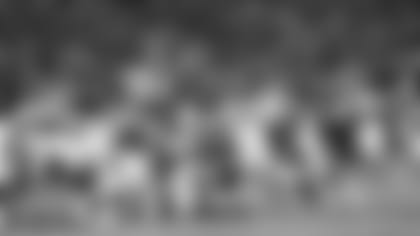 Scoring Drive: 17 plays, 80 yards, 7:44, ending with a one-yard TD rush by Charles. DEN 35 KC 28.
During the scoring drive, Jamaal Charles became the only Chiefs player in club history to rush for 1,000 yards in four different seasons. He also became just the fifth Chiefs player in franchise history to record 1,000-career carries.
"I'm a running back," Charles said, when asked about his records. "My job is to run the ball. At the end of the day, I want to be one of the best that's played in this organization – not just in my organization, but in my class and in the NFL. It's an honor to go over 1,000 yards, but we have more football. Hopefully I can go out and break more records and make history."
The Chiefs defense forced a Denver punt on its next drive, getting the ball back to the Kansas City offense.
Entering crunch time, with 3:32 left in the game and trailing by a touchdown, Alex Smith took to the air and led the Chiefs down the field, throwing to Chiefs WR A.J. Jenkins for a 26-yard gain, McCluster for 28 more yards and then WR Dwayne Bowe for 23 yards. However, later facing fourth-and-four, from the Broncos 13-yard line, Smith's pass to Bowe fell incomplete, giving the ball back to Denver.
The Broncos offense then milked the clock to end the game, topping the Chiefs 35-28.
Following the game, Chiefs head coach Andy Reid shared with the media the message he gave his players.
"We'll get together tomorrow and go through it with players and get ourselves better," coach Reid said. "I mentioned to the team that this isn't college football. This isn't the end of the season. It's not the national championship game that you're playing; it's two good football teams playing each other. We came up short and now it's important that we get ourselves back and ready to go and finish the season like we're capable of doing. I know our guys, coaches and players will do that."
Final Score: DEN 35 KC 28.
The Chiefs will travel to Washington next week to take on the Redskins on Dec. 8th at 12:00 PM CT.
For a look at the best images from Broncos vs Chiefs in Week 13, click here.