Peyton Manning and the Denver Broncos proved their mastery of the Kansas City Chiefs once more on a chilly Sunday night at Arrowhead Stadium.
Manning threw two touchdown passes, recently signed Connor Barth was perfect on five field-goal attempts and the Broncos rolled to a 29-16 victory, their sixth straight over Kansas City and one that kept them alone in first place in the AFC West.
Barth matched the franchise record for field goals in a game set twice by Jason Elam. C.J. Anderson added 168 yards rushing with a 15-yard touchdown catch, and Demaryius Thomas also had a TD grab to help the Broncos (9-3) remain a game up on San Diego in the division.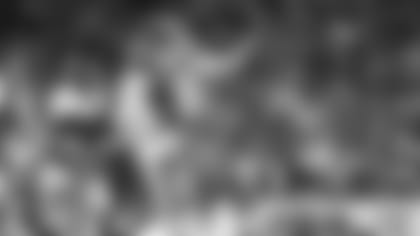 Alex Smith had 153 yards passing and two touchdowns for the Chiefs (7-5), the second of them to Jamaal Charles to make it 26-16 early in the fourth quarter. But Smith's pass on the two-point try fell incomplete, and the Broncos added another field goal to put the game away.
Smith was sacked six times and Denver held Kansas City to 151 yards of total offense.
"There's really not a phase I can point to that was a positive in this game," Chiefs coach Andy Reid said. "We all have to do better. We're all in it together."
It certainly wasn't the kind of performance expected of the Chiefs, who emerged in a frenzy before the game wearing all-red uniforms for the third time in franchise history.
The Chiefs were honoring veteran safety Eric Berry, who will miss the rest of the season after a mass suspected to be lymphoma was found in his chest. Berry has professed his love for the red-on-red look, which the Chiefs wore last year against Dallas and this year versus New England.
While the Chiefs won both of those games, they hardly gave themselves a chance Sunday.
Manning capped an effortless 74-yard drive with a 23-yard third-down pass to Thomas in the first quarter. Then, after the Broncos forced a second consecutive three-and-out, Manning found Anderson out of the backfield on third down for a 15-yard touchdown strike to make it 14-0.
Anderson, who went undrafted last year, was coming off a 167-yard rushing performance last week against Miami. Starting in place of the injured Montee Ball and Ronnie Hillman, he proved that it was no one-week fluke, gashing the Kansas City defense with nearly every touch.
Even when the Chiefs' porous defense stopped the Broncos, they were usually within range for Barth, who was signed this week to replace ineffective kicker Brandon McManus.
Meanwhile, very little was going right for the Chiefs on offense, either. They had minus-10 yards in the first quarter and were still at 66 yards through the third quarter.
After recovering a fumble deep in Denver territory early in the second half, they managed three yards before kicking a field goal. On their next possession, Smith had a pass batted at the line and intercepted by DeMarcus Ware, the first pick he'd thrown in 179 attempts. And on the Chiefs' next possession, Smith was sacked by Ware on third-and-1 to force another punt.
Then, when the Chiefs finally held Denver on third down, backup cornerback Marcus Cooper inexplicably let the punt to bounce off his leg. The Broncos recovered for a fresh set of downs.
Barth added his fifth field midway through the fourth quarter to seal the win.
"We have to do a better job putting players in the right position and we have to do a better job executing when we're in that position," Reid said. "We get that fixed we'll be back on track, but we've stalled the last two weeks. We have to get this thing turned around."
Photos from the Chiefs Week 13 matchup against the Denver Broncos