After a week of hype and buildup for the Sunday night matchup between AFC West rivals, the Kansas City Chiefs and Denver Broncos, game day finally arrived at Sports Authority Field at Mile High, where the Chiefs received the opening kickoff.
A three-and-out forced a Chiefs punt on the first drive of the game, before the Broncos offense used seven plays, covering 17 yards in 1:31, ending with a 54-yard FG by Broncos K Matt Prater, who gave his team an early 3-0 lead.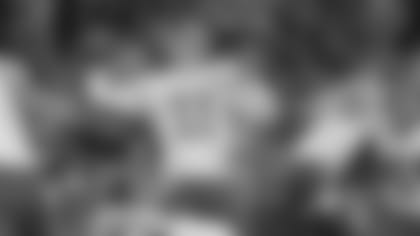 The Chiefs second offensive drive included a 16-yard pass from Chiefs QB Alex Smith to Chiefs RB Anthony Sherman. However, later facing a third-and-ten from their own 36-yard line, the Broncos stopped the Chiefs conversion attempt, leading to a 47-yard punt by Chiefs punter Dustin Colquitt.
Broncos QB Peyton Manning faced a third-and-seven on his team's second drive of the game, when he found WR Wes Welker, who was stopped short of the first down by Chiefs S Husain Abdullah.
The Chiefs punted on their next drive as Colquitt boomed a 57-yard kick that was downed on the Broncos three-yard line. Following a Manning-to-Welker pass for a first down, the Chiefs defense made its presence felt, when Chiefs LB Derrick Johnson recovered the fumbled exchange between Manning and Broncos RB Montee Ball.
However, the Broncos took the ball right back, when Denver stripped the ball loose from Chiefs RB Anthony Sherman and it was recovered by Broncos CB Quentin Jammer.
Manning led the Broncos on a scoring drive, following the turnover, that lasted five plays, covered 84 yards in 2:25, ending with a nine-yard TD pass to Broncos TE Julius Thomas.DEN 10 KC 0.
The score remained the same as the first quarter ended.
After falling behind 10-0, the Chiefs offense responded in strong fashion.
Alex Smith led his team on a scoring drive that lasted 11 plays, covering 80 yards in 4:40, when he found WR Dwayne Bowe for a 6-yard TD pass.DEN 10 KC 7.
Bowe described his TD catch, following the game.
"It was a back-shoulder fade," Bowe said. "We were working on it all week in practice. Alex threw a good ball; I got separation at the end and made the catch."
In what felt like a heavyweight championship boxing match, the Broncos struck the next blow of the game with a scoring drive of 10 plays, covering 79 yards in 4:18 as Broncos RB Montee Ball scored on a one-yard TD run. DEN 17 KC 7.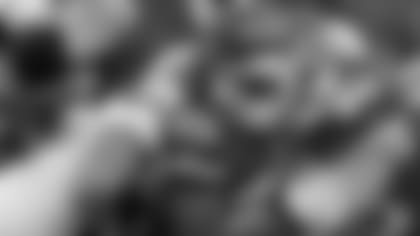 Alex and the Chiefs offense got a boost from its Pro Bowl RB Jamaal Charles, who broke off a 35-yard run to the Denver 32-yard line. Charles was spelled by rookie RB Knile Davis, who took a carry for seven yards, before an 11-yard reception from Smith. The Chiefs were knocking on the door, facing a third-and-goal from the Broncos one-yard line, where Jamaal was stopped by Denver LB Steven Johnson, leading to a 20-yard FG attempt and make by Chiefs K Ryan Succop.DEN 17 KC 10.
Chiefs Scoring Drive: 12 plays, 79 yards in 6:10, ending with the 20-yard FG by Succop.
The Broncos attempted to add to their lead, coming out of the two-minute timeout, but Chiefs Pro Bowl LB Justin Houston stuffed the run, leading to Matt Prater's 52-yard FG attempt, which was no good.
The Chiefs tried to push the ball down the field, right before halftime, but the second quarter ended on a 25-yard carry by Alex Smith.
Denver maintained a 17-10 lead at halftime.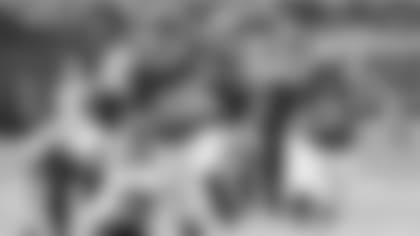 The second half opened with each team punting, following three-and-out drives.
The Chiefs defense forced another Broncos punt, thanks to two pass breakups, one each by Justin Houston and Chiefs DT Dontari Poe.
Kansas City took over from its own 35-yard line, when Alex Smith found Chiefs TE Sean McGrath for a 21-yard pass completion. The Chiefs couldn't take advantage of the big gain as they were later forced to punt.
The Chiefs defense forced another Broncos punt, before the Denver defense did the same thing, getting the ball back to its offense, after a Chiefs punt.
Peyton Manning and the Broncos offense scored on Denver's next drive, which ended with an eight-yard TD run by Montee Ball.
Denver's Scoring Drive: 6 plays, 65 yards, 3:02, ending with an 8-yard TD run by Ball.DEN 24 KC 10.
The third quarter ended with the Broncos leading 24-10.
The Chiefs punted on their next offensive drive.
Denver's next drive saw Manning go to Wes Welker for a 20-yard completion to Denver's 42-yard line. Later, Denver faced a third-and-ten, before Welker was stopped by Chiefs CB Brandon Flowers, who prevented the Broncos third-down conversion attempt, leading to Matt Prater's 36-yard FG.
Denver's Scoring Drive: 10 plays, 62 yards, 4:42, ending with the 36-yard Prater FG. DEN 27 KC 10.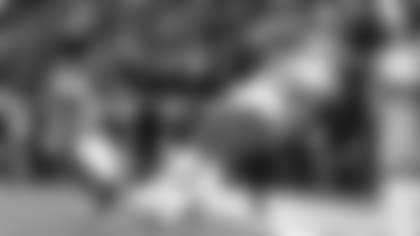 Trailing by 17, Andy Reid's Chiefs marched down the field, using 9 plays to cover 80 yards as Alex Smith found Chiefs TE Anthony Fasano in the back of the end zone for a 10-yard TD pass. Fasano was ruled out of bounds, but the Chiefs challenged the call and won as the replay showed Fasano's hip and elbow in bounds for the catch. DEN 27 KC 17.
The Chiefs forced a Broncos punt, thanks to a heavy pass rush by Dontari Poe, who forced a Manning incompletion.
"We played hard," Poe said, after Sunday's game. "We made a few mistakes and you saw what the outcome was; so, we have to eliminate our mistakes and keep fighting."
Alex and the offense went to work, completing a pass to Dexter McCluster for 18 yards, then a rush by Smith for 7 yards. Looking at third-and-four, Alex's pass was broken up by Broncos CB Dominique Rodgers-Cromartie, leading to a fourth down pass that was incomplete to Bowe.
The Chiefs defense forced a Broncos punt with 1:15 to play in the fourth quarter.
Kansas City's offense took over from its 20-yard line with :55 seconds to play in the game, before the Denver defense prevented any type of a Chiefs comeback, ending the game with a tackle of Jamaal Charles.
Denver's 27-17 victory snapped the Chiefs nine-game win streak and now, Kansas City will look to bounce back next Sunday, facing the visiting San Diego Chargers.
For a look at the Chiefs-Broncos photo gallery, click here.