The Kansas City Chiefs were hoping they saved their best performance for the club's final home game of the regular season and it seemed only fitting that Sunday's contest, against the Indianapolis Colts, took place on Fan Appreciation Day, recognizing the best fanbase in the league. However, it wasn't mean to be as the Chiefs fell to the Colts, 23-7.
Kansas City began the game on defense and forced the Colts to punt on their opening drive of the game.
The Chiefs offense began its first drive of the game with purpose and a completion from QB Alex Smith to Chiefs WR Dwayne Bowe for 9 yards, followed later by a seven-yard rush by Smith and then Jamaal Charles got involved; his first carry went for six yards and his next rush covered 31 yards for the game's first score. KC 7 IND 0.
Scoring Drive: 4 plays, 59 yards in 1:48, ending with the 31-yard TD run by Charles.
Despite the TD, Jamaal expressed his team's disappointment with the loss.
"We just have to play better," Charles said. "That's a playoff team and we might see them again..... I hate losing; that was a tough one, but we have to rebound back and forget about it."
The game's next two drives resulted in punts, when the Colts began their third offensive drive of the game, from their 25-yard line.
Colts QB Andrew Luck moved his team to the KC 35-yard line, when Chiefs LB Derrick Johnson stuffed Colts RB Trent Richardson for a one-yard loss. Later on the drive, Chiefs CB Brandon Flowers broke up an Andrew Luck pass attempt on third-and-long, leading to a FG attempt by Colts K Adam Vinatieri, who missed from 34 yards out.
Following the game, DJ said the team's mistakes proved to be too much to overcome.
"We had some – myself included – some errors on D at times," Johnson said. "Speaking just defensively, we had some mistakes and they capitalized off them, every single time."
The first quarter later ended as the score remained unchanged.
Luck and the Colts offense again moved into Chiefs territory, after a 21-yard pass to Colts WR Griff Whalen. DJ stepped up again with a QB hurry against Luck, who threw the ball away, that is until coach Reid challenged the play. Coach believed that Luck's knee was down, and the replay showed it, giving DJ a sack, for a nine-yard loss.
Three plays later, Vinatieri nailed a 46-yard FG. KC 7 IND 3.
Scoring Drive: 9 plays, 52 yards in 4:59, ending with a 46-yard FG by Vinatieri.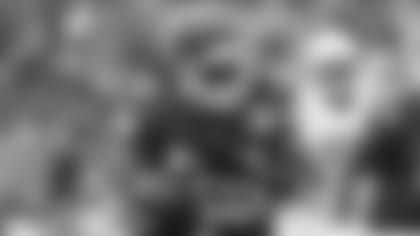 On Kansas City's next offensive drive, facing a third-and-three, Alex Smith found Jamaal Charles on a screen pass, good enough for four yards and a first down. Chiefs RB Knile Davis spelled Charles and after taking the handoff, he had the ball ripped away, recovered by the Colts.
"I didn't have two hands on it," Davis said. "You've got to have two hands on it, at all times. That's going to change."
On the second play, after the turnover, Andrew Luck threw a 33-yard TD pass to Colts RB Donald Brown.IND 10 KC 7.
Scoring Drive: 2 plays, 33 yards in :16, ending with a 33-yard TD reception by Brown.
The Colts defense forced a Chiefs punt and Indianapolis began its next drive from its 16-yard line. Luck found Colts WR T.Y. Hilton for a 31-yard completion, followed by a two-yard run by Richardson. Two plays later, on third-and-eight, Luck found Whalen for a seven-yard gain, leading to fourth-and-one from the Chiefs 40-yard line. Richardson took the carry for six yards to extend the drive.
Later, facing a third-and-five, from the Chiefs 29-yard line, Luck went to Colts WR Da'Rick Rogers for a two-yard completion, when the two-minute warning hit.
When play resumed, Vinatieri made good on a 45-yard FG attempt. IND 13 KC 7.
Scoring Drive: 11 plays, 57 yards in 5:42, ending with a 45-yard FG by Vinatieri.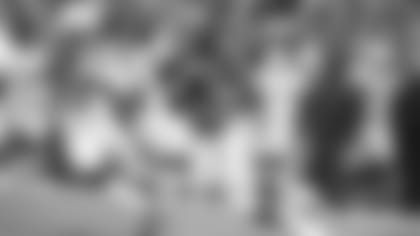 Trailing by six points, with less than two minutes to play in the half, Alex Smith found Chiefs WR Dexter McCluster for 11 yards, followed by a completion to Charles for nine yards. After a Chiefs timeout, Smith ran for eight yards, before throwing an 11-yard completion to Chiefs WR Donnie Avery.
A pass interference call on the Chiefs pushed KC back ten yards and later, when facing a third-and-seventeen, Alex found Jamaal for a 15-yard completion, leading to a fourth-and-two on the Colts 34-yard line. Jamaal took the carry for five yards to the Colts 29-yard line. Chiefs K Ryan Succop was called on for a 47-yard FG attempt, with :06 to play in the quarter, and missed.
The second quarter ended as the score remainedIND 13 KC 7.
Kansas City began the second half with a 48-yard kickoff return by Knile Davis, giving the Chiefs great starting field position, on the fifty-yard line. However, during a pass attempt by Alex Smith, the ball was hit, during his throw, and picked off by Colts ILB Jerrell Freeman.
During his press conference, following the game, Smith described the Chiefs turnovers.
"Yeah, one good hit," Smith said of the fumble. "The second interception was just underthrown. I kind of lost vision and didn't get it out there. I was trying to give him the chance to go up and make a play, but it was just too underthrown, a poor pass. Then the fumble, from myself there, at the end, I felt like I had done a good job all year with fundamentals in the pocket, as far as two hands; I didn't do it there. I was trying to run out of there and trying to make a play and got careless. You can't have those, especially in good games against good teams."
The Colts again converted the turnover into points, when Donald Brown broke out for a 51-yard TD run.
Scoring Drive: 2 plays, 56 yards in :57, ending with Brown's 51-yard TD run.IND 20 KC 7.
The Chiefs punted on their next drive.
The Colts then went on a 15-play drive that consumed 7:50 off the clock, converting four third-down situations, before Vinatieri split the uprights with a 30-yard FG. IND 23 KC 7.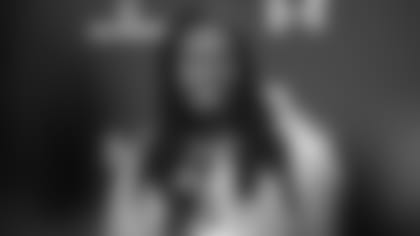 Down by sixteen points, the Chiefs began their next offensive drive with a 16-yard completion from Smith to Bowe, followed by another eight-yard grab by Bowe. However, the Colts defense forced two incompletions and then sacked Smith, leading to a Dustin Colquitt punt.
Chiefs OL Donald Stephenson described the day, in a nutshell.
"I think we came out with a pretty good edge," Stephenson said. "We just have to stay focused, through the game. The turnovers, miscues here and there, a team like that will jump on it. That's what they did today."
The Colts ran one play, before the third quarter ended. IND 23 KC 7.
The Chiefs defense did its job, forcing a Colts punt.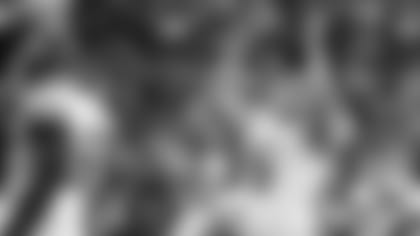 Alex Smith began the next drive with a 22-yard run, followed by a seven-yard run by Jamaal, who took the next carry for four more yards. Smith then went to the air, finding Chiefs TE Anthony Fasano for 19 yards. Jamaal gained 13 yards on his next rush and after an incomplete pass to Bowe, Alex tried going back to Fasano, before his pass was intercepted by Freeman, his second pick of the day.
With less than 10 minutes to play in the fourth quarter, the Colts took over, before the Chiefs defense forced a punt.
Less than five minutes remained in the fourth quater, when Alex Smith went back to Bowe, who caught the pass and was hit in the head, drawing a personal foul penalty against the Colts. Smith later found Avery for a reception, followed by a holding penalty on the Chiefs. Jamaal Charles took the next carry for 15 yards to the Colts 39-yard line, when the Chiefs called timeout.
Out of the timeout, Smith went to Chiefs RB Cyrus Gray for seven yards. Two plays later, Smith had the ball knocked out of his hands by Jerrell Freeman, recovered by the Colts.
Indianapolis milked the clock and left Arrowhead Stadium with a 23-7 victory.
Following the game, Chiefs head coach Andy Reid put the loss into perspective.
"I would expect our players to be upset over this and that's what I sensed in that locker room," coach Reid said. "A lot of time and effort went into preparing, same thing with the coaches and if you're not, then there's something wrong with you. You learn from it; that's the most important thing and then like you do in the National Football League, you learn from it, you have a short memory and then you move on and go get busy for your next opponent, whoever that might be. We've done that, up to this point, and we'll continue to do that."
The Chiefs (11-4) will close out the regular season next week in San Diego.